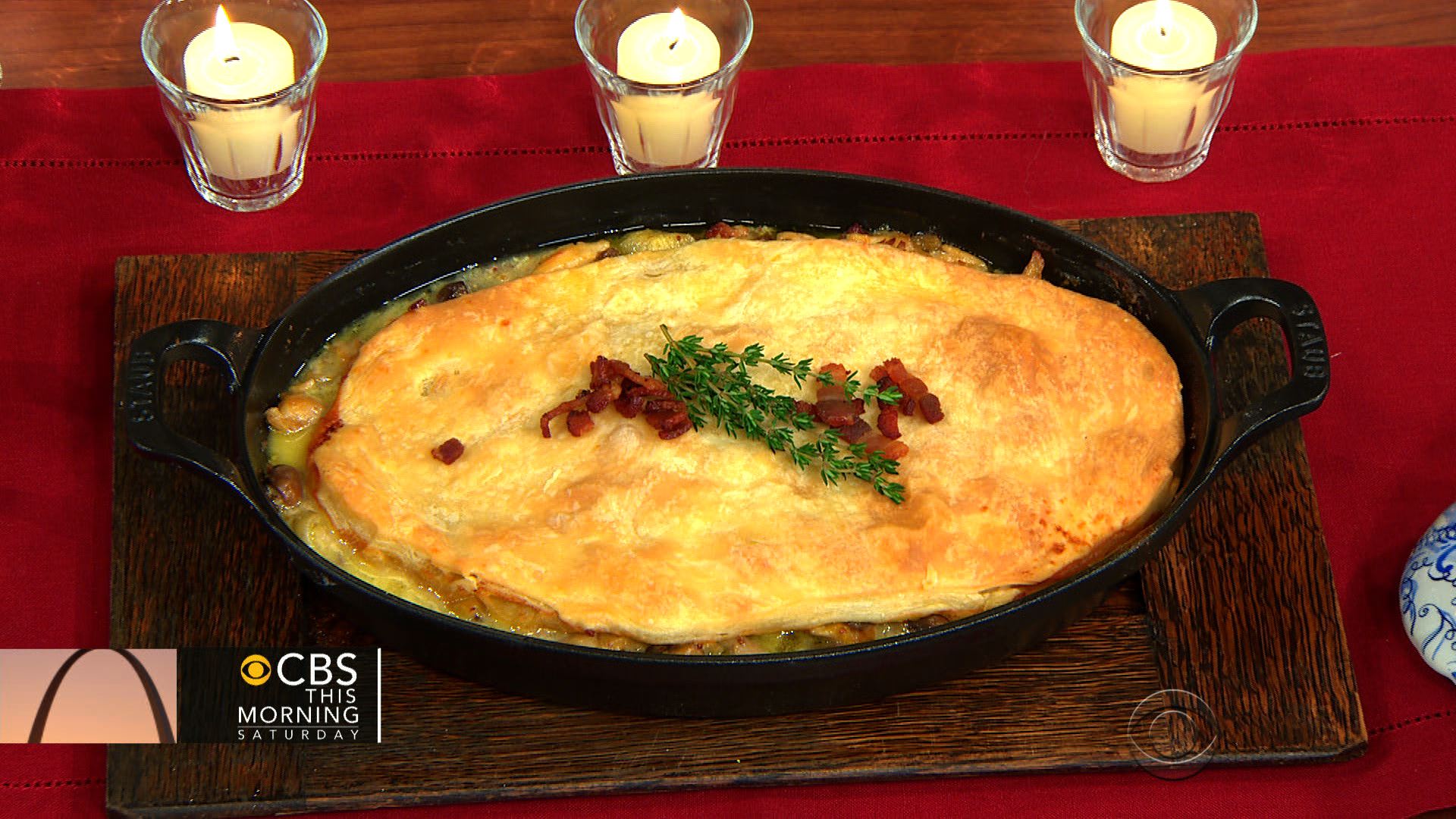 Chef Jason Hicks' chicken pot pie on THE Dish
Chef Jason Hicks grew up on a farm in the scenic English countryside, where he learned to appreciate both nature and fresh ingredients.
Special section: Food and wine
He started his cooking career at 15 years old, when he enrolled in Solihull College of Technology and earned a culinary degree. He opened his first restaurant, The Queen's, in his hometown of Worcestershire, England, when he was just 20 years old. The eatery specialized in modern British cuisine.
He's been in New York since 1996 and soon opened Jones Wood Foundry, where he serves up dishes inspired by the best English culinary traditions. In 2013, he and his business partner, Yves Jadot, opened The Peacock, which has the feel of a 19th century men's club, and The Shakespeare, which is a more causal pub.

On "CBS This Morning: Saturday," Hicks shared some of his recipes, including his ultimate dish, chicken pot pie.

Chicken Pot Pie

25 cipollini onions, cut in halves
10 cups of oyster, porcini, cremini, honshemiji, chanterelle mushrooms, trimmed and pulled apart
1/8 cup garlic cloves, minced
Salt and fresh ground pepper
Olive oil for sautéing
2 tbsp butter for sautéing
8 chicken legs
10 1/2 cups of chicken stock hot for braising the legs; when legs are cooked reduce the stock to 5 1/4 cups
2 1/2 cups smoked bacon, cut into lardons and cook until semi-crispy and drain the fat
2 bay leaves
11 sprigs fresh thyme
3 whole sage sprigs
(Tie the herbs above in a piece of muslin to cook with the legs in the chicken stock)
1 cup (2 sticks) butter (for the roux)
1 cup flour
3 1/3 cups Strongbow apple cider + 1 tbsp apple cider vinegar
3 cups heavy cream
9 2/3 tbsp whole grain mustard added to the sauce when finished
1 1/8 cups of crème fraiche
4 tbsp apple calvados brandy
Finely chopped sage
1. Place the legs into a pan and cover with the chicken stock, then turn the heat up to full and bring to a simmer, skim off any of the impurities, add the herb sachet and simmer till the legs are tender. Leave to cool then pull apart into large pieces of meat.
2. While the chicken legs are cooking, in a separate pan heat some olive oil, add a little butter on low heat and add the onions and cook for about 10 minutes with hardly any color, then add the garlic and cook for a few more minutes. In another pan, repeat the same and sauté the mushrooms for a few minutes till light golden in color.
3. In another pan, melt the rest of the butter, add the flour and cook out for 2 minutes. Then add the apple cider and vinegar mixture, hot reduced stock, salt, pepper and bring this to a simmer and cook out for 10 minutes before straining. Then add the heavy cream and grain mustard.
4. Lastly, add the onions and mushrooms and pull to the side to cool in the blast chiller and before getting too cool, fold in the picked leg meat.
5. Add the crème fraiche, apple calvados brandy, sage, and crisp bacon lardons to the mixture.
6. Place the Ruff Puff over the top and bake at 375F till the pastry is golden in color, about 20 minutes.
Ruff Puff Pastry
25 2/3 cups of flour
10 cups cold butter, cut into 1 cm cubes
8 1/2 cups cold water
2 1/3 tbsp lemon juice
9 3/4 tsp salt
1. Mix the flour and salt, then add the butter and mix a couple turns just to coat the butter in the flour. Then add the water and mix till just combined so you still have lumps of butter running through the dough.
2. Then, either form into one large rectangular piece or two smaller ones and place in the fridge to firm up for 30 minutes.
3. Next, give the pastry 4 turns, resting 20-30 minutes between each turn.
English Mushy Peas with Mint
1 3/4 cups frozen peas
1/2 cup (1 stick) of butter
1/3 cup of fresh mint, tied together in bundle
1/2 – 3/4 cups of fresh mint, picked off stem and julienned
1 1/4 cups shallots, finely chopped
4 cloves garlic, minced
Salt and fresh ground pepper
1. Bring a pan of water to a boil and season with salt. Add the 1/3 cup of bundled mint to flavor the water.
2. Add the peas and cook until just tender. Drain the peas.
3. While peas are cooking, sauté shallots and garlic until translucent but no color.
4. In a food processor, pulse the peas into a coarse puree, ensuring the peas stay hot. (TIP: If peas get cold, put over a double boiler to warm through).
5. Transfer coarse pea mixture to bowl and add cooked shallots and garlic. Then add butter in small pieces. Mix until butter is completely incorporated.
6. Finally, add fresh mint and sprinkle around evenly, carefully folding to incorporate throughout. Season with salt and fresh ground pepper to taste.
Bubble and Squeak
21 1/2 cups Yukon potatoes, peeled and diced
11 cups leeks, rinsed and medium diced
5 3/4 cups rutabaga, peeled and diced
8 1/2 cups parsnips, peeled and cut into quarters, remove the core and then cut 1/2" pieces
15 3/4 cups of Savoy cabbage, cut into medium dice with core removed
7 1/2 cups medium Spanish onions, diced small
9 3/4 cups carrots, roughly chopped
9 1/4 tbsp fresh thyme, picked off stems and roughly chopped
1 1/3 cups butter
Olive oil
1. Cook all the vegetables – in salted boiling water, add Yukon potatoes and cook through until just tender then remove and set aside. Repeat with rutabaga, parsnips and cabbage. Set aside when all are cooked through.
2. In a hot pan, add olive oil and sweat onions and carrots until cooked through. Remove and set aside.
3. In a steamer, add leeks and steam until tender.
4. When all vegetables are cooked, bring together in bowl or pan and mash with a potato masher into coarse chunks.
5. Add thyme and season with salt and freshly ground pepper.
6. In a hot cast iron skillet, add olive oil and butter. Add the mashed vegetables and let caramelize (move vegetables around as you would a hash, so every part gets a bit caramelized.)
7. Season with salt and fresh ground pepper to taste.
Roast Brussels Sprouts with Chestnuts and Bacon
For the sprouts
17 cups brussels sprouts, peeled and trimmed and halved
3 2/3 tbsp fresh thyme, picked and chopped
4 bay leaves
1/2 cup butter, cut into small dice
1/3 cup olive oil
Salt and fresh ground pepper
1 1/4 tsp granulated sugar
For the base
1/3 cup butter
5 cups smoked bacon cut into lardons and cooked till semi crispy and place in a tray to drain the fat
(reserve 1/3 cup bacon fat for cooking the shallots and chestnuts)
3 1/3 cup chestnuts, cut in half lengthways
3 1/8 cups shallots, finely sliced
4 1/2 tbsp fresh thyme leaves
4 1/8 tbsp garlic, minced
2 bay leaves
Salt and fresh ground pepper
1/3 tbsp sugar
2 1/3 tbsp honey
1. For roasting the brussels sprouts - heat the oven to 415F and place two large sheet trays in the oven to heat, toss the brussels sprouts in a bowl with the rest of the ingredients and then divide between the two trays and roast for a total of 8 minutes rotating halfway through. Once cooked remove the sprouts onto cold trays and into the blast chiller or freezer to cool.
2. For the bacon and chestnut base - heat up a large pan on a medium high heat, add half the bacon fat and butter. Once the butter starts foaming, add the shallots, garlic, half the sugar, salt, fresh milled pepper, thyme, bay leaves and sauté till golden in color. Place in the same tray as the bacon. Repeat the same way with the chestnuts. When chestnuts start to get color, add back the shallot and bacon mixture. Stir in the honey. Pull from the heat to cool.
3. To finish to order - Heat a small pan, add 2 tbsp of butter then follow with 2 1/4 cup of the brussels sprouts heating through for 2 minutes. Then add 6 tbsp of the above base checking the seasoning and then heat through and serve.
Pear and Apple Crumble with Custard
For the crumble topping
6 1/3 cups plain flour
2 2/3 cups butter, cut into small dice
1/2 cup soft light brown sugar
1 1/4 cups granulated sugar
5 cups rolled oats
1 cup almond paste (broken into small pieces and cut in the same size as the butter)
2/3 tsp salt
2 tsp ground cinnamon
2 tbsp pure vanilla extract
1. Mix the flour, salt, cinnamon, and sugars together then add the almond paste mixing this through. Lastly, add the butter and vanilla extract and mix till crumblike, then add the oats.
2. Spread the mix onto trays and bake in a 325F for about 10 minutes till the crumble mix is golden in color and then leave to cool.
3. Break the crumble into pieces and then place in an airtight container
For the apples and pears
12 cups pears that have been peeled and cut into 2 cm dice
12 cups apples that have been peeled and cut into 2 cm dice
2 1/2 cups apple juice
3 cups granulated sugar
1 cup (2 sticks) butter
1 tsp salt
4 cinnamon sticks
4 vanilla beans split in half with the seeds scraped out
Zest of two lemons + 6 2/3 tbsp lemon juice
1. Place the apple juice, sugar, vanilla, cinnamon, salt, lemon zest and juice into a pan and reduce by half. Then add the apples and pears and cook till just tender. Remove from the heat and leave to cool. Then remove the cinnamon sticks and vanilla pods.
2. Place in a suitable dish and sprinkle generously with the crumble topping, bake in a 375F oven for about 15-20 minutes till the mix is bubbling around the edges and the top is golden in color.
For the custard
5 2/3 cups milk
4 cups double cream
2/3 tbsp Birds custard powder
1/2 tsp salt
2 vanilla beans scraped with the seeds removed
2 1/3 tbsp pure vanilla extract
1 1/8 cups sugar
Zest of 2 lemons
1/4 cup lemon juice
1. Heat the milk, cream, vanilla bean, extract, lemon zest and half the sugar in a pan and bring to a simmer then turn off the heat and leave to infuse for 10 minutes. Whisk the powder with the rest of the sugar and then re-simmer the milk cream mix and whisk this onto the powder whisking all the time.
2. Return to the stove and stir continuously, cooking out the custard till it coats the back of the spoon. Then put on ice to chill and, when cool, add the lemon juice.
Bramble
3 blackberries
0.75 oz lemon juice
0.75 oz simple syrup
1.5oz Tanqueray
1. In a cocktail shaker, muddle ingredients.
2. Shake with ice, and strain into a julep glass or a 12 oz. rocks glass
3. Top with crushed ice
4. Garnish with a fresh blackberry
Thanks for reading CBS NEWS.
Create your free account or log in
for more features.