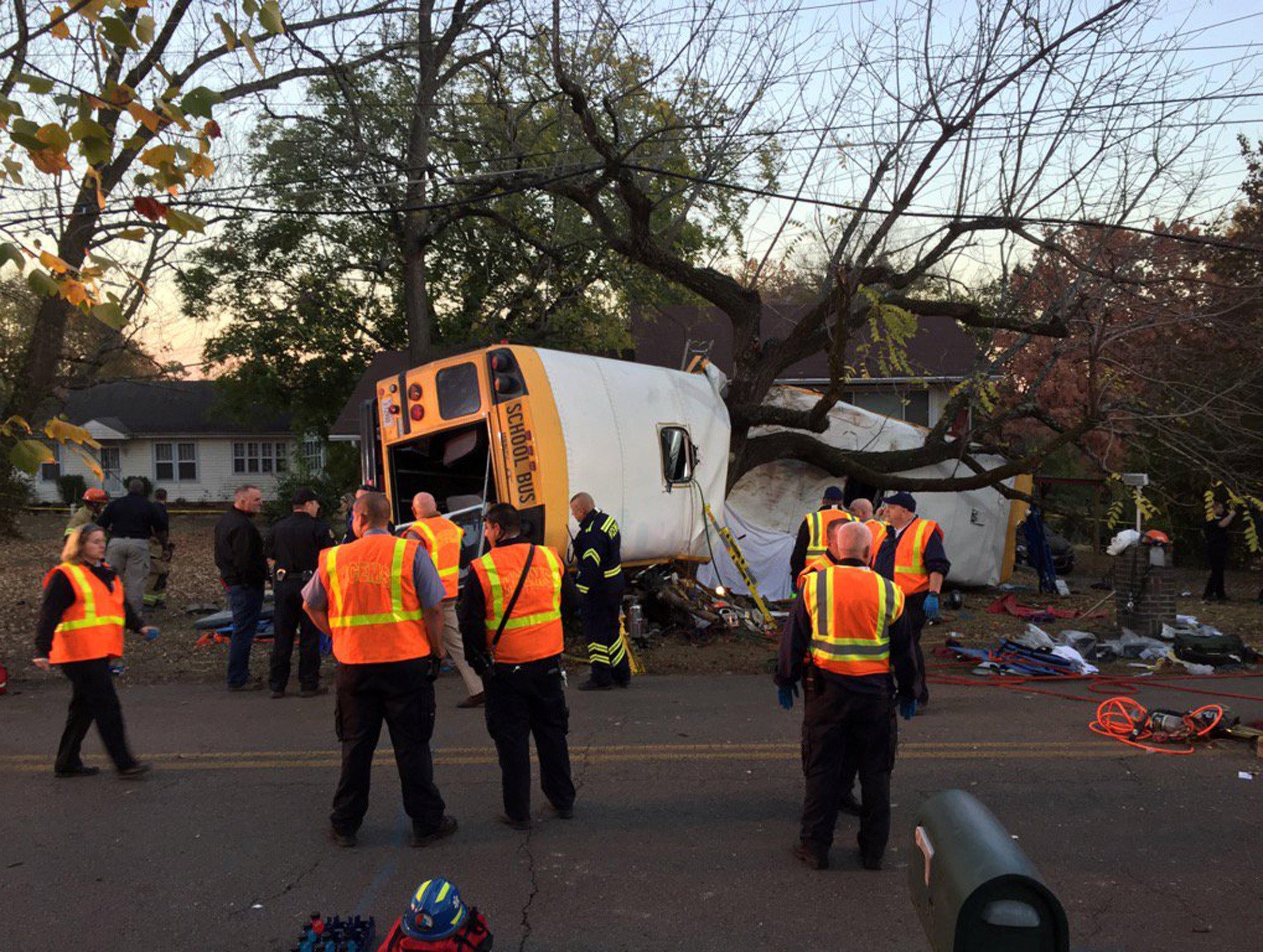 Chattanooga bus crash: Mom of victims says driver asked kids if they were ready to die
CHATTANOOGA, Tenn. - A school bus driver charged with vehicular homicide in a crash in Tennessee asked the children if they were ready to die, according to the mother of three kids who were aboard the bus. One of her children was among the five dead.
"My daughter said right before the bus flipped that he was speeding around the curve and asked them 'Are y'all ready to die,'"Jasmine Mateen told CBS News correspondent Mark Strassmann. Mateen's 6-year-old daughter was killed.
Officials have not confirmed or commented on Mateen's account.
Mateen also said she had complained repeatedly since August about the behavior of driver Johnthony Walker before the accident, to no avail.
Gunevere Cook, Walker's mother, told CBS News her family was saddened by news of the fatal crash and extended their condolences to the families of the victims, but said her son doesn't drink or do drugs. She never heard of any complaints against her son's driving.
Johnthony Walker, 24, is being charged with five counts of vehicular homicide, reckless endangerment, and reckless driving over the accident. In court papers, police said Walker was driving well over the posted 30 mph limit when he lost control of the bus. He was jailed on $107,500 bail for a court appearance Nov. 29.
Walker appeared to have no criminal record in Tennessee, state and local authorities said.
Mateen said the daughter who passed was sitting next to another of her children, and claims to have seen the child "smushed" between seats after the crash. The daughter who survived said after the crash repeatedly, "I miss her."
"I'm angry. I'm hurt," Mateen said, adding that her deceased daughter wanted to be a doctor.
One student who was on the bus told CBS Chattanooga affiliate WDEF-TV the driver "wasn't paying attention and was going real fast."
Other parents say they complained about the driver in the past. Craig Harris, a parent of two children who were on the bus, told ABC's "Good Morning America" that the bus driver sometimes drove too fast.
"There has been times where I've seen him going a little faster than he probably should be going," Harris said. He said his daughter and stepson were in shock and pain after the crash.
Officials say he was apparently speeding along a narrow, winding road when he wrapped his vehicle around a tree. The bus was carrying 35 children from Woodmore Elementary School, authorities said. The students in kindergarten through fifth grade, when it crashed about 3:30 p.m., turned on its side and wrapped around a tree.
The wreck Monday afternoon plunged the city of Chattanooga into mourning, with parents stricken by the news and people lining up to donate blood.
"The most unnatural thing in the world is for a parent to mourn the loss of a child," Mayor Andy Berke said. "There are no words that can bring comfort to a mother or a father. So today, the city is praying for these families."
Emergency crews needed almost two hours to get all the youngsters off the bus. Bloodied children lay on stretchers, while others walked away dazed with their parents. More than 20 injured students were taken to the hospital, police said.
Twelve remained hospitalized Tuesday, six in intensive care, said Kirk Kelly, interim school superintendent.
Three of the children killed were in fourth grade, one was in first grade and another in kindergarten, Kelly said. Their families were notified, but their names were not released.
The National Transportation Safety Board sent a team to investigate, and police obtained a warrant to remove the bus' black box, which contains data on the vehicle's movements.
Walker was employed by an outside bus contractor, Durham School Services.
Walker had an accident involving property damage in September, and his license was suspended for about a month in 2014 for failure to show proof of insurance, according to state commercial driver records. He appeared to have no criminal record in Tennessee, authorities said.
Hamilton County School District spokeswoman Amy Kutcher declined to say whether the district had received any complaints involving Walker, who was employed by an outside bus contractor, Durham School Services. She referred all questions about his performance and that of other Durham drivers to the company.
"Legally there is no way that we could discipline someone who is not our employee," Kutcher said. "We've got 192 Durham bus drivers. Obviously, this is a bad one."
David A. Duke, the CEO Durham School Services, issued a statement on Twitter saying the company was "devastated" by the accident and is working with police and school officials to investigate.
NTSB chairman Christopher A. Hart said investigators will focus first on gathering witness accounts and other evidence. He said investigators would also check on whether the bus had cameras.
Demetrius Jenkins said he had yet to tell his first-grade son, Jermaine Bradley, that the boy's best friend had died in the crash.
"It's sad. He's going to eventually find out," Jenkins said. "I know he's going to be full of tears."
Counselors were on hand for the students and staff as classes resumed at the elementary school. Pastor Tavner Smith and a dozen staffers of the Venue Church went to offer support.
"It's devastating," Smith said. "You send your kids to school and think you're going to see them that evening. We're really just praying for all the families right now, for what they're going through."
Thanks for reading CBS NEWS.
Create your free account or log in
for more features.