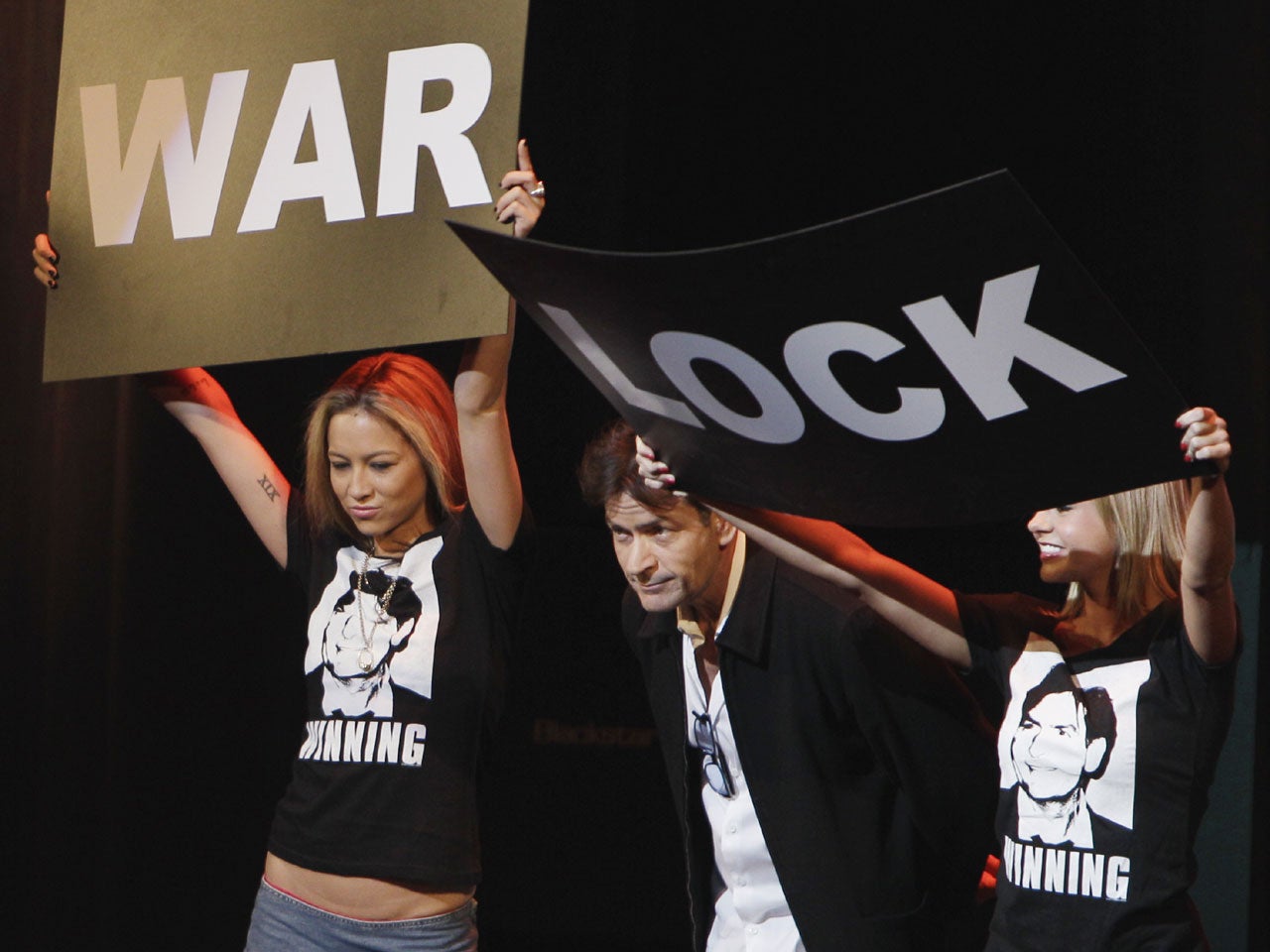 Charlie Sheen booed off stage in 1st road show
(AP) DETROIT - Charlie Sheen and his "goddesses" took the stage to thunderous applause Saturday night for the first leg of his "Torpedo of Truth" tour. The 70-minute show hadn't even ended when the first reviews were in, and they were brutal.
The former "Two and a Half Men" star showed that comedic success on the screen doesn't necessarily translate to the stage, and the capacity crowd at the 5,100-seat Fox Theatre rebelled before he left the stage, chanting "refund!" and walking out in droves.
Linda Fugate, 47, of the Detroit suburb of Lincoln Park, walked outside and up the block yelling, "I want my money back!"
She said she paid $150 for two seats.
"I was hoping for something. I didn't think it would be this bad."
Charlie Sheen tour not a "winning" proposition for scalpers?
Charlie Sheen, Snoop Dogg, record a song together
Charlie Sheen in pictures
Fans who gathered outside the theater before the doors opened Saturday- some who had to fly in for the show- said they were hoping to see the increasingly eccentric actor deliver some of the colorful rants that have made him an Internet star since his ugly falling out with CBS and the producers of "Two and a Half Men."
They got the ranting. It just wasn't funny.
"I expected him to at least entertainment a little bit. It was just a bunch of ranting," said Rodney Gagnon, 34, of Windsor, Ontario.
Promising to give fans "the real story," the 45-year-old Sheen kicked off a month-long, 20-city tour Saturday night, with the second show scheduled for Sunday in Chicago.
The show started well for Sheen, as the crowd stood and cheered as he and the women he calls his "goddesses" took the stage. The women, one a former porn star and the other an actress, carried signs with the words "War" and "Lock," references to one of the catchphrases Sheen recently coined.
"I don't see a single empty seat," he said.
After one audience member booed, Sheen sanguinely replied, "I've already got your money, dude."
He tried on a bowling shirt like one his TV character Charlie Harper would wear, then took it off and had his goddesses burn it. He then donned a Detroit Tigers No. 99 jersey, a reference to his role in the film "Major League."
He told everyone he wanted them to enjoy "a night of winning." Winning, in fact, was one of many of Sheen's catchphrases to be displayed in a video montage. Others: "Violent hatred" and "Adonis DNA."
Sheen had said rapper Snoop Dogg would perform at the show, but he didn't. Instead, the show ended with a video for a new Snoop Dogg song before the lights went on.
Toronto-area resident Ronnie Prentice was among several fans outside the theater who said they were hoping to see Sheen rant.
"It's kind of like a NASCAR race. You're just tuning in because you're just waiting for the accident to happen," said Ronnie Prentice, 37.
Adam Hawke said he bought a ticket for the same reason.
"He might be doing something really crazy," said Hawke, 47, who works in the construction business and lives in Michigan. "He's a wreck. That's half the draw."
Geoff Rezek, 69, flew in from New York to see what he believed was going to be "history in the making."
"I wouldn't miss the first show. Who knows if there's going to be a second show?" said Rezek, a computer consultant from Connecticut, who said he also bought a ticket for Sheen's show next week in his home state.
Sheen has made headlines in recent years as much for his drug use, failed marriages, custody disputes and run-ins with the police as for his acting. His father, actor Martin Sheen, has compared his son's fight against addiction to that of a cancer patient's fight for survival.
In August, Sheen pleaded guilty in Aspen, Colo., to misdemeanor third-degree assault after a Christmas Day altercation with his third wife, Brooke Mueller. The couple recently finalized their divorce.
The wayward star's behavior, which included lashing out at the show's producer, Chuck Lorre, finally became too much for Warner Bros. Television, which booted him from "Two and a Half Men" on March 7.
Sheen fired back with a $100 million lawsuit and all-out media assault in which he informed the world about his standing as a "rock star from Mars" and a "warlock" with "Adonis DNA" who lives with two "goddesses"- both of whom he said would be at the Detroit show.
His unique banter and catchphrases- think "winning"- have spread over the Internet and onto T-shirts, more than a few of which are expected to be sold on the tour, which wraps up May 3 in Seattle after stops in Atlanta, Chicago, Dallas, Denver, Houston, New York, San Francisco and others. Sheen has said the Detroit show, where tickets cost $45 to $80, sold out.
"I am bringing `My Violent Torpedo of Truth/Defeat is Not an Option' show out to you in the battlefield," Sheen said in a video announcing the tour. "If you're winning, I'll see you there. Trolls need not apply. ... Buy your ticket. Take the ride. And the ride will take you."
Thanks for reading CBS NEWS.
Create your free account or log in
for more features.