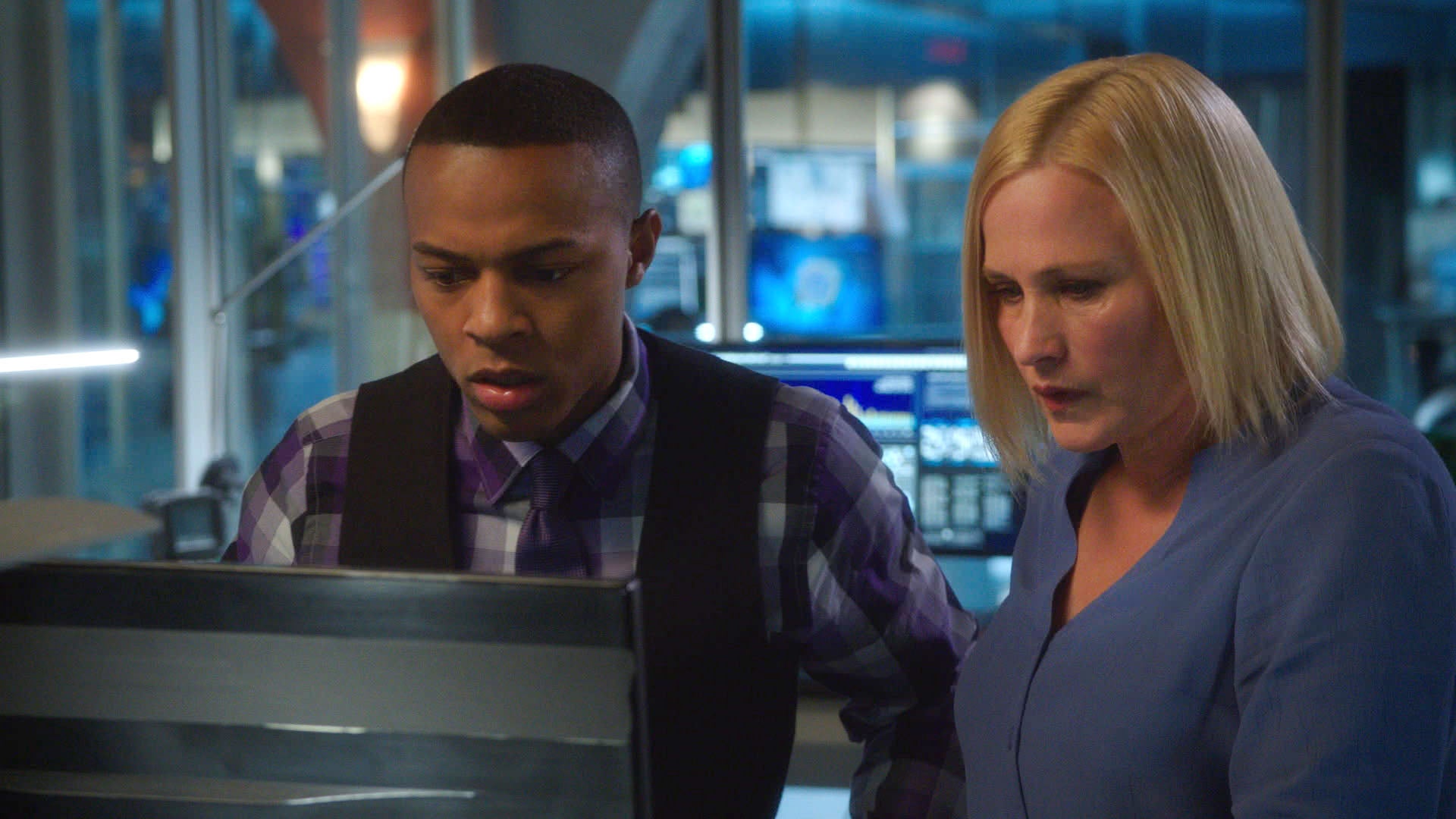 Changes in store for season 2 of "CSI: Cyber"
When season 2 of "CSI: Cyber" begins Sunday, viewers may notice a few subtle -- and not so subtle -- changes.
For one, Ted Danson, star of "CSI: Crime Scene Investigation," will now be in the mix of cyber crime experts. With CBS' landmark series ending after 15 seasons, Danson's D.B. Russell character is moving over to the cyber crime division.
He'll join a crew that already includes Special Agent Avery Ryan (Patricia Arquette), FBI Agent Elijah Mundo (James Van Der Beek), Brody Nelson, an expat hacker played by Shad "Bow Wow" Moss, Raven Ramierz, a rookie tech portrayed by Hayley Kiyoko and Daniel Krumitz (Charley Koontz), an introverted tech genius.
"He's coming over from CSI because he wasn't quite finished with the crime world," showrunner Pam Veasey told CBS News during a recent visit to the "CSI: Cyber" set. "He is the director of Next Generation Forensics. So he combines the CSI world of fingerprints and DNA with the technology of next generation products. He's the one always bringing in the newest thing, like a baby pacifier, that is Bluetooth ... He then gives it to our team of hackers, our young people, and says, 'Hack this so we're one step ahead of the bad guy.'"
Another difference you'll see in season 2 revolves around wardrobe. Throughout the first season Moss' character, Ramierz, sported suits at the office. But in season 2, he's going for the casual look. It's a change, Moss says, that came directly from Jerry Bruckheimer, producer of the series.
"No suits for Nelson," Moss said. "He [Bruckheimer] just felt that he wanted Nelson to be more ... of himself. Be more Nelson ... It's almost like Nelson was trying to fit in the first season. 'Cause as you can see, he's from the streets ... ' But let me go ahead and put on a suit, and do it the correct way.' And now it's, like, 'Well, since I'm in now, let me go ahead and get comfortable, and be who I really am.'"
Another character evolving in season 2 is Van Der Beek's Elijah Mundo. In season 1 we quickly learned that Elijah is a workaholic whose personal life isn't always in order. This fall, the show will delve more deeply into his back story.
"He's not a very emotional guy, not very good at expressing things. And I think in season 2, we're gonna see him confronted with a lot of life that really forces him to deal with more with who he is and not lose himself in the job so much," said Van Der Beek.
Arquette's character, meanwhile, will have to face a major decision at the job.
As for story lines, Veasey says to expect more crimes "that touch all of us," including home security systems, plane travel and hospital visits.
"We're going to touch on that fabulous concept of remote cars, cars without drivers. So all the things that people are hearing about are going to be stories that we're telling," she said.
When asked if she ever worries about running out of story lines, Veasey admits that at first she certainly did. That's not the case anymore though.
"Every day there's some new technology that presents a new idea. We just discovered there's Bluetooth pacifiers. There's a Bluetooth basketball!"
Wherever the cyber crime stories may lead, the actors on the show are enjoying telling them.
"They are such nice people to work with, so sweet," Arquette said. "And the actors are so great. Last year we all had to kind of jump into this very technical verbiage, this very computer-savvy, whole new language for us. And we were immediately like, I got your back, I got your back. We'd be whispering to each other. Off-camera, we would be reading each other's lips. So we have a great thing."
Check out the video above from our set visit to the show.
"CSI: Cyber" airs Sundays at 10 p.m. ET on CBS.
Thanks for reading CBS NEWS.
Create your free account or log in
for more features.