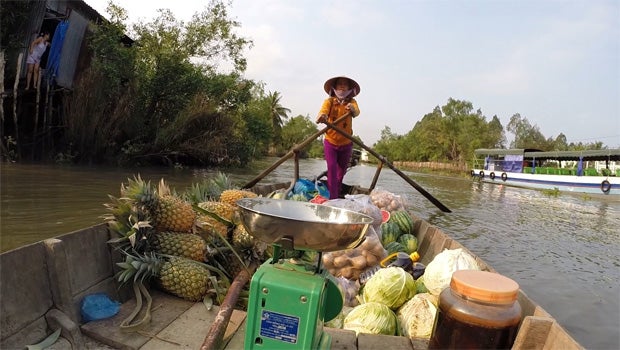 ​Change coming to Vietnam's floating market
Staying afloat is what all business people hope to do -- and it's particularly true for the ones Barry Petersen will be showing us in this Postcard From Vietnam:
It is barely dawn, and Do Minh Tu and her husband are already hard at work selling the pork broth soup she got up at 3 a.m. to cook. She adds in green beans, rice noodles, meat and Vietnamese spices pungent and peppery.
"You eat one bowl," she promises a customer, "you will feel full all day."
For 20 years she's been the best-selling soup lady at the Cai Rang floating market in the south of Vietnam.
"The buyers fight each other," she says, "to buy my soup."
This is capitalism at its best: big boat owners bring in watermelons and pumpkins, cabbages and turnips, garlic and sweet potatoes, from fields as far as 50 miles away.
There is even advertising, of a sort -- sellers tie a sample of their goods, like pumpkins or garlic, to a pole.
At wholesale (as in, off the big boat), a watermelon might go for about 25 cents, bought by owners of smaller boats who will peddle their goods at a hundred-percent markup on the canals and streams of the Mekong Delta.
And there are other businesses amid the swarm of boats: a lottery ticket salesman, who can hardly keep up with demand. Or the coffee woman -- here, Starbucks comes to you!
One boat is like a floating 7-11 with sodas and snacks. Another is a bobbing sandwich shop.
And like smart business owners everywhere know, sales go better with a smile.
"Customers like to buy from sellers who are laughing and happy," Mrs. Tu told Petersen. "No one wants to buy from someone in a bad mood."
The floating market has been like this for a thousand years, surviving Asian conquerors come and gone ... the Americans, who fought a river war here ... even the Communists, who left this slice of capitalism alone.
But times are changing.
A decade ago the floating market stretched nearly a mile. Today it is half that. The tourists, especially the Vietnamese, now come to see a fading part of their own history.
To make life better for the people of the Mekong Delta, there is a push for progress, but progress might just push this age-old market into extinction.
Modern supermarkets sell vegetables in air-conditioned comfort. New bridges and roads mean trucks, not boats, bring in goods, and shopping is about navigating traffic-jammed roads.
But there is something else changing, and maybe it's not such a bad thing. Take 45-year-old Ho Thi Thanh Van. She paddles the canals, selling door-to-door what she bought from the floating market.
She earns maybe 10 dollars a day. But her daughter is studying English at college. So she sweats and struggles with a single hope that many share, that she will be the last generation forced to work like this, that her children will have a better life.
And in that hope may be the last real chapter here, because a better future for the next generation will surely mean an end to this little slice of age-old smiling and hustling capitalism that once thrived on the ebb and flow of a mighty river.
Thanks for reading CBS NEWS.
Create your free account or log in
for more features.