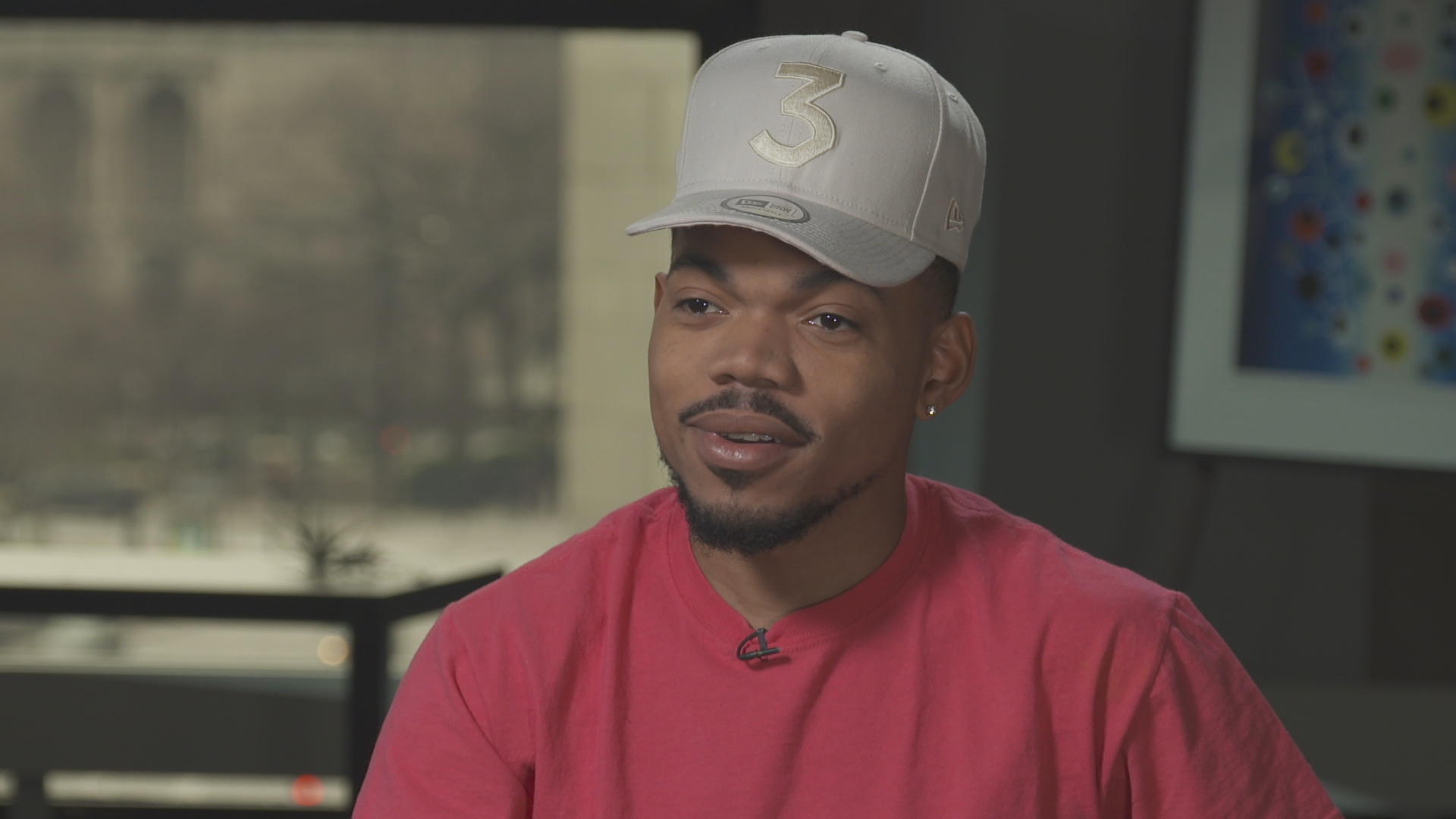 Chance the Rapper's rise to stardom and how he's bringing his success back home
Twenty-four-year old Chancelor Bennett, better known as Chance the Rapper, has only ever played by his own rules. He broke records as an independent artist when his mix tape "Coloring Book" charted with more than 57 million streams in just one week. But along the road to his success he's remained grounded. In his mission to serve his hometown of Chicago, he founded SocialWorks, a nonprofit with the goal to inspire creativity in young people.
"CBS This Morning" co-host Gayle King sat down with the Grammy Award-winning artist to discuss what he's doing to inspire kids in Chicago's South Side, how his parents have influenced him and the two men he calls his mentors.
It's been a year since he took home three Grammys. What he remembers of that night? Being nervous.
"I was in a room full of people that I admired since I was young. My family was there. My friends were there. I was just happy to have gotten to that point," Chance said.
After getting to that point, he didn't hesitate to bring his success back home to Chicago. He donated $1 million to public schools and his organization, SocialWorks, raised an extra $2.2 million. It's an investment in Chicago's future.
"I live on the South Side, you know? A lot of people know Chicago geographically is the most segregated city in America. And so I've lived around black people my whole time growing up. But when I got to high school, I got to go to school downtown with, you know, nicer facilities," Chance said.
"I think it wasn't just that Chicago public schools don't have enough money. It's how the money gets spent and the funding formulas for our school district and all school districts in America," he said.
In the year since winning some of music's most coveted awards, Chance says the highlight has been his OpenMike program. The organization gives students an outlet to express themselves freely. The only requirement is a high school ID, and the courage to perform for three minutes on stage.
"Whether it's dance, or sing, or rap, or – you know, I've had kids come up and do standup. I had a kid do a fashion show, eat a taco," Chance said. "Whatever they want to do in that three minutes of space as long as it's respectful. They get a moment. And I think it's been transforming for a lot of different kids."
It was performing at open mics that helped launch Chance's career. He remains an independent artist with no plans to sign with a record label. His critically-acclaimed mix tape, "Coloring Book" would break boundaries. It debuted exclusively through Apple and made the Billboard top 10 albums chart with streaming plays only.
"My thought process is if I'm going to give them the music away for free, there is a strong chance they'll take it and a slight chance that they'll listen to it. If I'm selling it to them and they have a choice between my music and a happy meal, they're gonna choose the happy meal. They're gonna spend their money on something that they know they want to consume. But I need consumers right?... But also I just wanted people to notice that, you know, there was something that was being created that no one other than the face of it had control over."
Chance's music has been described as hip hop, soul, R&B and a little bit of gospel. "I would never say that I'm making gospel music, but I love God. I love Jesus. And I'm super cool with saying that," he said.
Chance also credits his parents for teaching him the principles that have kept him grounded. Though he admits that he and his dad haven't always seen eye-to-eye.
"He ended up kicking me out for a little while 'cause I didn't go to school, obviously. I didn't go to college," Chance said. "We were on bad terms. And then the thing that kinda turned it all around was one of my friends had passed away who was young and he -- my dad didn't want to be in a strained situation with me."
One of the songs on his album is called "Everything's Good." In it you hear Chance's dad say he's proud of him.
"My dad calls me at least three times a week to just say, 'hey, I don't wanna – don't wanna stop you. I know you're out doing something. But I love you, and I'm proud of you," Chance said. "Even though he was strict, even though he was old school, even though, you know, we butt heads on a lot of things, my dad never didn't tell me he was proud of me."
Today, Chance is a proud parent himself. His 2-year-old daughter Kensli is an inspiration not only to his life, but to his music.
"My life used to be a whole bunch of little dots on a timeline. And then, like, after I had Kensli it was like all of that became one dot. And it's like my new life is, you know, so much better and so much more eventful and, like, purposed," Chance said. "The title 'Coloring Book' came to me because I felt like I was relearning a lot of things through her."
Chance has said that Kanye West and Dave Chappelle are both mentors to him – the people he calls first.
"Kanye to me is the confidence I always wanted to have. He, you know, always knew who he was and what he wanted to do. And Dave is just all the things that my parents instilled in me is what he exemplifies at all times. He is integrity personified. He is, 'I don't care how much money you have. You can't have me,' personified," Chance explained.
He says his mom asks him all the time, "Are you a good person?" He finally feels like he's getting an answer to that question.
"I didn't for a long time. I'm sure at this point that I'm a good person. It's not because of things that I do. It's how I feel."
Thanks for reading CBS NEWS.
Create your free account or log in
for more features.