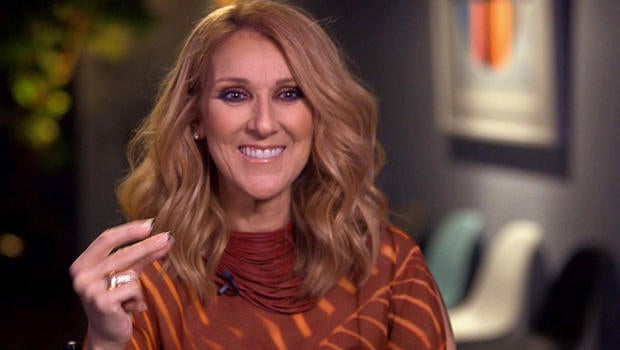 Celine Dion: The real thing
With her 1,000th performance last night, Celine Dion has reached the height of success in Las Vegas -- which is where our Mo Rocca caught up with her backstage:
It's only seconds before showtime, and yet superstar Celine Dion takes a moment to joke with our camera crew. But make no mistake: When she steps on stage at Las Vegas' Caesars Palace Colosseum, she brings it.
Yes, in the age of Auto-Tune, Celine Dion is the real thing.
"There was a woman sitting behind me," Rocca said, "and she kept going, 'She's amazing. She's amazing. She sounds better than she does on the albums.' No one sounds better than they do on the albums. So that's a tribute to you."
"Thank you for sharing that with me," Dion said. "I felt the energy. And that's why I love performing live so much. There's something very nerve-wracking about it. But because it's a one-shot deal, it's a one-take, it gives you something magic. It's like Tinkerbell with the fairy dust."
Dion doesn't need any fairy dust. She's got talent, stamina, and some of the biggest hits of the last 20 years, such as the theme song of "Titanic," "My Heart Will Go On." Her show has drawn more than four million fans since she began playing Vegas in a theater built for her in 2003.
Back then there were doubts. But after her record-breaking 1,000th performance, she's firmly in the pantheon alongside Vegas deities like Elvis and Sinatra.
Sin City is now home to this French-Canadian widowed mother of three. Ride to work with the 48-year-old, five-time Grammy-winner and you quickly discover, she doesn't take herself too seriously ... AND she seriously loves singing.
I'm unstoppable.
I'm unstoppable today.
I'm unstoppable.
Don't need no batteries today!
But now that the drive is short, we gotta get outta here--
We gotta get outta here because we're here in my dressing room.
Puttin' my makeup on,
and go on and on.
Then it's on to sound check, the concert before the concert.
Celine Dion grew up in a working class family in the Canadian province of Quebec. She was one of 14 siblings.
Where did everyone sleep? "We were three, four in the same bed," she said. "I did not have a bedroom. Up the stairs, before going in the bedrooms, there was a little ramp. And my bed was there. So everybody went up, they saw me, and I could wave goodbye and goodnight."
The youngest in a family that loved to sing, she was 12 when her mother took her to meet manager Rene Angelil.
Rocca asked, "What do you remember from the first meeting with Rene?"
"I thought he was very beautiful," she said. "He looked great. I felt confident that this man was not treating me as a, 'Oh, hi, little pumpkin.' Or, 'Hi, little sweetie,' or like a little baby."
Angelil, 26 years her senior, managed Dion's rise to the top. Eventually their relationship became more than professional, and they wed in 1994, in a lavish ceremony broadcast live in Canada.
They were married for 21 years, before Angelil lost his battle with throat cancer this past January.
"Before he left, it was very, very difficult for all of us," Dion said. "For me especially, and my children, to see the man of my life die a little bit more every day. And when he left, it was kind of a relief for me that the man that I love, the only man that I kissed, the only man that I loved. Yeah. I never kissed another man in my life. So the man of my life was my partner, and we were one. So when he stopped suffering, I said to myself, he's okay. And he deserves not to suffer."
Rocca asked, "Do you hope that you'll fall in love again in the future?"
"Not now. Unh-uh."
"But you're still so young."
"I love. I love. I love him. I'm still in love with him. And I have the love of my children. I have the love of my fans. I love the people that I work with. So my life is not empty of love.
"But there's a song from Sia, 'I go to sleep and imagine that you're there with me.' And I go to bed with him. And I come on stage with him. And so I'm still married to him."
Which is why each night before Celine Dion goes on stage, she knocks on work for good luck, right below the cast of her late husband's hand.

For more info:
Thanks for reading CBS NEWS.
Create your free account or log in
for more features.