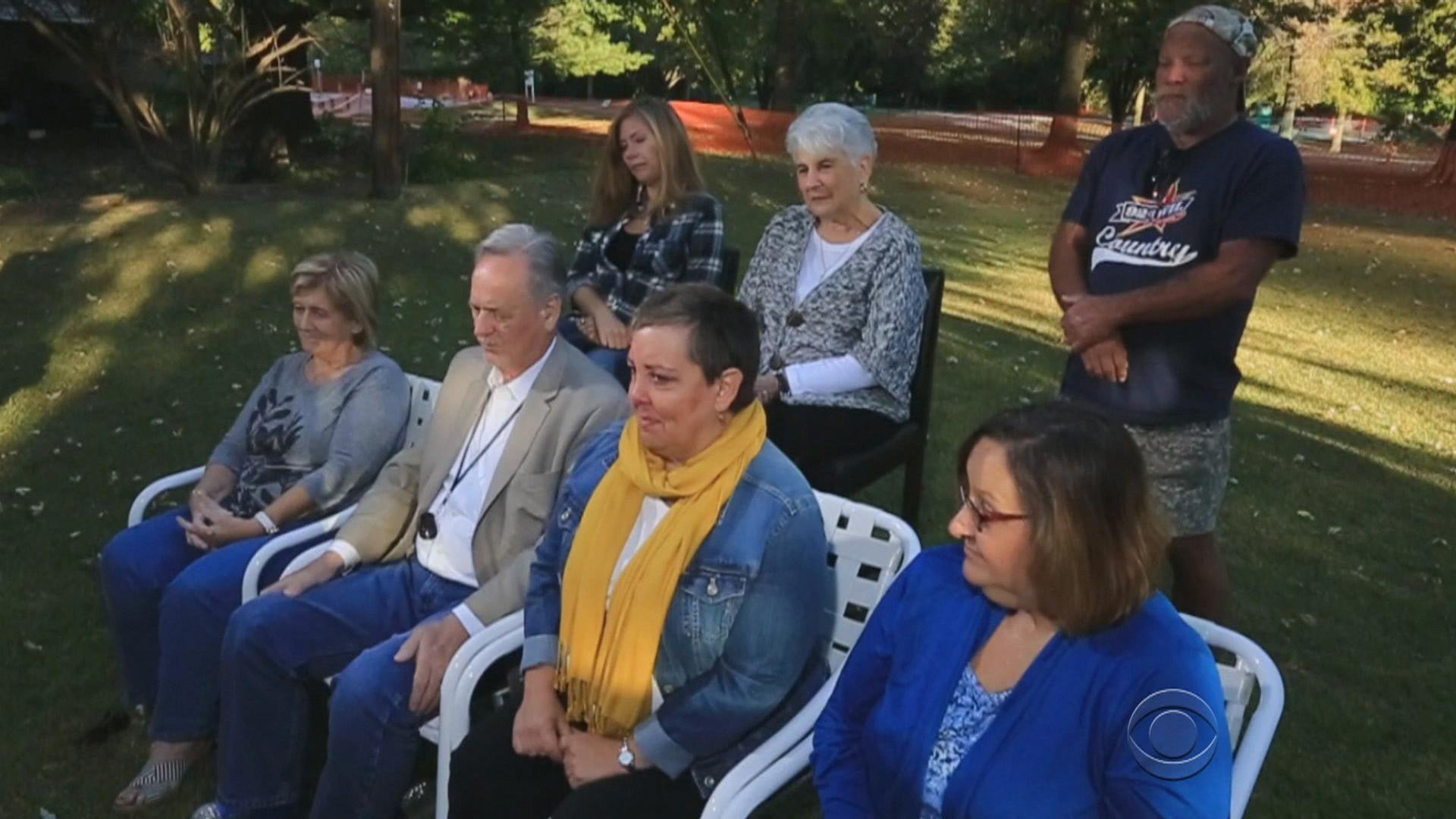 High number of cancer cases near St. Louis prompts concern
NORTH ST. LOUIS COUNTY, Mo. -- An unusual number of rare cancers has the Centers for Disease Control and Prevention taking a close look at a community outside St. Louis, Missouri.
"You'll never forget the moment they tell you, 'We found lesions on your lung and your liver,'" said Mary Osckso, who has stage 4 lung cancer.
CBS News met with Osckso and six of her neighbors, all of whom lived in the same north St. Louis suburbs. Every one of these people either has cancer, or lost a parent or child to it.
The neighborhood park where they played growing up is now padlocked, while construction crews remove radioactive waste discovered beneath the topsoil.
Jenelle Wright was one of the first neighbors that noticed the common illnesses, when former classmates started re-connecting on Facebook.
"If we did not have social media, if Facebook did not exist, we would never have put these pieces together," she said.
The group put together a map showing more than 2,700 instances of cancers, auto-immune disorders and brain and thyroid tumors.
"Within a six-house radius, I knew four people with brain cancer, one a child, one a young professor," Wright told CBS News. "And I just thought, 'This is really odd.'"
The area where they lived is called North County, which includes Hazelwood and Florrisant. Coldwater Creek runs thru the towns.
For decades, two sites near the creek were used to store radioactive waste from America's nuclear weapons program.
The waste came from St. Louis's Mallinckrodt Chemical Company, which the government hired to process uranium.
Tens of thousands of barrels of nuclear waste, many open to the elements, contaminated the soil at the sites and the nearby creek.
"What you see is an environmental health disaster unfolding slowly over decades," said county health director Dr. Faisal Kahn.
Khan said identifying a true cancer cluster is very difficult, but that what's happening in North County needs long-term study.
"The rates of appendix cancer, for instance, which is relatively rare -- we see about 800 cases across the nation per year," Kahn said. "To find seven or eight cases in one zip code or one small geographic area is rather unusual."
Currently, engineers are testing the soil along the rest of the 15 mile creek. It will take years to complete -- years Mary Oscko doesn't have.
"My husband and I had to sit down at night and discuss whether I want to be cremated or buried," she said. "I don't want to be buried in North County, that's the one thing I told him -- I do not want to be buried where this soil is."
Several residents have filed a class action lawsuit against Mallinckrodt and other companies that handled the uranium.
It's very early in the legal process. In a statement, Mallinckrodt told CBS News "The company worked under the direction of the U.S. government and at no time did Mallinckrodt own any uranium or its byproducts."
The atomic energy commission which hired the cleanup companies no longer exists, so CBS News is seeking comment from the Department of Energy.
Thanks for reading CBS NEWS.
Create your free account or log in
for more features.