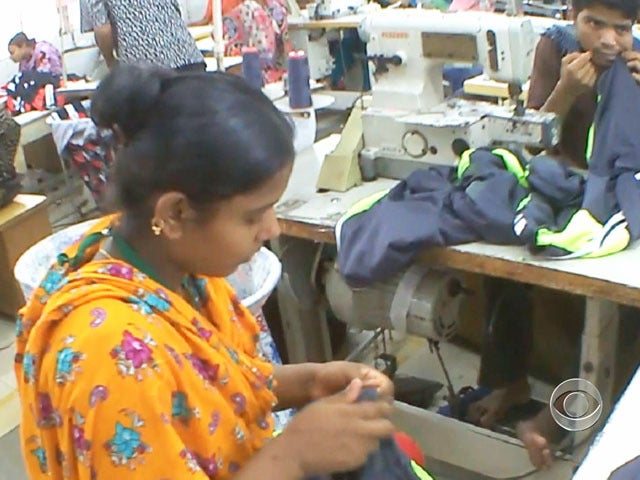 CBS News goes undercover in a Bangladesh clothing factory
(CBS News) Many of the clothes in American stores are made in Bangladesh, which has a history of workplace disasters. Six months ago, 112 workers died when their factory burned down. Last month, another factory collapsed, killing more than 1,100 workers in one of the worst industrial accidents ever.
If you own clothes that were made in Bangladesh, this is where they come from. It's one of the poorest countries in the world.
And your clothes could have been made in a factory like Monde Apparels.
Posing as buyers, we filmed secretly inside the factory which employs 1,400 workers. We saw them making shirts for Wrangler and Asics sportswear they said was for the American market.
The managers told us the factory hasn't been approved by Walmart for production -- but they still had an order for a million Walmart boxer shorts, subcontracted to them by another factory.
In Bangladesh's giant garment industry, factory fires are common and deadly.
The boss at Monde Apparels -- Masudul Haq Chowdhury -- showed us an evacuation map marking the location of 13 fire extinguishers. But nearly all of them were missing.
There are several hundred workers on one floor of the factory, and the manager told us that it's more than 100,000 square feet. But so far, we've only spotted two fire extinguishers.
And if there were a fire, the workers would find an emergency exit door blocked by boxes.
Chowdhury was adamant that his company doesn't allow child labor.
"Until [they turn] 18, we cannot employ them," he said.
Some of them, though, looked much younger. We couldn't speak with the workers freely inside the factory, so we went looking for them after work in an overcrowded slum.
We spoke to a woman and her daughter who both work at Monde Apparels and earn around $50 a month each.
They asked us to hide their faces, scared they'd lose their jobs for speaking out.
The daughter told us she was just 12 years old -- and one of many children working at the factory. She gave the factory a fake birth certificate showing her age as 18, dodging the rules on child labor because her family needs the money.
Apparel giants back safety plan in Bangladesh
Bangladesh ends building collapse search; final toll is 1,127
Water, "luck" helped Bangladeshi seamstress survive after being trapped 17 days
Asked if she thinks the factory bosses suspect her daughter is still a child, the mother said they must know that her daughter is underage.
The woman told us that Monde Apparels doesn't give workers a pay slip.
Watch: Miracle rescue from rubble of Bangladesh factory, below.
"Last month, I worked 20 days, but they only paid me for 11," she said. "If I question them, they yell at me."
But she feels lucky to have a job and told us there's been a big change at the factory in the last six months.
"Nowadays, when we make a mistake, at least the supervisors don't beat us like they used to," she said.
Earlier this week, we brought our findings to Asics, Wrangler and Walmart. Asics was told by its suppliers that they don't do business with the Monde Apparels factory, so it's investigating whether the Asics clothes we saw are counterfeit.
Wrangler told us Monde was approved for use last March by an independent labor group, but after we called the company, Wrangler said it sent its own inspector and has now fired the supervisor.
Walmart told us it will investigate, and if unauthorized production or child labor are found, Monde will be barred permanently.
For years, U.S. retailers have tried to improve conditions in Bangladesh; they tell customers they only do business with factories that follow the rules. But sometimes American companies give their orders to a supplier, or they'll give an order to one factory and it gets passed along to another factory. In that case, they don't know where their products are being made.
Even if they do know which factory they're using -- and inspect it -- there can still be problems, because the factories are cleaned up ahead of the inspection and workers are coached on what to say.
Thanks for reading CBS NEWS.
Create your free account or log in
for more features.