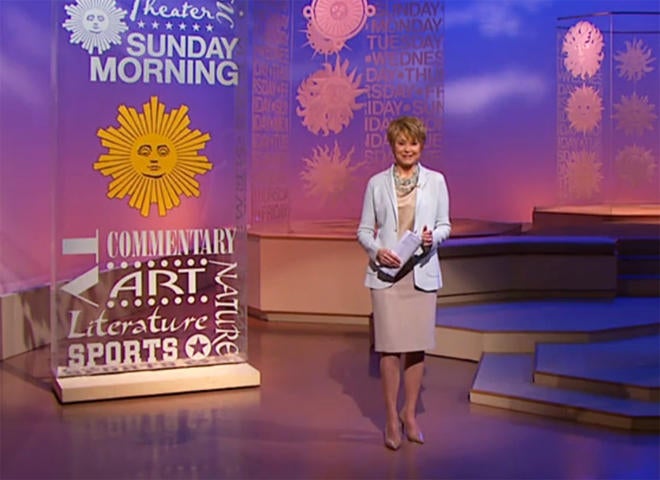 CBS News celebrates 40 years of "Sunday Morning" with primetime special, "Sunday's Best"
CBS News will present "Sunday's Best: Celebrating 40 Years of 'CBS Sunday Morning,'" a new, one-hour primetime special spotlighting the best original reporting on the arts, humanities, entertainment, music and much more, to be broadcast Friday, Sept. 14 at 8:00 p.m. ET/PT.
Jane Pauley will anchor the special, which features "Sunday Morning"'s award-winning lineup of correspondents delivering insightful reporting on issues that matter to Americans, profiling top entertainment figures, taking an in-depth look at the world of art, design and architecture, and much, much more.
The broadcast is a celebration of the series' 40 years on air.
"CBS Sunday Morning" has been the #1 Sunday morning news program for 15 consecutive seasons. Anchored by Pauley, each broadcast features a slate of intriguing stories, thought-provoking arts and culture reports, and profiles of some of the most memorable figures of our time, along with stories on science, Americana, and newsmaker interviews. The long list of "Sunday Morning"'s high-profile interviews includes Presidents Barack Obama, George W. Bush, Bill Clinton and Jimmy Carter; former first lady Michelle Obama; Secretary of State Hillary Clinton; House Speaker Paul Ryan; entertainers Bruce Springsteen, 50 Cent, Bono, Pharrell Williams, Glen Campbell, Jennifer Lopez, Shakira and Elton John; superstar athletes Venus Williams and Tom Brady; authors James Patterson, Ta-Nehisi Coates and Tom Wolfe; and scores of others.
The broadcast launched Jan. 28, 1979 with Charles Kuralt as anchor. Charles Osgood was named Kuralt's successor in 1994 and held the position until he stepped down in September 2016, when Jane Pauley was named anchor.
Correspondents include Lee Cowan, Rita Braver, Mo Rocca, Tracy Smith and Martha Teichner. Among the program's contributing correspondents are Ted Koppel, Serena Altschul, Nancy Giles, Luke Burbank, David Pogue, Conor Knighton, Faith Salie, Steve Hartman and Anthony Mason.
Since its inception, the broadcast has earned virtually every honor available in broadcast journalism, including three Daytime Emmy Awards for Outstanding Morning Program.
Rand Morrison is the executive producer of "CBS Sunday Morning" and of "Sunday's Best: Celebrating 40 Years of 'CBS Sunday Morning.'"
"Sunday Morning," which airs Sundays at 9 a.m. ET, also streams on CBSN beginning at 9:30 a.m. ET and repeated at 1 p.m. ET, and is available on cbs.com, CBS All Access, and On Demand. You can also download the free "Sunday Morning" audio podcast at iTunes and at Play.it.
Be sure to follow us at cbssundaymorning.com, and on Twitter (@CBSSunday), Facebook, and Instagram (#CBSSundayMorning).
Thanks for reading CBS NEWS.
Create your free account or log in
for more features.