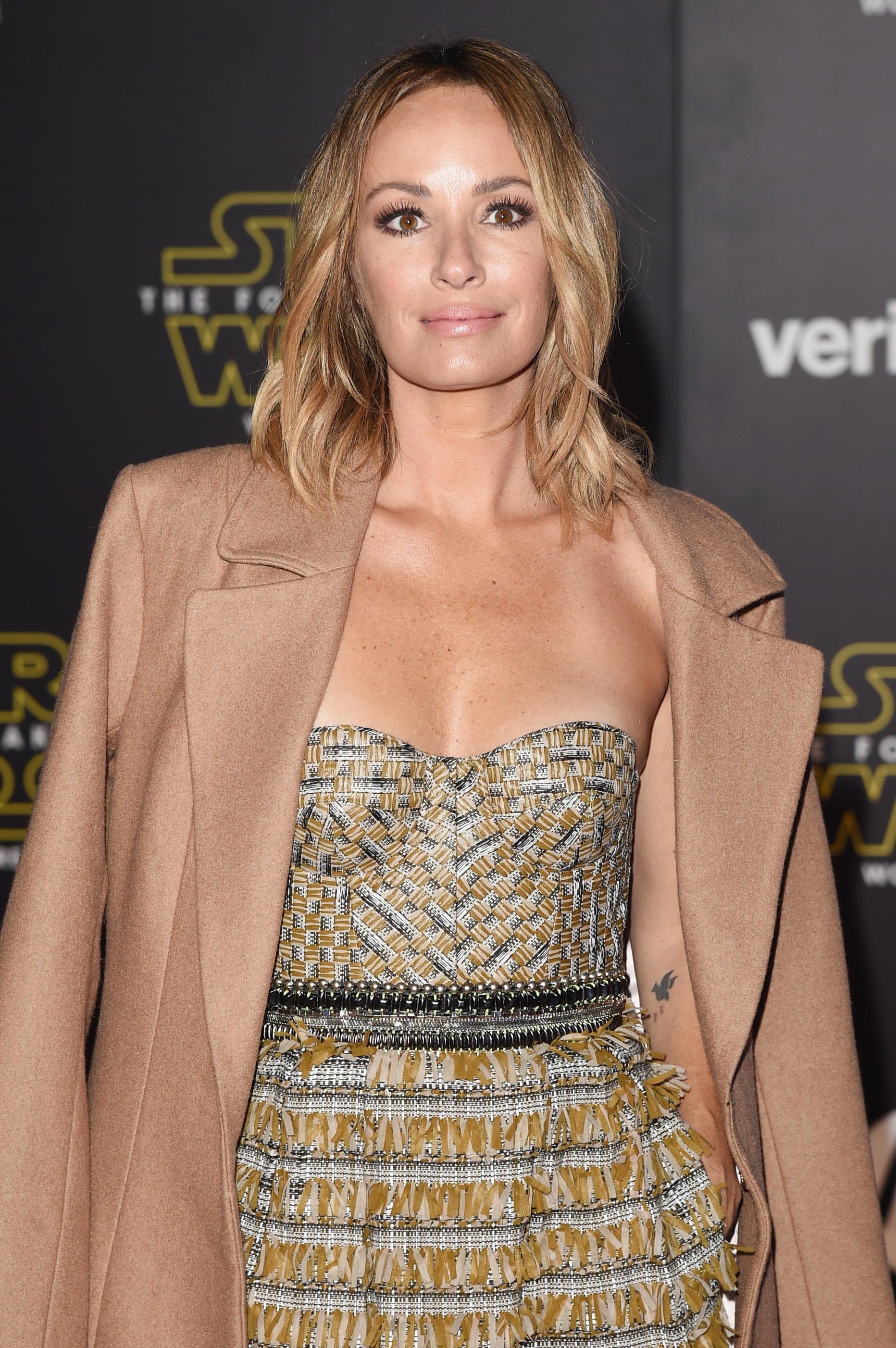 Catt Sadler opens up on her decision to leave E! News for Equal Pay Day
In December, Catt Sadler wanted to set the record straight and let her fans know why she was leaving E! News after 12 years. She announced on her website that she was leaving the network after finding out that her co-host, Jason Kennedy, made "close to double" her salary. Sadler said the anchor job there was a "dream come true," but she decided to leave after E! did not meet her request for a salary close to Kennedy's. Sadler says she wanted to give her viewers an explanation, but she never thought that her blog post would go viral and reach women all over the world.
Sadler talked to CBS News ahead of Equal Pay Day -- Tuesday, April 10 -- about her decision to come forward with her story, the response she received and what's next for her. Sadler is teaming up with Luna Bar to combat the fact that women are paid 20 percent less on average for the same job. The brand is offering a 20 percent discount on all LUNA Bars sold on its site and will match the discount amount with a donation to American Association of University Women (AAUW), up to $100,000 to help fund salary negotiation resources for women.
Q: You were the first major name in Hollywood to publicly quit your job because of unequal pay. Was it scary for you to tell your story when you didn't really know what the consequences would be, when you didn't really have examples before you?
A: At the time, that's not even how I framed it, like, "I'm the first," because I had no idea what the response would be like. I had no idea that people would be rallying around me the way they had, so while I was living through that at the time, it was strictly that I felt it was so unfair. It was such an injustice; I knew at my core that I was being discriminated against, so I had no choice. I had to tell my truth and I owed the viewers an explanation as to why I left. I had to speak on it. I had to share my story because I had been there 12 years and I wasn't permitted to say why I was leaving on my last day on air, so I had to put something in my own words to explain my departure. I had no idea who might care, who would resonate with that story, but obviously this isn't a singular story. It's a collective story, unfortunately, and the responses reaffirm that it's happening everywhere.
Q: You loved your job, though. Was it hard for you to give that up?
A: Of course, it was a bittersweet decision. I have many, many fond memories about my time there and the work itself and my colleagues. I could go on and on about the positives in that sense, but I'd be doing myself a disservice if I continued, so the writing was on the wall for me. I'd lived authentically and I couldn't continue, knowing what I knew, and I wouldn't have been able to do a good job, so really, I was left with no choice. At this point, it's the best thing I ever did. I'm not looking in the rearview mirror -- only forward, and I'm energized for the meaningful work that I have the platform to do now.
Q: What did your friends and people around you tell you at the time when you decided to leave your role?
A: My friends and/or those closest to me, the biggest sentiment at the time was, "Do you bet on yourself?" And I remember being asked that point-blank and I thought to myself -- I took a beat and thought, "I absolutely do." And that was it. I knew then that I had a bet on me and the rest would write itself and I have zero regrets.
Q: Do you feel like you've found a new calling?
A: Yeah, I think it's just a new season for me entirely and to do work aligned with equal pay now is such a natural fit. This issue is extremely important to me so when Luna Bar came to me and explained their initiative, which is really about the art of negotiation, and if we have the right tools, the right information and the right strategy, we can empower women to confidently go in and ultimately make more money at the end of the day. It was a no-brainer for me. This is a brand that's always championed women and now I get to be part of a campaign like this.
AAUW is a great organization that has put together eTools. It's absolutely free -- go online and you can learn what you can do to do better when you're negotiating. It blew my mind that 30 percent of women are negotiating salaries. We gotta get in the game and ask for what we deserve and be armed with all of these tools to make change.
This is very much part of a new journey for me. I'm loving it. Not only am I able to speak and have a platform to educate women and men about pay inequality, but I'm also having opportunities to be more creative. I'm developing a series right now that I can't announce quite yet, but everything I'm doing is aligning with this purpose. If I can use my skills, experience and storytelling background to shed light on issues like this, that affect women, then it's really so rewarding. I'm doing a lot of creative things on other side of the camera. I'm writing a book, hopefully launching a podcast -- a myriad of things are getting my energy and it's really thrilling. I'm enjoying this at the fullest.
Q: How did it feel when you had so many celebrities like Jennifer Lawrence reaching out and publicly supporting you after you wrote our post?
A: It makes me smile to just hear you say that and think about because it was so unexpected and I was so humbled by their kind words and their support. To hear Natalie Portman say she stands with Catt on international television -- it was incredibly touching, but at the same time I understand that they're saying my name and supporting me and I'm just a symbol for this movement in the sense that this is so many women's stories. This is so many women's experience and I heard from strangers around the world as well, via social media and my website and it's story after story about injustice after disparity after disparity and it's fueling me now. I feel like I have an obligation to fight the fight for those who cannot. Sisterhood is out in full force and it's not dying down anytime soon.
Q: When you made your announcement, you made it very clear that you did not blame your co-host Jason Kennedy. You two are close friends -- has your relationship suffered at all since your news?
A: No, not at all, and in fact, again, I've said all that I'm going to say on the matter. The only thing I will say: It's about looking forward. I'm not looking in rearview mirror. None of this has been about disparaging anybody or even the company. It's moving forward about the hope I have for the brighter future, for both myself and most women, because statistics do not lie and the fact is sadly a reality for so many people. So that's where I'm putting my energy.
Q: It sounds like you're really busy, but do you have any other projects you'd like to mention?
A: On the flip side of all these women-led centric products I've been working on, I used to have a blog and I'm re-launching my website, theCATTWALK.com on May 1, and it's going to be much more of a lifestyle destination but also female-centric. I'm going to have a lot of conversations on there with really influential, powerful women. There's going to be a Dear Catt column. I've heard from so many people that I'm going to continue exchange thoughts and views with my audience and there will also be fashion and beauty on there. I just launched a handbag collection with LumillaMingus and I designed three bags for spring so they are available now. I'm busier now than I think I've ever been. Who knew? I just wear my pajamas a little bit longer each day.
Thanks for reading CBS NEWS.
Create your free account or log in
for more features.