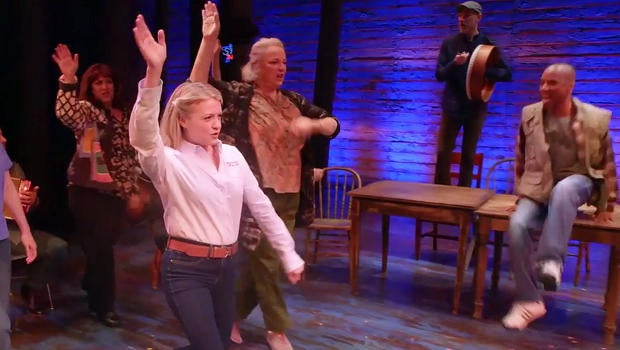 Cast of hit musical "Come From Away" on show's success
Broadway musical "Come From Away" tells the story of a small town in Newfoundland, Canada where airline passengers were offered safe harbor after planes were grounded there on September 11, 2001.
The musical recently won a Drama Desk Award for best musical and is up for seven awards at this Sunday's Tonys.
It's being called "Broadway's surprise hit of the season," and now "Come From Away" is playing to standing-room-only crowds, reports CBS News' Mo Rocca.
"I think people are coming here repeatedly to heal," said cast member Rodney Hicks when asked what is drawing people to the show.
"Come From Away" is less about the terrible events of 9/11 and more about the kindness of strangers.
"Through tragedy comes joy. They always say the light at the end of the tunnel.' But if you really open your eyes, the light is always there," Hicks said.
To shine that light, 12 cast members play both Newfoundland natives and stranded airline passengers – who for five days nearly doubled the population of Gander, a town with about 10,000 residents.
Most characters are a compilation of real people the writers interviewed for the show.
The pilot portrayed by Tony nominee Jenn Colella, however, is based on real-life airline pioneer Beverly Bass – the first female captain of an American airline and one of the pilots diverted to Gander that day.
"Nothing is made up. Everything is real and it is the way that it really happened," Bass said.
The two have become close friends.
When asked if meeting Bass changed her performance at all, Colella said, "Yes, absolutely. Look at how we're sitting right now."
"Well, last night was 68 times," Bass said of how many times she's seen the musical. "I never get tired of singing it so I'll sing it many more times."
"I feel like I'm soaring when I'm listening to her sing, what's it like for you?" Rocca asked.
"It is unbelievable. She's so little and the way she belts out that voice...and I always just take a deep breath because I know it's going to be beautiful," Bass said.
Before its Broadway debut, the cast and crew performed a pair of sold-out shows at a hockey rink in Gander.
"It was like a rock concert. We were Coldplay or U2 or Beyonce or somebody," said Petrina Bromley, the one cast member who's actually from Newfoundland. "I meet people every night who are so proud, really, and for me that's one of the biggest rewards of doing this show, because when in your life is your job something that makes people proud?"
There are 13 musicals in competition this year, the most in a long time.
"We are in a season where everybody has a chance and that's exciting," said cast member Joel Hatch.
"OK. I get that the show is heartwarming, but drop the act, we're talking about the award. What do we gotta do to knock (Dear) Evan Hansen out?" Rocca jokingly asked.
"I think that…and we've actually discussed this, and we feel we're fine, whatever happens," Hatch said.
It really is a beautiful show without a scintilla of cynicism. Pretty rare for this day and age and yet it's making a million dollars a week.
Thanks for reading CBS NEWS.
Create your free account or log in
for more features.