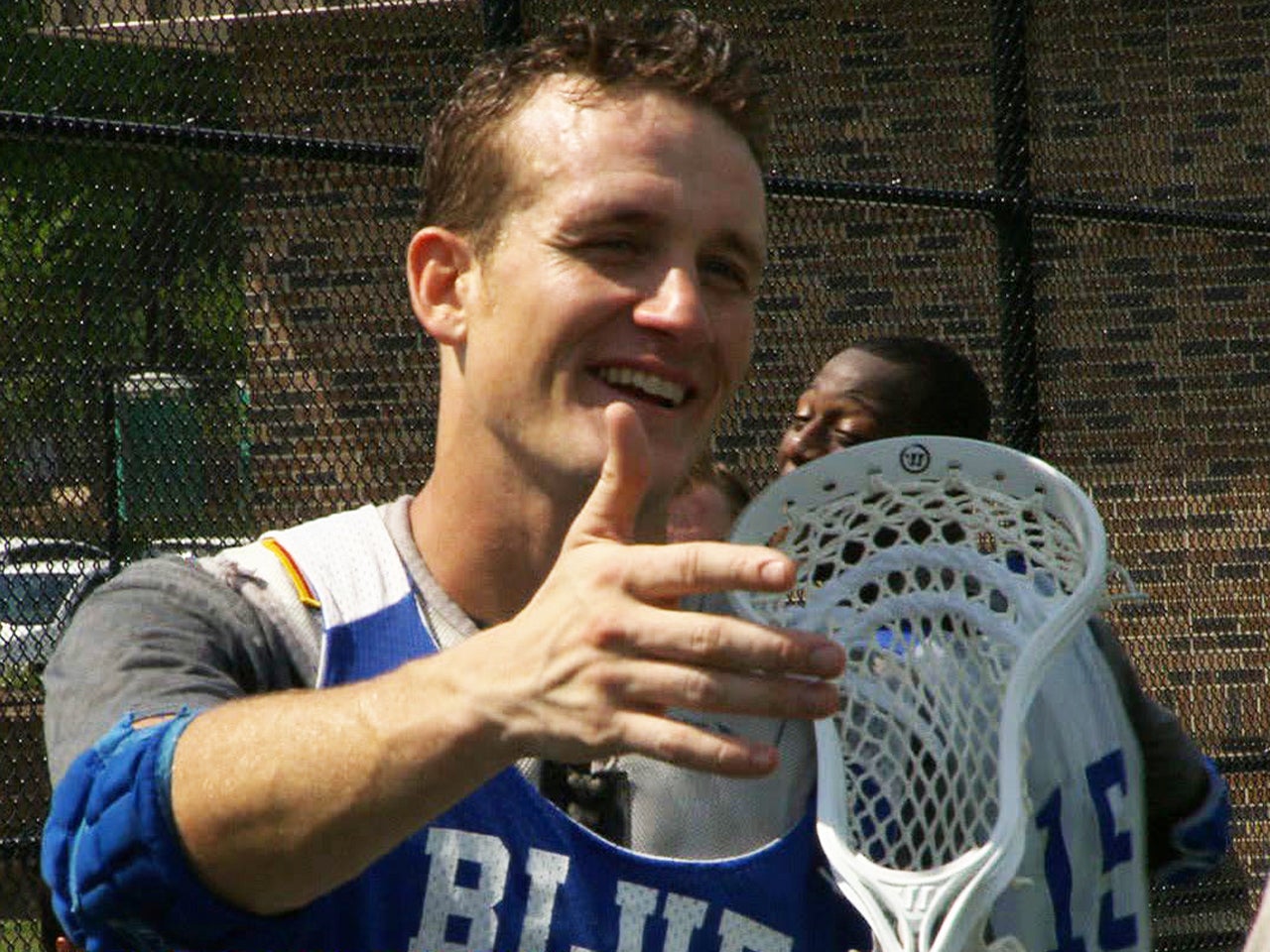 Veteran salutes slain soldier on battlefield, lacrosse field
The men's NCAA Division I lacrosse semi-finals take place Saturday in Baltimore. Duke University is the top seed. One of its marquee players spent four years and went halfway around the world to reach this moment.
No. 37 is Casey Carroll, a star on defense for Duke's lacrosse team. He has been places and done things his teammates can only imagine, and they know it.
Senior Christian Walsh said, "I'm kind of in awe every time he talks, you know. His leadership style is pretty laid back, so when he does speak, everybody listens."
For starters, Carroll has a wife, Erin, and two young sons, Casey Jr. and Jack. He's also 29 years old, a graduate student-athlete competing in an elite college program.
Carroll told CBS News' Mark Strassmann his teammates never miss a chance to remind him he's 10 years older than his teammates. And, after practice, Carroll's teammates go to party or study, and Carroll goes home to help his wife change diapers.
"It's absolutely different," Carroll said.
In 2007, there was another big difference for Carroll. He was finishing up as a Duke undergraduate and an All-American on the field. Three players had just been cleared of false rape charges when a death jolted the world of Duke lacrosse.
Sgt. Jimmy Regan, a former Duke player, was killed in combat in Iraq. His framed jersey hangs right outside the team's locker room.
"Nobody can really put into words what his jersey and what his life meant to us," Carroll said.
Regan's death changed Carroll's life. He graduated and enlisted.
Carroll said, "The day he died, I made up my mind that, you know, I wanted to follow in his footsteps."
In 2007, Erin Carroll was his college girlfriend. They got married in 2010.
Erin Carroll said she was "very concerned."
She said, "I tried to, not persuade him not to do it, but I tried to make him aware, as he already was, of the danger of it. But it was something, you know, he felt like he was born to do, and so who was I to stand in the way?"
Army Sgt. Carroll eventually joined Regan's former platoon in the 75th Ranger Regiment. He served four years and spent four deployments in Iraq and Afghanistan.
But here's what's really surprising - Carroll never met Regan.
Strassmann asked, "What about the way he lived and died has meant so much to you?"
"I really saw him as more of a trailblazer," Carroll replied. "It's just that you kinda have to follow your heart and, you know, do something that is important to you."
Two years ago, Carroll returned to Duke on the GI Bill to pursue his MBA - and college lacrosse because he had a year left of NCAA eligibility.
Last year he built back his game but tore up his knee. This year, Carroll built back his knee, and he and his teammates tore up college lacrosse.
He said he still has passion for the sport at 29. He said, "You never forget what that feeling was to be a part of, you know, the men's lacrosse team here, to be a part of the Duke community."
Last Sunday, Duke beat Johns Hopkins 19-11 in the second round of the NCAA lacrosse tournament. Carroll and his teammates are two wins away from a national championship - seven years after he last played in the tournament.
Head coach John Danowski said, "In some ways, Casey is the healthiest, emotionally, of all of our young men because lacrosse isn't that important, in the big scheme of things. He has witnessed and seen things that, you know, he may never speak of again, and he lives a very balanced life."
Next Monday matters to Carroll and his salute to Regan. He hopes Duke will be playing in the NCAA's national championship game. It's also Memorial Day.
Carroll just graduated from Duke's business school. He and his family are moving to Charlotte, North Carolina, where he's about to start a job with a bank.
Thanks for reading CBS NEWS.
Create your free account or log in
for more features.