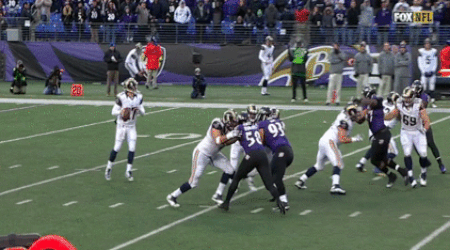 Case Keenum concussion challenges NFL protocol
Late in the St. Louis Rams' 16-13 loss to the Baltimore Ravens on Sunday, Rams quarterback Case Keenum was spun around and slammed violently on his head after a passing play.
After hitting the ground on his back, Keenum immediately grabbed his head. A teammate tried to pick him up, but a clearly dazed Keenum immediately became wobbly and struggled to roll over onto all fours. Slowly, he made his way to his feet, never appearing steady.
Yet the game never stopped. As officials decided what penalty to call, Keenum's teammates rallied around him and he never left the field. Two plays later, Keenum gave up a fumble that likely decided the game.
Afterwards, CBSSports.com's Sean Wagner-McGough reports that journalists were told Keenum suffered a concussion, leading to a host of questions for both team and league officials.
"Why wasn't the game stopped?" Wagner-McGough writes. "Why didn't Keenum come out of the game? Even if the Rams official spoke with Keenum and thought that he was fine, why didn't an NFL concussion spotter stop the game so Keenum could be examined off the field? Could a concussion test really be administered in 30 seconds? Did the Rams even give Keenum a concussion test?"
Apparently, officials for the league and team haven't given a clear answer to any of those questions.
As football struggles with its image as a sport too dangerous for its own good, what happened with Case Keenum will draw more attention to the NFL's often insufficient response to head trauma among its players.
Thanks for reading CBS NEWS.
Create your free account or log in
for more features.