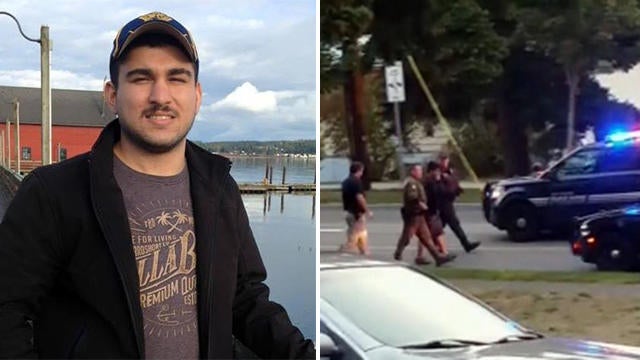 Cascade Mall shooting: Suspect Arcan Cetin "zombie-like" when arrested in Washington
BURLINGTON, Wash. -- The 20-year-old suspect in the deadly Washington state mall shooting said nothing and appeared "zombie-like" when he was arrested by authorities nearly 24 hours into an intense manhunt, authorities said.
Island County Sheriff's Lt. Mike Hawley said he spotted Arcan Cetin from a patrol car Saturday evening in Oak Harbor, Washington, and immediately recognized him as the suspect who killed five people at the Cascade Mall in nearby Burlington.
Hawley said at a news conference they had received information that Cetin, of Oak Harbor, was in the area. Cetin, who immigrated to the U.S. from Turkey, is a legal permanent resident who has been living in Oak Harbor, authorities said. He had been arrested once before in the county for assault, Hawley said.
"I literally hit my brakes, did a quick turn, I jumped out," Hawley said. "We both jumped out with our guns, and he just froze."
Cetin was unarmed and was carrying a satchel with a computer in it.
"He was kind of zombie-like," Hawley said.
Authorities said it now appears the rifle was brought into the mall from the suspect's vehicle that was there, Mount Vernon police Lt. Chris Cammock said Saturday night.
Cetin has not been charged, Cammock said. He will be booked into the Skagit County Jail and is expected to appear in Skagit County District Court on Monday.
According to CBS affiliate KIRO, that Skagit County court records show three domestic-violence assault charges against Cetin. The victim was identified as Cetin's stepfather.
The Seattle Times reports​ Cetin also was arrested for drunken driving.
Cetin was told by an Island County District Court judge on Dec. 29 that he was not to possess a firearm. The court was told it was not clear were Cetin would be staying.
However, the stepfather urged the judge not to impose a no-contact order, saying his stepson was "going through a hard time." A formal no-contact order was entered for each parent, according to court records.
Cetin was involved a misdemeanor fourth-degree assault case in Island County, Washington. He was reportedly ordered to undergo a mental health evaluation in August 2015, and that was completed as of March 2016, KIRO reported. As of Aug. 25, 2016, Cetin was in compliance with weekly sessions for mental health counseling. He complied with the alcohol assessment, according to court records, and he had a deferred prosecution review for a case involving a marijuana scheduled for 2018.
Social media accounts apparently belonging to Cetin show he had a fondness for the military and video games.
A Twitter account shows, among other things, various selfies, throwback photos of the 20-year-old in younger years, that he once participated in paint ball and that he "can't wait for Halo 5," the popular first-person shooter video game.
He also Tweeted "Shout out to the ROTC peeps." A Facebook account showed he liked military-related sites.
Authorities are also searching an apartment connected to Cetin.
Washington State Patrol Sgt. Mark Francis said Sunday morning in addition to going through the Oak Harbor residence tied to Cetin investigators are searching his vehicle.
Francis said authorities don't yet know who is on the apartment lease or how long Cetin may have lived there.
Authorities said four women, ranging in age from teens to seniors, died Friday in the mall shooting at the Macy's makeup counter around 7 p.m. A man who was wounded in the shooting died early Saturday, officials said. One of the victims has been identified as Sarai Lara, 16, according to KIRO.
The Seattle Times reported Sarai Lara's mother said she had survived cancer as a young girl and was a happy student.
Evangelina Lara told the newspaper through a translator that she was shopping Friday night at the Cascade Mall in Burlington, Washington, with Sarai and her younger sister, but they split up.
She says Sarai went to Macy's looking for pants.
Evangelina Lara says it was confirmed at 2 a.m. Saturday that her daughter was among the five people killed.
The other victims have not yet been identified.
The mall was packed Friday night when the gunman opened fire with what police described as a "hunting-type" rifle. Victims described chaos on the scene as police locked it down and tried to clear the area.
Thanks for reading CBS NEWS.
Create your free account or log in
for more features.