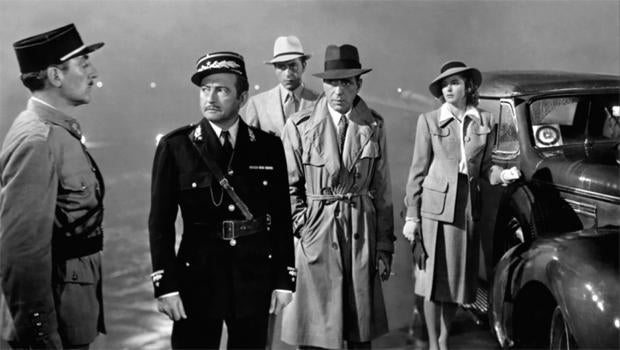 Here's looking at you, "Casablanca"
The classic World War II-era film of anti-Nazi intrigue premiered 75 years ago this month -- and as Manuel Bojorquez tells us, its biggest fans are already celebrating:
In Florida last month, they rounded up 500 of the "usual suspects" for the Humphrey Bogart Film Festival. Fedoras were definitely in fashion. It was a reunion of sorts, an emotional reconnection with an old friend ... that happens to be a film.
Danny D'Arcy first saw "Casablanca" when he was eight. And yes, it was the beginning of a beautiful friendship. "Aahhh, it's so moving, so much passion in that film," he said. "It moves me."
The host of the festival is none other than Stephen Humphrey Bogart, the only son of Humphrey Bogart and Lauren Bacall. "My father, of course, died when he was very young, but he made a lot of movies that have stood the test of time," he said.
Bojorquez sat down with Bogart and other offspring of that star-studded cast: Monika Henreid, daughter of Paul Henreid (who played resistance leader Victor Laszlo); and Jessica Rains, the daughter of Claude Rains (the rakish Captain Renault).
Bojorquez asked, "So, what is it about this movie that makes it such a classic?"
"Luck," replied Rains. "I don't think the studio had any idea of what they were doing. It was a propaganda film. They were grinding these things out."
Henreid added, "It is one of those magical miracles that it all came together the way it did."
As shooting began, the script was in disarray -- literally being written on the fly. Yet somehow, the writers banged out some of the most-quoted lines in Hollywood history:
"Of all the gin joints in all the towns in all the world, she walks into mine."

"I'm shocked, shocked to find that gambling is going on in here!"
"Your winnigs, sir"
"Oh, thank you very much!"

"Here's looking at you, kid."
Fortune did smile on the casting department. Warner Brothers had a deep roster of immigrant actors, many of whom weren't just playing war-torn refugees -- they were war-torn refugees.
Film professor Noah Isenberg wrote the book "We'll Always Have Casablanca." "It's a very, very extensive cast. But of the 75 members, nearly all of them were foreign-born," Isenberg said. "And of the 14 credited cast members, only three were American."
Consider the pivotal scene of the "dueling anthems," where resistance leader Victor Laszlo rallies French patriots to drown out the Germans.
Actor Conrad Veidt fled Germany in 1933; and young actress Madeleine Lebeau escaped Paris ahead of the German invasion on a forged visa. Those tears are very, very real.
And like his character, Austrian-born Paul Henreid was once on Hitler's enemies list.
"When I see those scenes, I don't see Victor Laszlo, I see my father," said Monica Henreid. "Because that's who my father was. That was natural to him. It had happened."
"Casablanca"'s score, performed live last month by Orchestra Iowa, was Oscar-nominated. But composer Max Steiner hated its signature song, "As Time Goes By," and was planning to reshoot key scenes with a different song he had written.
But by the time he got around to it, well, time had gone by. "Ingrid Bergman had already been cast as Maria in 'For Whom the Bell Tolls.' She'd already had her hair cut short. They couldn't do any retakes at that point," said Isenberg.
Oh, and that very last line? Perhaps the greatest last line in movie history nearly didn't make it -- Bogey dubbed it in after filming was finished.
Like for so many fans, it's Stephen Humphrey Bogart's favorite.
"It was funny," he said, "and I just thought that it was the perfect ending to this perfect movie."
"Louie, I think this is the beginning of a beautiful friendship."

For more info:
Thanks for reading CBS NEWS.
Create your free account or log in
for more features.