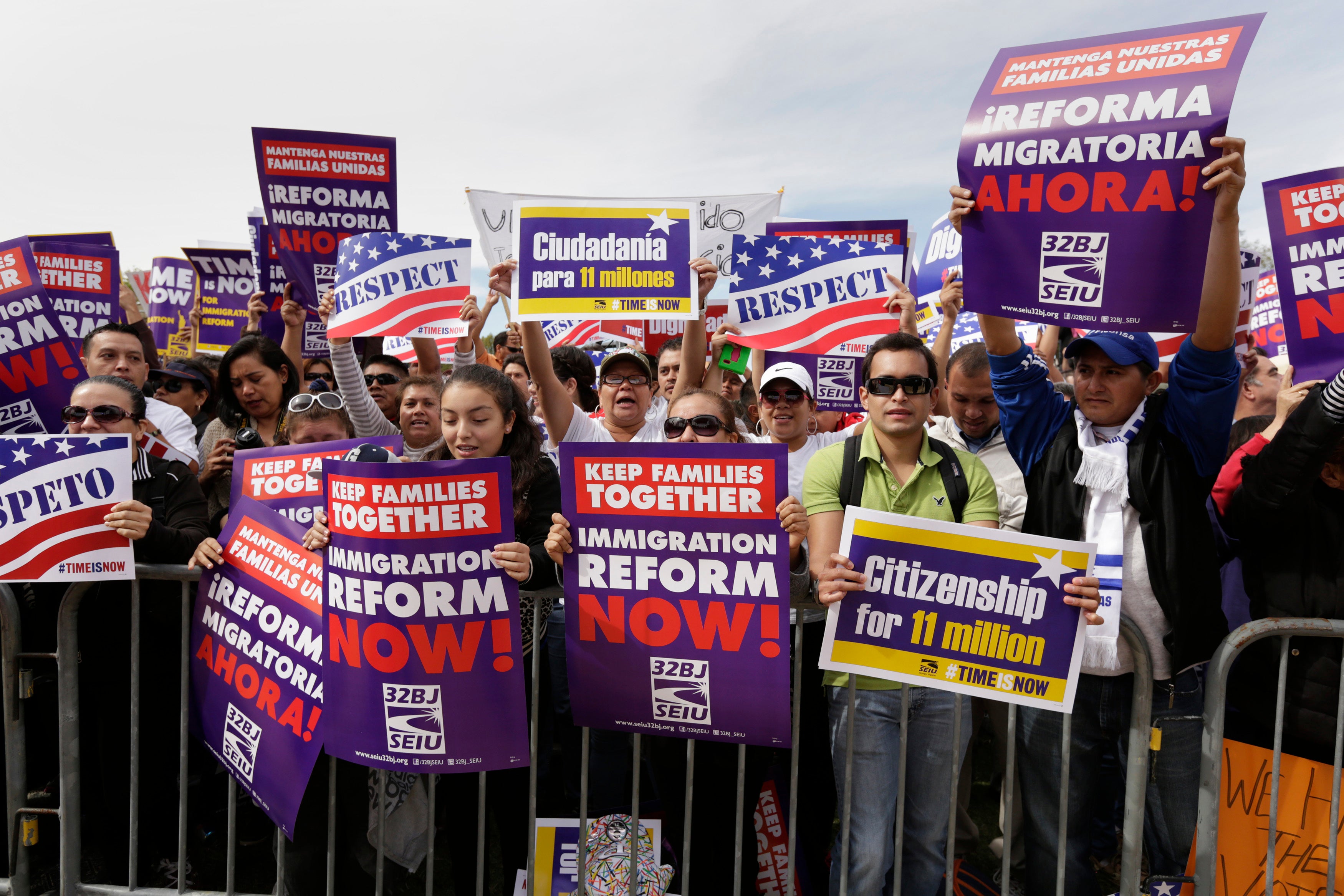 Can immigration reform pass in 2014?
Of the many issues left unfinished by Congress when they left town for the holiday break, an overhaul of the nation's immigration laws is one that is certainly not going away.
2013 saw the first major attempt at a comprehensive immigration reform bill since 2006-2007, when it was a top priority for President George W. Bush. Anger from the right and the left helped kill several pieces of legislation, shelving the issue for several years.
After the 2012 presidential election, when Republican nominee Mitt Romney recorded a dismal 27 percent to President Obama's 71 percent among Hispanic voters, there was widespread speculation – bolstered by an endorsement for comprehensive immigration reform from the Republican National Committee – that 2013 was the year with the best hope at tackling a contentious issue.
That didn't happen. Things moved quickly at first: a bipartisan group of eight lawmakers that included Sen. Marco Rubio, a Cuban-American Republican from Florida, brought together a diverse coalition of business and faith leaders, Latino advocacy and labor groups, farmers, Silicon Valley and muscled a comprehensive bill through the Senate with a bipartisan vote. Their version would provide a conditional path to citizenship for many of the estimated 11 million immigrants living illegally in the United States, pour billions of dollars into the efforts to seal off and secure the southern border and ports of entry, create a new work visa for future immigrants, implement broad electronic work verification and overhaul the legal visa system to eliminate backlogs and update various visa categories.

The bill, for all its bipartisan bonhomie, was dead on arrival in the House of Representatives, where many in the Republican majority oppose either the idea of passing a massive, comprehensive piece of legislation in the style of Obamacare or rewarding immigrants who had crossed the border illegally or overstayed visas with anything that might be perceived by their base as amnesty.

A bipartisan group in the House working on a comprehensive bill collapsed in the fall. Democrats introduced a version of the Senate bill that has a few Republican cosponsors, but is still the hefty kind of legislation House Speaker John Boehner, R-Ohio, has rejected. The Republican chairman of the House Judiciary Committee, Rep. Bob Goodlatte of Virginia, helped usher a series of smaller bills through his committee, none of which dealt with the illegal population and none of which had Democratic support. Despite several public exhortations by Mr. Obama this fall, no immigration bills were put to a vote on the floor of the House. House Minority Leader Nancy Pelosi, D-Calif., said before lawmakers left town that Boehner told her immigration would "have to wait until next year."

All the while, advocates who want to see Congress pass legislation that includes a path to citizenship for unauthorized immigrants have gotten more aggressive in their efforts to convince the House Republican leadership to put a bill to a vote, stopping by their homes, offices and even breakfast spots, uninvited, to visit, pray, and demand a vote.

But the pressure isn't limited to House Republicans, who advocates view as the main obstacle to legislation passing Congress. As the year comes to a close with no resolution in sight, they have also stepped up criticism of Mr. Obama, whose administration has deported record numbers of immigrants in recent years. Immigration and Customs Enforcement (ICE) announced that in 2013, they deported 368,644 people, the majority of whom were apprehended while or shortly after attempting to illegally enter the United States. That's a 10-percent drop from 2011, when 410,000 were deported.
A young undocumented student heckled the president during a speech on immigration earlier this year, echoing the activists who have called on the administration to halt deportations. Mr. Obama says he cannot.

"I respect the passion of these young people because they feel deeply about the concerns for their families," he told the protestor at the speech. "If in fact I could solve all these problems without passing laws in Congress, then I would do so. But we're also a nation of laws -- that's part of our tradition -- and so the easy way out is to try to yell and pretend like I can do something by violating our laws."

The pressure that built toward the end of the year will continue into 2014, the activists have promised, making it a difficult issue for either the president or House Republicans to ignore. And increasingly, it seems like continued deportations will be at the heart of advocates grievances.

"As we enter the holiday season, there will be a lot of heavy hearts knowing that 1,100 people are being deported every day and that families are being torn apart," said Frank Sharry, Executive Director of America's Voice, an immigration advocacy group. "We won't stop until the deportations stop."

Greisa Martinez, an organizer with United We Dream, a youth-led immigrant advocacy group, reflected on her group's demonstration at a detention center in Arizona that stopped a bus trying to deport people. "This is the kind of escalation and action that both the Obama administration and Congress can expect to see more of in 2014 if they don't step up and provide relief and reform to our communities," he said.

A recent survey from Pew Research Hispanic Trends Project shows that by a margin of 55 percent to 35 percent, Hispanic adults believe it is more important for undocumented immigrants to be able to live and work in the U.S. legally without the threat of deportation than it is to have a pathway to citizenship (though a pathway to citizenship has extremely high levels of support among Hispanics at 89 percent). Numbers like these could give leverage to lawmakers who are interested in making some reforms to the legal immigration system, but not necessarily offering any kind of citizenship.

If House Republicans were to offer up legislation that legalized, but did not give citizenship, to a large portion of the undocumented community, that could put pressure on the president to compromise. Although he doesn't have another election to worry about, his approval rating among Latinos has plunged 23 points in the last year, according to Gallup, from 75 percent in December 2012 to 52 percent in November 2013. That could spell bad news for Democrats running next fall.

The Pew survey found that 43 percent of Hispanic adults would place more blame with Republicans in Congress if immigration reform fails to pass, but 34 percent said they would hold Democrats and the president responsible.

Though the conventional wisdom holds that passing any major legislation in an election year is a heavy lift, there are signs that may not hold true in 2014 because the growing population of Latino voters will exert greater influence in the coming elections.

"The chances of congressional passage of immigration reform are good because each party has political reasons for wanting to deliver for Latinos and the business community," said Darrel West, an immigration policy expert at the Brookings Institution. "The biggest challenge is the pathway to citizenship, where the parties remain far apart. A possible compromise could involve creating a pathway that is longer and has more conditions that were in the Senate bill. That will displease reformers but provide cover for Boehner to move the legislation."

John Feehery, a Republican strategist a­nd former congressional aide, said getting immigration done will be important for the GOP in the long run if they can do it on their own terms – in a series of shorter bills. But he also predicted that legislation won't move for several months until the primaries for the 2014 elections have concluded House members will less concerned about challenges from the right.

"The timing on this is very important," Feehery said. "What was stupid to do becomes smart to do a little bit later in the year."

Eliseo Medina, an activist and former international secretary-treasurer of the Service Employees International Union (SEIU), promised that immigrant advocacy groups would visit "as many congressional districts as possible" in the coming months to press their case. Other advocates like Eddie Carmona, the campaign director for the PICO National Network's Campaign for Citizenship, credited the work of activists around the country in securing support from Republican representatives like Jeff Denham and David Valadao of California. The two, along with Rep. Ileana Ros-Lehtinen, R-Fla., have signed onto the House Democrats' immigration bill that includes a pathway to citizenship.

Advocates are certainly counting on the impending election to bolster their own pressure on Washington to act on the issue. Angelica Salas, Executive Director of the Coalition for Humane Immigrant Rights of Los Angeles said that if lawmakers don't address the issue in 2014, "voters are ready to remind them at the ballot box they are replaceable."

In a July poll, Latino Decisions, a group that studies Latino voting trends, found that among Latino voters who voted in the 2010 midterm elections, 39 percent of respondents said that they would be more likely to support Republican congressional candidates in the next election if the GOP took a leadership role in passing an immigration reform bill that includes a pathway to citizenship. In a separate question, 50 percent said that they would be more likely to support Republican congressional candidates who supported immigration reform with a pathway to citizenship even if they disagreed with Republicans on other issues like health care and taxes.

The future of immigration policy in the House rests largely in the hands of the leadership, and especially Boehner. He has expressed a commitment to overhauling the nation's laws all year as long as it is done on the House's terms, but has also failed so far to put a single bill on the floor. Still, the issue is not going away and Boehner announced earlier this month that he hired Rebecca Tallent, a former staffer for Sen. John McCain, R-Ariz., who was actively involved in the 2006-2007 reform efforts.

Despite his protestations he will never work with the Senate on the bill they passed, Senate Majority Leader Harry Reid, D-Nev., told The Hill newspaper that Boehner will ultimately face too much pressure from his members who could be at risk if the House doesn't act on immigration.

"He'll have a lot of pressure from his members now that the election is getting closer," Reid said. "Some of his members are in very marginal districts, where they need to do something on immigration."
Thanks for reading CBS NEWS.
Create your free account or log in
for more features.