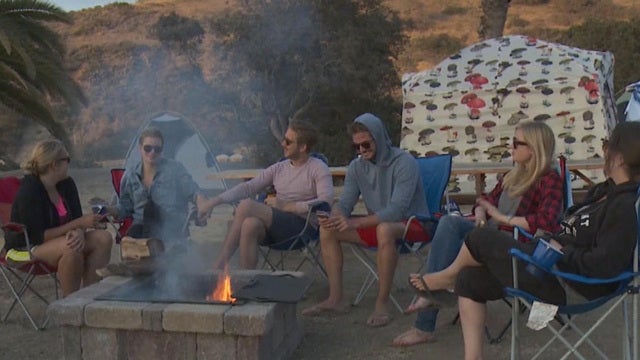 More millennials head outdoors - while staying connected
More Americans are heading outdoors. The camping industry is growing after years of decline. Last year, people from more than one million households camped for the first time. Nearly half of them were millennials, between 18 and 35 years old.
This generation is also reshaping the entire recreation business, reports CBS News correspondent Mireya Villarreal.
Travel blogger Trevor Morrow camps around the world, regularly posting pictures for his more than 8,000 Instagram followers. Like many millennials, part of what drew him to the Catalina Island campsite- about 20 miles off the California coast - were its amenities. The island campground provides all the basics - like tents and stoves -- along with stand up paddle boards and kayaks. It also provides easy access to Wi-Fi.
Although camping has always been about connecting with nature, for younger campers, it's also about staying connected. Three out of four millennial campers say they use social media everyday while traveling and seek out activities worth sharing.
"We want that photo. For me, I want it for the memories, but of course, I think you could generally say that we want to post it and share it with our friends on Facebook and Instagram and Snapchat," Morrow said.
"For those people who say this is not camping, how do you respond to them?" Villarreal asked.
"I say camping can be whatever you want it to be. I think as long as you're getting in nature, it's a start," Morrow said. "I would urge them to maybe put their phone in their pocket for a few minutes and experience nature like their parents or their grandparents might have."
The world's largest system of privately held campgrounds is taking note. Kampgrounds of America surveys thousands of campers for their annual camping report and are now redesigning some of their nearly 500 North American campgrounds, to include features younger campers value.
"They're kind of adjusting their products to fit a more leisurely approach to the outdoors," said Toby O'Rourke, chief franchise operations officer. Brands like The North Face -- that used to focus on technical gear for avid adventurers -- are now also creating stylish, user-friendly and comfortable products that appeal to millennials. Ads that once featured extreme athletes at peak performance are now likely to include friends casually gathered around a campfire.
"It's kind of going from being a 'outdoorsy to outside-y," Morrow said.
"So not everybody here knows how to build a fire from scratch?" Villarreal asked.
"No," Morrow said, laughing. "Not everyone here probably knows how to put up a tent, but they're all smart people, so I'm sure they'll figure it out."
For younger campers who aren't ready to invest in outdoor equipment, sites like GetOutfitted.com offer weekend gear rental. Other startups like Hipcamp - an online Airbnb-type rental - make it easier for users to find and reserve unique spots.
"I say wherever you feel comfortable in the wilderness, as long as you get outside and enjoy nature, I say go for it!" Morrow said.
Thanks for reading CBS NEWS.
Create your free account or log in
for more features.