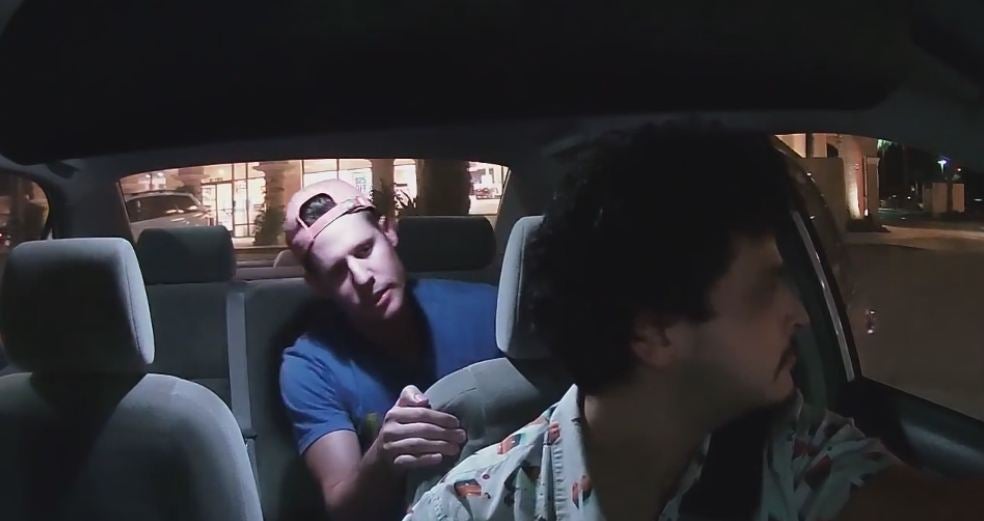 Camera captures passenger assaulting Uber driver
An assault of an Uber driver Friday night in Southern California was caught on camera. When the driver asked an allegedly drunk passenger to get out of his car, the rider went on a rampage, reports CBS News correspondent Mireya Villarreal.
Edward Caban had a rough ride when he picked up the passenger at around 8 p.m. who he says wouldn't wear a seatbelt and couldn't provide clear directions to his destination.
"You're too drunk to give me directions, man. I'm kicking you out," Caban says in the video, which seems to show the passenger falling over in the back seat. "Get out of my car or I will call the police."
"The next thing I know, I've just got fists flying at my face and I reached for the pepper spray," Caban said, describing the confrontation.
The passenger continued swearing and pummeling Caban, yanking his hair. A law enforcement official told CBS Los Angeles the passenger, 32-year-old Benjamin Golden, is a senior marketing manager for Taco Bell.
"The only way that I felt I was going to get him to stop beating me was to incapacitate him, was to use some kind of self-defense," said Caban. "I don't believe he would have stopped."
Caban has a camera in his car because he says he's faced unruly passengers before and uses the footage as evidence.
"Safety is a big concern in the driver community and I wanted to show other drivers what happens," he said.
Unlike some taxis, there is no partition between the driver and the passenger in Uber vehicles. When riders sign up for the service, they agree to a code of conduct. There is also a rating system for riders, but that's not enough to make some drivers feel safe.
Caban says for now, he's done with Uber because he does not feel safe driving anymore.
In a statement to CBS News, Uber said, "We've been in contact with Mr. Caban and are thankful he is doing OK. ... The rider involved in this incident has been permanently banned from the platform."
Golden is out of jail but faces charges, including assault on a cab driver and public intoxication.
Thanks for reading CBS NEWS.
Create your free account or log in
for more features.