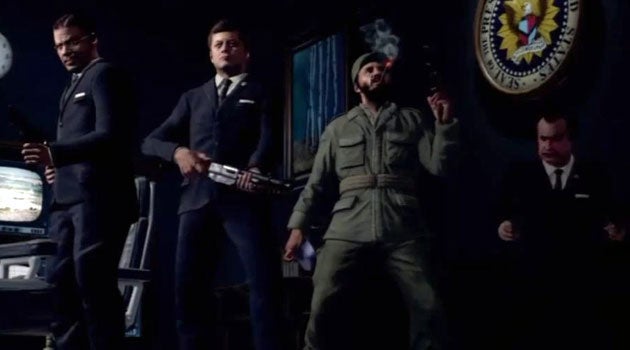 Call of Duty Black Ops Secret Stage: JFK, Nixon and Castro Battle Zombies

Wondering who the unlockable players are in the new "Call of Duty: Black Ops" game? Wonder no more.
Warning: spoilers below.
JFK, Nixon, Castro, and McNamara - zombie killers.
Yes, it's true. At least it's true in the latest installment of "Call of Duty: Black Ops."
After finishing the single player mode, a special "Zombie Mode" of the game is unlocked.
You're summoned to a secret Pentagon meeting featuring President John F. Kennedy, President Richard Nixon, Defense Secretary Robert McNamara, and Cuban President Fidel Castro.
During this top-secret meeting, zombies breach the Pentagon and threaten the lives of the famous foursome.
The meeting room is conveniently equipped with an arsenal of fully-loaded guns - ready to spill some zombie blood.
President Kennedy delivers a few lines of inspirational dialogue and then mayhem ensues.
(Scroll down to watch a clip of the game from Gamespot.)
The game play is simple: kill zombies and stay alive.

Whenever you feel overwhelmed by the zombie hoards, be sure to keep an ear out for JFK and Nixon as they deliver funny one-liners of encouragement.
In the regular "Zombie Mode," the premise is simple - you and three of your friends are stuck in abandoned building and millions of zombies want to eat your brains for a midnight snack.
Your objective: survive long enough in the low-lit environment by decapitating zombies.
While it will look familiar to gamers that played "Call of Duty: World at War" - this year, Treyarch the developer added the historical quartet to add to the fun.
Last year, "Call of Duty: Modern Warfare 2" sold over 22 million copies worldwide.
Story by Matthew Shelley, CBS Evening News
Thanks for reading CBS NEWS.
Create your free account or log in
for more features.