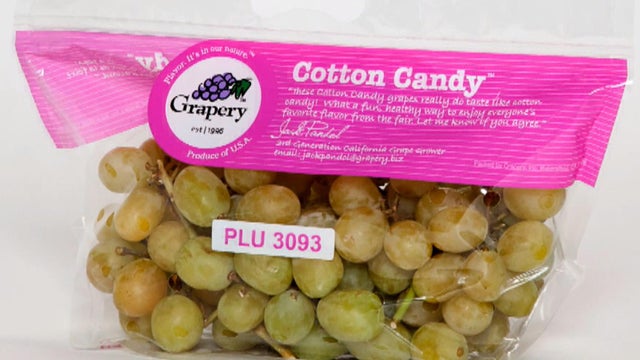 Satisfy your sweet tooth with grapes that taste like candy
It's harvest time in the vineyards near Bakersfield, California, and farmers Jack Pandol and Jim Beagle walk every field tasting for ripeness.
"We take it right up to the edge. The tremendous flavors come in right at the end," said Pandol, founder of Grapery.
Those flavors might surprise you. Cotton Candy is one of the Grapery's six varieties. With names like Gum Drops and Flavor Promise, the grapes are specifically bred with one goal in mind: taste.
"You know, there's a reason that when you go to a store down the aisle, that half the candy in the aisle is fruit flavored. Because that's what fruit should taste like," said Beagle, CEO of Grapery.
But Beagle said taste is unfortunately not the priority for most retailers.
"They want cheaper, they want bigger, they want prettier, they want shelf life," he said.
As small farmers, Beagle and Pandol thought creating better taste might be a way to stand out in California's $1.8 billion grape-growing industry. However, the cotton candy flavor was a lucky accident, reports CBS News correspondent Carter Evans.
"When we first tired it, we would ship grapes to a retailer and their sales would skyrocket. And we'd sort of look at each other and go, 'What just happened?'" Beagle said.
What happened was they teamed up with a fruit geneticist, David Cain. The grapes are not genetically modified. Instead, Cain's lab cross-pollinates different species by hand.
"It's like going fishing or something -- you never know what you're going to get," Cain said.
Millions of cross-pollinations lead to tens of thousands of viable plants. But only a few produce truly great grapes.
"We get people asking if we inject cotton candy flavor into every berry, or if we spread cotton candy over the soil and the roots pick it up. It's none of that," Beagle said.
The Cotton Candy grapes have developed a cult-like following. Fans post pictures online when they find them in stores, and the patented fruit is available in every state -- but only from mid-August through September. Pandol puts his personal email on every package and he gets plenty of fan mail.
"As we get close to the time, the traffic starts to pick up. 'When are they coming? I drove over the store. They didn't have them.' And people almost get mad and it's like, 'Please be patient, you know, when they're ready, we will send them," Pandol said.
This month, their newest grape, Flavor Pops, is being taste-tested in limited quantities in Los Angeles.
"It's like bursting in your mouth, full of flavor. It's delicious!" said one customer.
"On a scale of one to 10, that's 10," said a little boy who also gave the grapes a taste.
"What we've tapped into is this emotional connection with consumers -- that they are passionate about things that taste great," Beagle said.
"The main question here is, when are we going to get Cotton Candy wine?" Evans asked.
"We actually made Cotton Candy wine already and I hate to break it to you, but it's terrible," Beagle said. "It tastes like an overly flabby chardonnay and it smells like stale donuts."
But when it comes to the grapes themselves, it's the sweetness that makes the Cotton Candy grapes taste so good. According to Beagle, they're about 20 percent natural sugars, while most table grapes are around 17 percent.
"It's very candy-like," another taste-tester said, laughing.
They cost a few dollars more than standard grape varieties. And while they may taste like candy, they're actually packed with nutritional value.
"I never get tired of watching people taste Cotton Candy grapes for the first time. The look on their faces is priceless," Beagle said.
And that makes the eight to 10 years it takes to bring a new grape to market worthwhile.
Thanks for reading CBS NEWS.
Create your free account or log in
for more features.