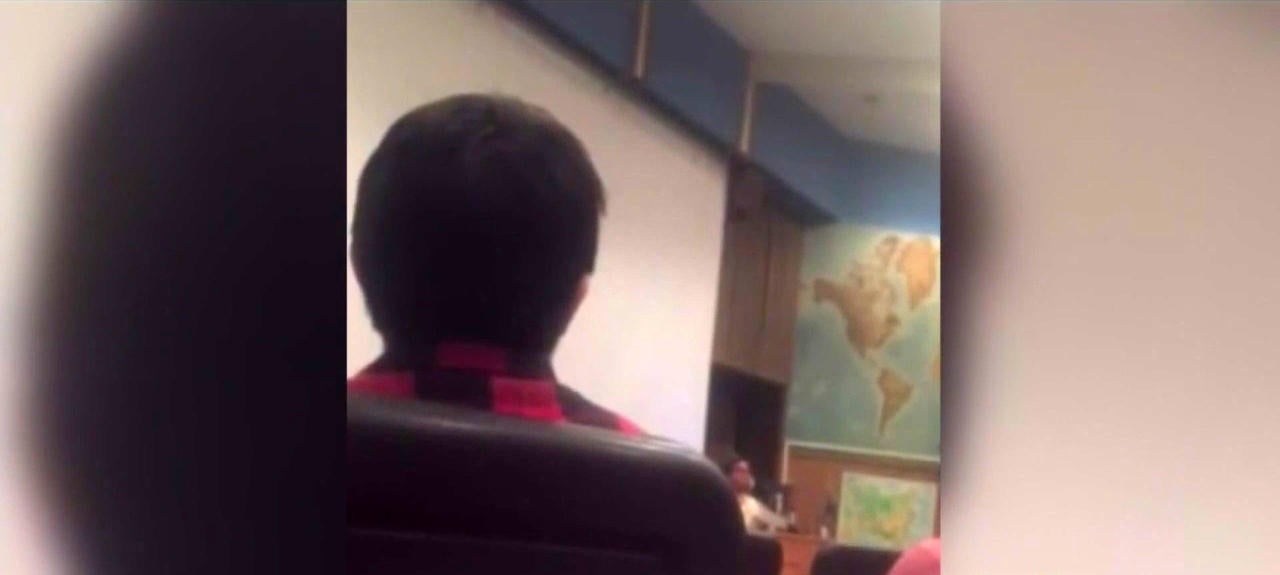 California college student suspended over video of professor's anti-Trump rant
COSTA MESA, Calif. -- A Southern California college freshman was suspended for videotaping an instructor making critical comments about President Trump shortly after his election, CBS Los Angeles reports.
Caleb O'Neil, 19, said Wednesday he will appeal the punishment and plans to file a lawsuit if his appeal is rejected.
O'Neil was suspended for a semester and a summer term at Orange Coast College and was told he must apologize to the instructor and write an essay "explaining why he shot the video," his attorney, Bill Becker, said.
"We think this is a clear example of unconstitutional viewpoint discrimination that targets conservatives and we're going to challenge it," Becker said.
O'Neil will first go through the appeals process at the college, which will result in a hearing, Becker said. If the sanctions are upheld, O'Neil will sue in federal court, Becker said.
The college has 10 to 30 days to decide whether to accept or deny the appeal, Becker said.
In December, the college's faculty called on administrators to pursue criminal charges against O'Neil for videotaping professor Olga Perez Stable Cox's comments criticizing Mr. Trump.
The video was posted on YouTube on Dec. 6 and on the Facebook page for the school's College Republicans club, according to the faculty.
"College is a place to grow and learn how to engage in a world that has diverse and challenging opinions," said English professor Gary Hoffman. "As professors our job is to support students to think critically, be resilient, and learn how to form and articulate opinions. Unfortunately in this case instead the Orange Coast College Republican Club - hopefully not supported by their advisers - resorted to cyberbullying."
Another professor, Patrick Kennedy, said the video "seems like a politically motivated effort supported by a national conservative group to intimidate and silence professors."
Cox reportedly received death threats after the video was posted. The 68-year-old instructor, a gay Latina, told the Orange County Register last month she made comments about Mr. Trump in all three of her human-sexuality classes in an effort to comfort students upset over his election and to discuss access to resources for those who feel discriminated.
On the videotape, she is heard calling Mr. Trump's election an "act of terrorism."
College officials said earlier they were looking into the propriety of Cox's comments, but it's unclear if that examination had been completed or if any action was taken against her.
Fred Whitaker, chairman of the Republican Party of Orange County, denounced O'Neil's suspension.
"This abhorrent decision from the Orange Coast College administration clearly affirms their disdain for one of our nation's most cherished freedoms: freedom of speech," Whitaker said. "The Republican Party of Orange County categorically opposes this administration's attempt to trample over its students' civil rights and we will be doing everything in our power to support Caleb O'Neil in his effort to appeal the decision."
Thanks for reading CBS NEWS.
Create your free account or log in
for more features.