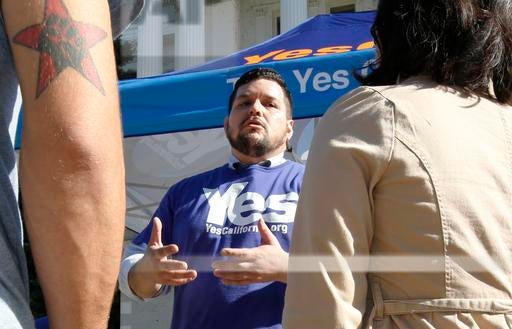 Cal-exit? Meet the movement for Californian secession
California has an exit strategy. In the wake of the election of President Donald Trump, the Golden State's bid for secession has picked up steam—albeit just enough to fog up an unlikely escape window.
Leaders behind the campaign committee Yes California say they have deployed eight thousand volunteers across 40 state-wide chapters. Their mission? To collect a whopping 585,407 autographs. That's the number of signatures required to put secession on a March 2019 special election ballot in America's second bluest state.
Cal-exit joins the ranks of American history's unlikely, peaceful calls for dissolution, along with "Texit" and the battle for a Second Vermont Republic, among others. A Reuters/Ipsos poll conducted last month shows one in three Californians support the economic powerhouse's peaceful withdrawal from the union following Mr. Trump's election.
Louis Marinelli, the president of Yes California, ultimately aspires to liberate the state by pressuring Congress to reverse its 1850 law declaring California a state of the union. Alternatively, he poses calling for a convention of states that might rule in 2/3 favor of the state's secession. The group claims the right to self-determination as protected under the U.N. Charter and has already lifted concerns to the international stage by opening an "embassy" in Moscow last December.
Yet for now, periscope-streamed press conferences and email blasts to 150,000 state residents power the fringe movement's dreams for a ballot initiative. "If each one of those people downloaded the petition and got four of their friends to sign," Marinelli notes, "we'd be done in a week." In a moment of self-awareness, the political activist concedes not everyone devotes time to religiously read emails, himself included.
"I still have literally 17,898 unanswered emails since November," he groans, calculating the hours it will take to sort through the cluttered inbox. And while many messages from across the country volunteer assistance or a heartfelt "keep it up," others are not so nice. "We do get a lot of hate mail from people in Tennessee," Marinelli chuckles. The native New Yorker counts contempt like that among California's causes to leave the country.
"People are begging California to leave," he attests. "They want us to be gone, to fall into the ocean." Comments on Yes California's social media pages contain equal parts enthusiasm and skepticism. For every affirmation, there is at least one post reading "are you kidding me?"
Equally as bombarded is Yes California's designated P.O. box in Fresno. Marinelli says his vice president and life-partner Marcus Ruiz Evans opened up new mailboxes this past week in Sacramento, San Francisco, Los Angeles and San Diego to accommodate the influx of soon-to-be tallied signatures.
"We don't have to live under the same dysfunctional household anymore, agitating each other and blocking each other," Marinelli explains of his go-to secessionist analogy. "It's very similar to a married couple who have fallen out of love and who are living together. And there's a lot of complications, maybe with property and children."
That's over 38 million children and 100 million acres of property, to be precise. In addition to the $452.8 billion in federal income taxes Californians contribute to Washington, the home of Hollywood and Silicon Valley boasts the highest gross state product and grows more food than any other state. It is home to roughly 1-in-8 Americans.
Newly-minted California Attorney General Xavier Becerra told the NY Times that while he is grateful the constitution presents built-in obstacles to secession, "if California were to secede, there could instantly be up to 280 million new people having to knock on the door and seek visas from the sixth largest economy and newest nation in the world!"
In the run-up to the 2016 election, California Assembly member Evan Low tweeted, "In the disastrous case that @realDonaldTrump is elected, I will explore intro of a bill to have CA secede from the union" along with the hashtag #kiddingnotkidding. According to the group, Republican Rep. Dana Rohrabacher told Yes California that while he does not support a secession, he'd be open to a ballot box initiative.
Cautioning that the secession talk is still in its "very early stages," Speaker of the California State Assembly Anthony Rendon told CBS News that it's "just another expression of angst that people feel in this state about Trump."
Yet while many California politicians have little to say about Cal-Exit, few have been silent when it comes to the new administration and the policies of Mr. Trump, who has already deemed the state "out of control."
Governor Jerry Brown quipped in March of 2016, "If Trump were ever elected, we'd have to build a wall around California to defend ourselves from the rest of this country." Yet the veteran politician made no jokes in his 2017 state of the state address. "We have seen the bald assertion of 'alternative facts,'" the 78-year old governor stated knocking on-camera remarks made by Presidential Counselor Kellyanne Conway. "We must prepare for uncertain times and reaffirm the basic principles that have made California the Great Exception that it is."
In her first speech as California Senator, Kamala Harris confronted President-Elect Trump head on, addressing supporters in a bustling LA nightclub: "When we have been attacked and when our ideals and fundamental ideals are being attacked, do we retreat or do we fight? I say we fight!"
Harris is not the only California lawmaker with fighting words. In December, Speaker Rendon shut down calls for national reconciliation in his address to the California Assembly, "Californians do not need healing," he stated. "We need to fight."
Moments after his appointment by Gov. Jerry Brown, Attorney General Xavier Becerra threatened, "If you want to take on a forward-leaning state that is prepared to defend its rights and interests, then come at us."
Following the San Francisco based Ninth Circuit court's decision to uphold a federal court's hold on President Trump's travel ban, Becerra noted he would "take every measure possible" to suspend President Trump's "un-American and unconstitutional order."
California, however, is also institution a travel ban of its own. With just weeks before March Madness, the state is preventing sports teams from competing in Kansas, Mississippi, North Carolina and Tennessee. These states are deemed discriminatory, particularly toward LGBT communities, by the attorney general's office under California's law, AB 1887.
Speaker Rendon says he'll look to the Becerra to guide the state through whatever court battles lie ahead. "He's going to lead the way on the legal front," Rendon states. "I can envision us working with states like Washington and others, but also Mr. Becerra acting alone in some instances and doing what he feels is best."
In addition to Attorney General Becerra's guidance, California has hired former United States Attorney General Eric Holder as legal representation, and is actively preparing for war on issues of health care, immigration, and the environment.
With 1 in 3 Californians enrolled in Obamacare's enthusiastic participant "Medi-Cal," 11 million foreign-born residents, and a greater number of electricity-generating solar plants than the rest of the country combined, there is plenty of fight to be found. Yet boasting the greatest pension obligations in the country, $47.5 billion in federal contracts and ambitious infrastructure plans like high-speed rail, America's "great experiment" may have to pick and choose its battles against a White House it desperately needs.
As the first weeks of President Trump's administration come to a close, leaving the battlefield entirely is exactly what Yes California is pitching. "Things are getting worse," Louis Marinelli implores supporters. "We now have people being elected to the highest office of the land by the likes of Donald Trump. Who's next?"
Thanks for reading CBS NEWS.
Create your free account or log in
for more features.