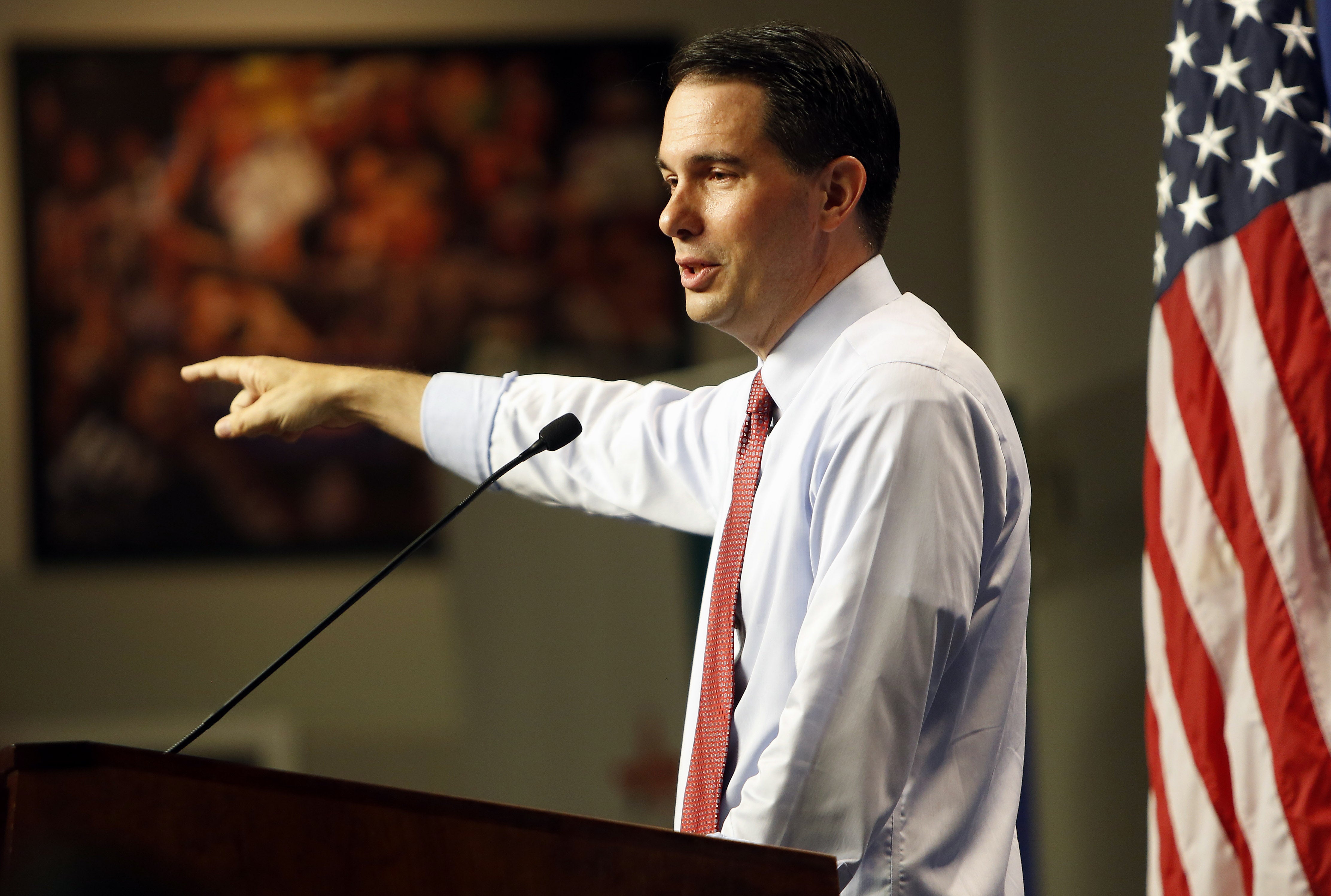 Build a U.S.-Canada border wall? Scott Walker isn't ruling it out
Republican presidential candidate and Wisconsin Gov. Scott Walker would consider building a wall along the U.S.-Canada border to keep out the threat of terrorists.
When Walker was asked, in an interview with NBC News that published Sunday, if he would want a wall to go up with America's northern neighbor, he answered that he believed it "is a legitimate issue."
"Some people have asked us about this in New Hampshire," the GOP hopeful said. "They've raised some very legitimate concerns, including some law enforcement folks that brought that up to me. So that is a legitimate issue. "
Walker added that "we need to secure borders in general," though he believed that "right now one of our rampant spots is on our southern-based border." The U.S.-Canada line is the longest international border in the world, clocking in at over 5,500 miles.
In recent weeks, Republican presidential frontrunner Donald Trump has made an aggressive push for stricter immigration policies. One of his attention-grabbing campaign promises includes beefing up the U.S-Mexico border with a large wall to keep out illegal immigrants. Some in the GOP, including Walker, have echoed the sentiment.
"If we're spending millions of dollars on TSA at our airports, if we're spending all sorts of money on port security, it only makes sense to me that, if part of what we're doing is protect ourselves -- and set aside immigration for a minute -- but protect ourselves from risk out there, I think we should make sure we have a secure border," Walker said.
Other candidates have also put forward proposals to mitigate undocumented immigration, including New Jersey Gov. Chris Christie.
On Fox News Sunday, Chris Christie defended comments he made in New Hampshire the day before, where he suggested that to better track foreign visitors in the U.S., the federal government should employ a system like FedEx.
Critics immediately jumped on his plan, saying that people shouldn't be treated like packages.
Christie dismissed those accusations as "ridiculous."
"This is once again a situation where the private sector laps us in the government with the use of technology," Christie said Sunday. "Let's use the same type of technology to make sure that 40 percent of the 11 million people here illegally don't overstay their visas. If FedEx can do it, why can't we use the same technology to do it?"
And he fired back at those that said his immigration proposal was insensitive.
"We should bring in the folks from FedEx to use the technology to be able to do it. There's nothing wrong with that," Christie said. "I don't mean people are packages. So, let's not be ridiculous."
Thanks for reading CBS NEWS.
Create your free account or log in
for more features.