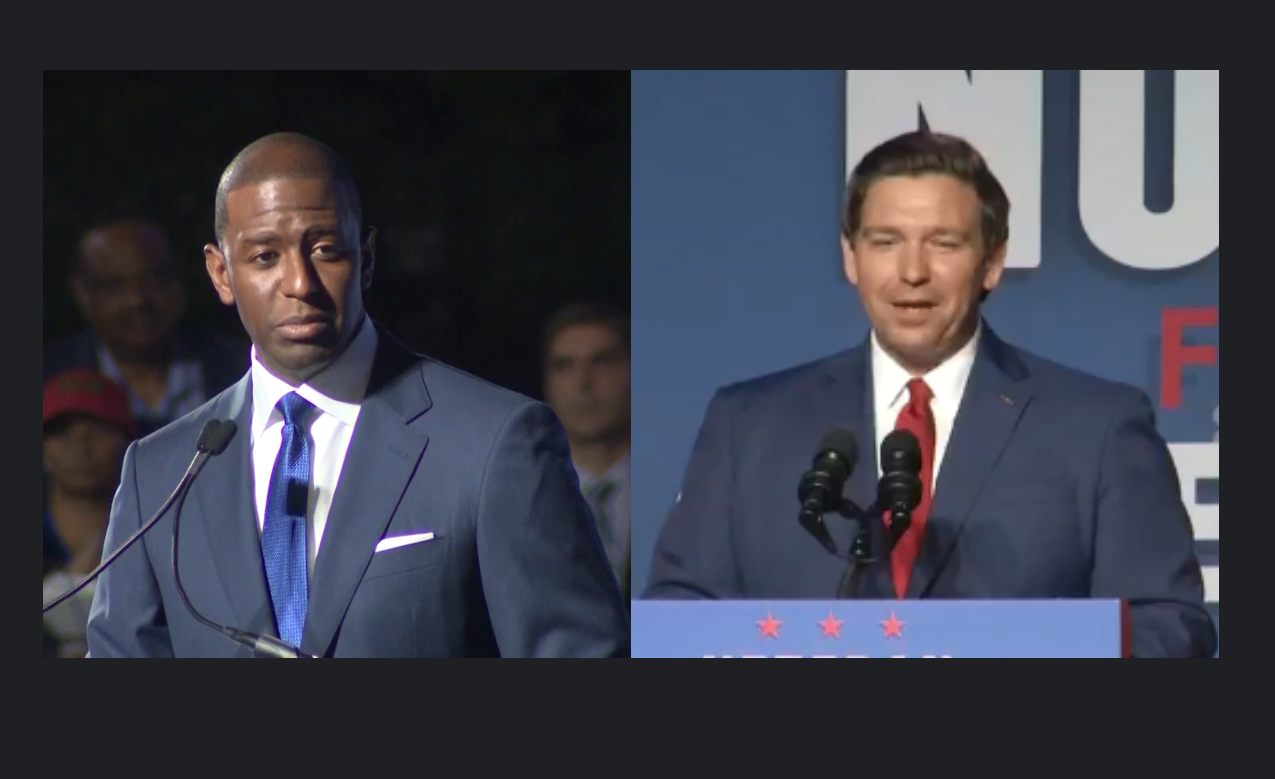 Possible recounts loom in tight Florida gov, Senate contests as Trump weighs in
Florida's Senate race still hasn't been decided, with Republican Rick Scott, the current governor, leading incumbent Democratic Sen. Bill Nelson by fewer than 20,000 votes. The race for Scott's successor as governor is similarly complicated: Although Democrat Andrew Gillum conceded to Republican Ron DeSantis Tuesday, his campaign opened the door Thursday to participating in a recount. DeSantis leads Gillum by nearly 40,000 votes.
On Thursday night, President Trump tweeeted, without evidence, that "law enforcement is looking into another big corruption scandal having to do with Election Fraud in #Broward and Palm Beach. Florida voted for Rick Scott!" Both counties are Democratic strongholds.
If the gap between candidates is half a percentage point or less, the state is mandated to conduct a machine recount. Here's a timeline of the recount process, according to the Florida secretary of state.
Machine recount
Each Florida county has a canvassing board which oversees elections in that county. The first unofficial returns from county canvassing boards are due to the secretary of state and Division of Elections by Saturday, Nov. 10. If the candidates are within half a percentage point or less on that date, the state is mandated to conduct a machine recount. As of Thursday, the margins between Scott and Nelson and between DeSantis and Gillum are each under half a percentage point.
In a machine recount, all completed ballots are re-fed through ballot-counting machines to try to confirm the original, unofficial counts.
The machines must first be re-tested and re-calibrated to read and separate ballots with apparent over-votes, that is, the ballots in which the machines read that the voter may have selected more than one candidate, and undervotes, in which the machine does not register a vote on the ballot.
The testing of the machines has to be done in public. Ballots with apparent under- or over-votes are segregated, or "outstacked," and placed in sealed containers. These outstacked ballots would be the ones critical in a manual recount.
Manual recount
The second unofficial returns, which are the results of a machine recount, must be presented by Nov. 15. If the candidates are within one-quarter of one percentage point, the secretary of state must order a manual recount.
The manual recount is more complicated and time-consuming, as it involves counting each of the ballots by hand. County canvassing boards appoint counting teams to view ballots and determine the voter's intent, which is by law "a clear indication on the ballot that a voter made a definite choice."
Each party and each candidate are allowed to have observers in the room, and those representatives can object to decisions on individual ballots, but can't otherwise interfere.
The counting teams are to stack ballots into three piles:
Ballots with clear indication: These votes will be counted;

Ballots with no clear indication: These votes will not be counted;

Vote unable to be determined on ballot: These are set aside for the canvassing board to decide.

The media and the public may view the proceedings from outside the recount location, in an area designated by the canvassing board.
Official returns due
The official returns are due by Nov. 18. The Elections Canvassing Commission will be meeting to certify the official returns for federal, state, and multi-county offices at 9 a.m. on Nov. 20 at the Florida Capitol in Tallahassee. The Elections Canvassing Commission consists of the governor — which is Scott — and two Cabinet members appointed by Scott.
Thanks for reading CBS NEWS.
Create your free account or log in
for more features.