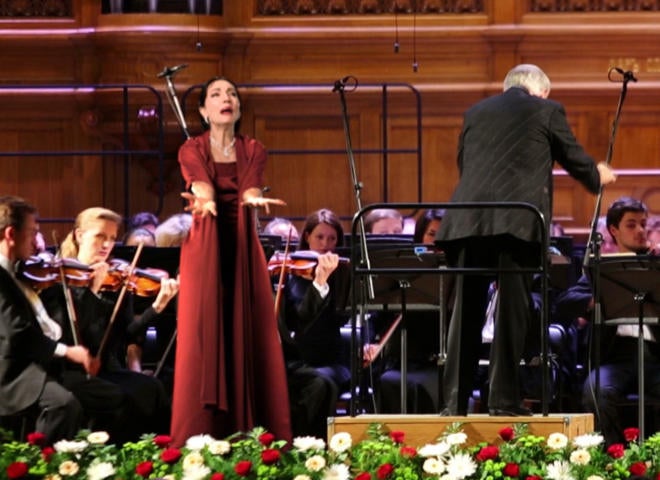 Bringing musical stars back via hologram
Special effects are being employed to help bring beloved performers of the past back, almost as good as new. Our Cover Story is reported by David Pogue:
Many opera fans consider Maria Callas one of the greatest sopranos who ever lived. When she died in 1977, they were heartbroken.
So they might be shocked to learn that Maria Callas is going on tour this spring, complete with a live 60-piece orchestra. Her return is brought to you by hologram -- or what's being called a hologram.
"We're celebrating iconic performers and their performances," said Brian Becker, the CEO of Base Entertainment, which created the Maria Callas show. "And we're presenting them to audiences to either see them again, or audiences that have never seen them before."
Most of us think of a hologram as a three-dimensional futuristic projection technology, like Princess Leia in the first "Star Wars" movie: You could walk all the way around her, even see her from the back.
That's not quite what we're talking about here. "No, no. This is a 3-D illusion. But 'holographic technology' or 'hologram' is just a good name that people recognize," said Becker.
Maria Callas is hardly the first dead musician to take the stage again. The first example that really caught the public's attention was at the Coachella music festival in 2012, when rapper Tupac Shakur rose from the dead.
The projection technology for that stunt is now owned by a company called Hologram USA. At its theater on Hollywood Boulevard, Hologram USA offers a variety of holographic shows, featuring stars like Billie Holiday.
As it turns out, these high-tech shows aren't really new. They're based on a stage effect called Pepper's Ghost -- an illusion popularized in 1862 by a scientist named John Pepper.
An off-stage actor is reflected by a sheet of glass at a 45-degree angle, appearing to the audience as a ghostly, life-like image.
"The projectors are up there, bouncing off a cinema screen that's nestled to the floor," said CEO Alki David. "And the image is reflected up, at a 45° angle."
But how do they get the video of the dead performers in the first place? Especially of Maria Callas, who died well before the age of high-definition video?
Marty Tudor, head of Base Entertainment's hologram projects, had to re-create her from scratch. "We start with a body double who has to perform, literally," Tudor said. "And our director worked with our body double for 12 weeks. And then we take the results of that and go to work on it digitally."
Just as in the movies, special-effects artists then seamlessly superimpose the computer-generated face onto the footage of the body double.
Maria Callas, re-created.
But what about the audio? In Maria Callas' day, the orchestra and the singer were recorded all at once, in one pass, on one monophonic track. But in this concert, the pre-recorded Callas will be accompanied by a live orchestra! Which means that the company's engineers had to somehow remove the sound of the orchestra from the 1960 recordings.
"It's magic!" Tudor laughed.
No, it's software! "It's software, and it's technology, and it's artistry, frankly. It's [a] time-consuming, expensive, tedious job. But worth it."
Base Entertainment is also launching a Roy Orbison concert this Spring, using the same techniques.
"For those of us of a certain age, those artists are all passing. So, the idea that we can relive and recapture some of our youth, I think that's what's really drawing people to it," said Todd Richmond, the director of the Mixed Reality Lab at the University of Southern California.
Richmond spends a lot of time thinking about technology and art, and using a device to digitally scan actors for movies, video games, and even holograms.
"Pretty soon, you'll be able to have performances for the songs you don't have footage for, and you can have them singing songs that they never sang before," Richmond said.
"So, someday not only could you have Tupac singing opera, but you could have Maria Callas singing hip-hop?" Pogue asked.
"Absolutely."
As though that's not boggling enough: One of the most popular singers in Japan today is Hatsune Miku. She's a computer-generated voice coming from a computer-generated body.
"She opened for Lady Gaga on one of her tours," Richmond said. "The singing is all computer-generated based on these algorithms."
"Audiences are paying to see a pop star who doesn't exist?"
"Absolutely. Concerts, really, these days exist not so much, I would argue, for the music, but more just the scene."
Actually, Alki David says that holographic singers are only the beginning. "We did the world's biggest election in India, for Narendra Modi," David said. "We had 150 mobile units traveling India, and in 30 days, Mr. Modi was able to canvas the country four times within a month … by live hologram, on a daily basis. He won a landslide majority of, like, 67%-68%."
"We're talking about holograms changing the course of history now?" asked Pogue.
"Sure, absolutely."
David hopes to open 150 hologram theaters across the United States. And Brian Becker says that ticket sales for the Maria Callas and Roy Orbison tours are going well.
Maybe audiences will be convinced by the illusion -- or maybe they will see right through it.
But for the present, dead performers from the past are the future of live performance.

For more info:
Thanks for reading CBS NEWS.
Create your free account or log in
for more features.