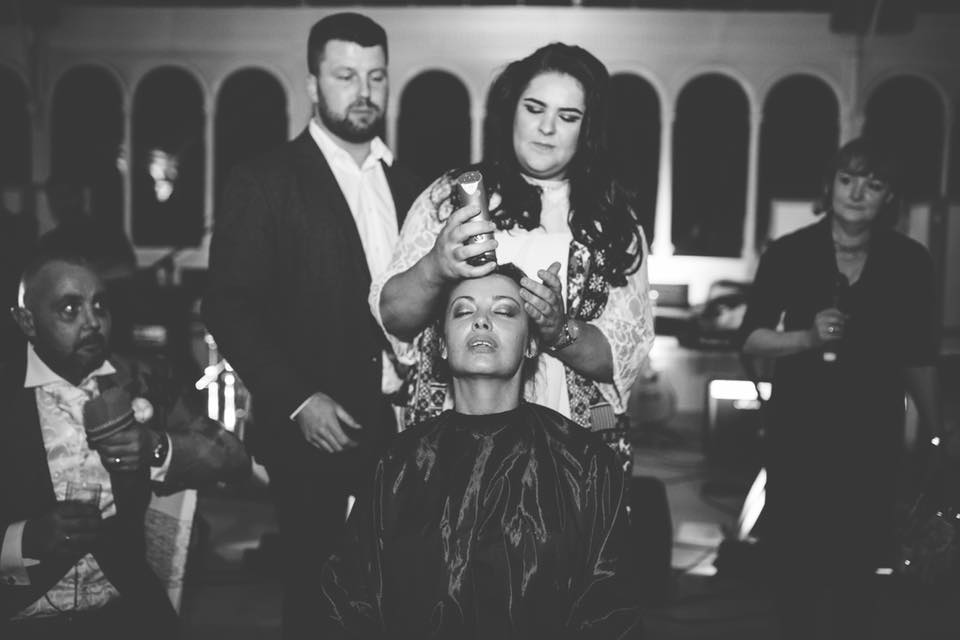 Bride shaves head on wedding day in tribute to terminally ill husband
Joan and Craig Lyons' relationship has always been a bit unconventional.
The pair met at age 14, and despite what Craig calls "love at first sight," the teens refused to admit they had feelings for one another.
Fast forward nearly 30 years later, Craig was proposing to Joan in a McDonald's with a milkshake in hand.
"That is how we are," Joan joked. "That is our little heaven enjoying the simple things, as long as we're together."
It took decades to bring the couple together. This would be 44-year-old Joan's second marriage, but she was ready to commit to Craig.
And then the Liverpool residents were hit with another road bump.
In August 2015, Craig was diagnosed with stage 4 pancreatic cancer and given 9 to 12 months to live.
"We decided to do all the things we wanted to do but never did," Joan said.
Eight months later, on April 15, the couple got hitched.
At the wedding, Joan did something a little "out there." She left the reception to wash and dry her hair -- and came back with a razor.
Guests crowded around her, staring as her friend cut the first lock of her long, brown hair and began to shave her head.
"I was really relaxed during the process, just thinking how thankful and privileged I was to be able to do this," she said.
With a twinkle in his eyes, Craig held onto his bald wife and kissed her.

"He told me how beautiful I looked and he was proud of me," Joan recalled.
Photographer Kimberley Struth, who was connected with the couple through the "Gift of a Wedding" charity, captured the beautiful moment on camera.
"It was very emotional... seeing the love and pride Craig had for his wife," Struth said.
Joan donated her hair to the Little Princess Trust, an organization that makes wigs for terminally ill children, while asking her guests to consider making a donation.
"In the face of some really bad news they are courageous enough to keep raising money for other people," Struth said. "It takes a really special person to be able to do that."
The couple consider themselves lucky.
"After all these years, how blessed I was that it was me he chose to share his life with," Joan said. "Nothing could ever take that moment away from me; and I will remain by his side and share his fight."
Thanks for reading CBS NEWS.
Create your free account or log in
for more features.