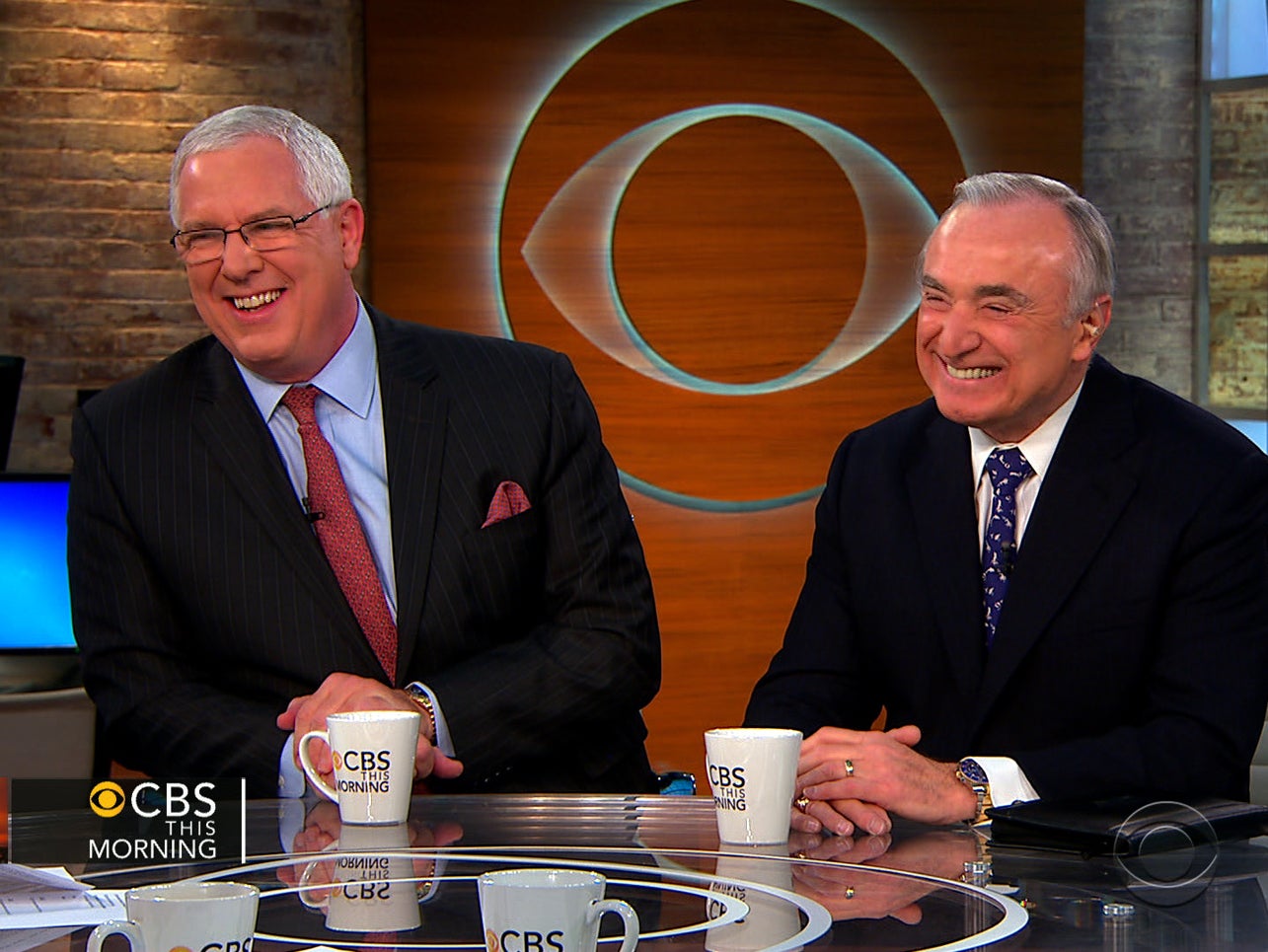 NYPD's Bratton, Miller on stop-and-frisk and job qualifications
The New York Police Department begins the new year with a familiar face in charge. Returning police commissioner Bill Bratton brought a longtime aide back to the force. John Miller was Bratton's chief spokesman during his first tour as the head of the NYPD in the 1990s.

Last week it was announced that Miller would become the NYPD's deputy commissioner for intelligence, after stepping down as a senior correspondent for CBS News. Miller and Bratton joined "CBS This Morning" Thursday to discuss their new roles, a controversial police department policy and the criticism surrounding Miller's qualifications for his job.
One of newly-elected New York Mayor Bill de Blasio's campaign promises was to change the controversial policy of stop-and-frisk -- which allows police to question citizens and search them for contraband, based on suspicion alone. Commissioner Bratton, who was hand-picked by de Blasio, explained that both he and the mayor believe there was "too much (stop-and-frisk) being used in the city."
"It was creating great alienation, particularly in many of the minority communities, so the reformation, if you will, on it, is to make sure it's being done legally, respectfully and we'll now have an inspector general and possibly a monitor, so we'll to work with them to ensure that those conditions are in fact met," said Bratton.
Bratton said that they will not end stop-and-frisk, saying getting rid of the program is like having a journalist trying to interview without asking questions. "That's what police do," he said.
"There was already significantly less of it occurring in the city. Crime numbers are staying pretty level, so we're not seeing a dramatic increase as some had predicted in crime," Bratton said. "Stop-and-frisk is an essential tool. We're just going to try to do a better job of training our officers, and supervising them."
In the reform of the program, however, Bratton said that they plan to specifically focus on "better training as to what is reasonable suspicion. When can you, in fact, legally stop someone – you have to suspect that they have or about to commit a crime."
Stop-and-frisk has been criticized as being discriminatory against minorities, who, critics say, are stopped more often.

"Unfortunately, however, the reality is, in some of the poorer areas of the city, most of which are minority communities, the rates of crime are higher, so there's much more police activity," Bratton said. "That's just the reality of the city. But, to deal with that, you have to ensure that the officers are – at all times – doing it the correct way and there's a strong belief, both within the department and within the communities, that that was not happening."
Switching gears, Bratton also addressed criticism directed at Deputy Commissioner Miller, since his appointment. Bratton said he brought in his former colleague because "he's the best."
"There are two issues facing New York City all the time – dealing with crime, fear and disorder... and because we are the most likely terrorist target in the world, there are concerns about terrorism," he said. "John created for me, when we worked together in the LAPD, that city's counter-terrorism operation, right after 9-11. He did a phenomenal job, to the extent that L.A.'s counter-terrorism operation, next to New York's, is the best in the country."
Bratton said that while Miller may best be known for his journalism and his credentials in the media, he's "the best in terms of dealing with this issue counter-terrorism, intelligence."

When asked about why people are saying he's not as skilled as other people who have held the same role, Miller said that he is "not sure that people are actually saying that."
"That was one article, in one newspaper, that quoted one anonymous source that speculated," said Miller.
The article was one story in the New York Daily News that said the qualifications between Miller and his predecessor – the gap – was staggering. Miller said that "you can look at resumes … or you can look at deeds."
"What the New York Times did when they did the same story was, they talked to several dozen people who had worked with my operation in Los Angeles, at the FBI in Washington as a senior national intelligence officer in Washington, and what you got was a very different story there about the effectiveness of the operations," said Miller. "So, outside of saying, 'Ok, I'm human, it hurt my feelings. There's no there, there.'"
To watch the full interview with John Miller and Bill Bratton, watch the video in the player above
Thanks for reading CBS NEWS.
Create your free account or log in
for more features.