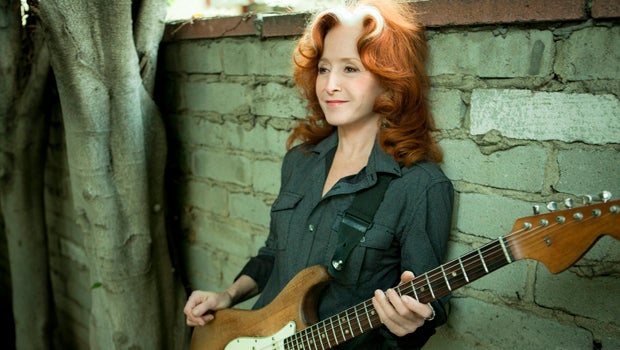 ​Bonnie Raitt: No slowing down
Bonnie Raitt had a big hit with "Thing Called Love" back in 1989. Nearly three decades later, the love between Raitt and her fans is still very much mutual. Tracy Smith visits with a music legend:
At the historic Orpheum Theatre in Boston last month, a sellout crowd greeted Bonnie Raitt like an old friend.
With her trademark fiery hair, Raitt is a Rock and Roll Hall of Famer, with a guitar that sounds (as she puts it) like bacon smells.
She's a 10-time Grammy-winner, with 20 albums to her name. At 66, Raitt is still rocking ... and thankful that she still can.
"All of us that get to do this, this many decades in, are just so aware of how lucky we are," she said. "And the other 22 hours of the day aren't anywhere near as fun. But it's worth it."
"I get a sense that gratitude is very important to you," said Smith.
"That's true. I don't think anybody's ever mentioned that before. But I think it's probably the closest thing to religion that I have, is just being grateful."
Hikers in the canyons above Los Angeles can find wildflowers, and maybe the occasional rattlesnake. It's where Bonnie Raitt comes for inspiration. "Oh, man, we're so lucky. This is the middle of the workweek, and we're out here!"
"Do you write out in this kind of environment?" Smith asked.
"I so, I write lyrics. I don't go bursting into song, because I don't know who's going to be around! A lot of the lyric writing, I won't sit in the house. In the daytime if I'm working on lyrics, I'm at the beach or walking in these canyons. Works out great. I recommend it."
And this has always been home. Bonnie Raitt grew up in Los Angeles ... and in the music business. Her mother, Marge, played piano; big brother Steve became a much-respected sound engineer. And her father, John Raitt, was one of the all-time greats of musical theatre. He was the original Billy Bigelow in "Carousel," and was a familiar face on Broadway, on TV, and on the big screen.
He performed well into his eighties -- long enough to duet with his superstar daughter.
What is it like singing with her dad? "The greatest," she said. "I mean, of all the many duets that I've done in my life, the ones with my dad were my favorite."
"She used to be known as John Raitt's daughter," he once said. "Now I'm known as Bonnie Raitt's father."
Bonnie's own career path was a bit less traditional. In 1967, she left California for Boston, and Radcliffe, and a few years later left Radcliffe to sing the blues.
But her big commercial breakthrough didn't happen until 1989, with her Grammy-winning hit album, "Nick of Time."
By then, she'd been living the rock and roll life on the road for close to 20 years, and had finally kicked the drinking problem that went with it.
Smith asked, "Is there a little bit of a fear as an artist that you'll lose your edge if you don't have that rock and roll lifestyle?"
"Yeah, absolutely," Raitt replied. "And I think almost anybody in my line of work you could ask -- and writers, too -- they're worried they'll lose their muse. And in fact, some people make a more namby-pamby art after they've straightened up. And I didn't want that to be me. I was the last of the red hot blues mamas, you know? I had a reputation to keep, man!"
No worries there: her reputation as a rocker is intact.
But now, after a failed marriage, the passing of her parents, and the death of her older brother, Steve, from cancer. Bonnie Raitt admits she's turned an emotional corner. Her latest album, "Dig In Deep," may be her most personal.
On the final cut, "The Ones We Couldn't Be," she laments what might have been:
I wrap the dark around me,
There's no solace here tonight,
There's just wishing and regret for company.
My glass is raised for all the ways
We tried to get it right,
And I'm sorry for the ones we couldn't be.
"In this sense, it's 'I'm sorry you couldn't be what I needed, and I'm sorry I couldn't,'" said Raitt. "There's no fault; it's just sad, you know? Sometimes you just have feel to feel those things, that regret. And there are a couple other songs on that record -- I wasn't deliberate about regret, but that's really what they're about."
"Do you have regrets?"
"Not in the decisions I've made over the years. I mean, if I could've talked to my younger self I would've probably said, 'Get more sleep, and lighten up on the partying a little sooner than you did.' We all have our little regrets. But the big ones, I don't regret."
"They've made -- including this latest album -- they've made your music, in a way," said Smith.
"Yeah, mistakes and all, it's all there."
And at times the blues have become reality.
"Holidays become tougher when three people out of your nuclear family are gone. Comes with this age."
"Does music help you through that?"
"If I listen to too much sad music or classical music I break down. You know, if I'm in a movie theater and there's a really sad soundtrack, if I start crying then, I'm in the dark and I'm goin', 'What else didn't I cry about?' And I kind of bring back the things I didn't have time for and I just get it all out.
"There's times when you want to feel sad. Sundays are sad, 'cause you can't call your folks anymore. Certain pieces of music. But I think playing music can really help."
And maybe that's why she's still selling out shows. There's an emotional depth to that voice, and that guitar, that never seems to get old ... for the fans, or for her.
Smith asked, "When you got that record deal at 21, did you envision how your career would turn out? Or how you hoped it would?"
"I just said, 'Man, if I can keep it together, this is too much fun. I hope I can do this into my 70s and 80s, like my blues heroes and folk music heroes were doing," Raitt replied.
"You had that cognition back at 21?"
"Well, I didn't know if it would work. I didn't know if I'd live that long. But I knew I wasn't gonna retire and raise kids and give it up if I didn't have to. I mean, who would give this life up if you didn't have to?"

For more info:
Thanks for reading CBS NEWS.
Create your free account or log in
for more features.