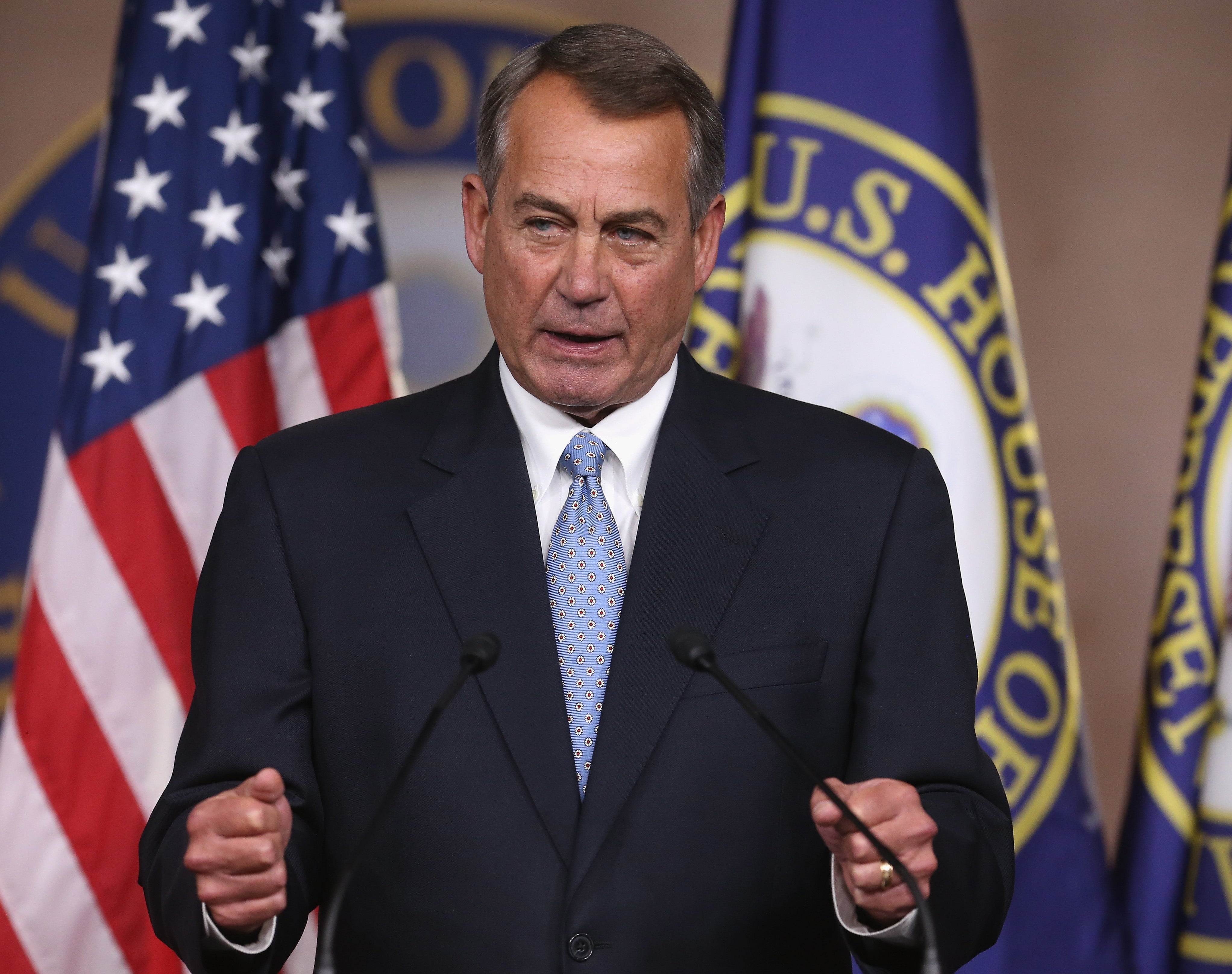 Boehner: Obama could "poison the well" on immigration if he acts alone
If President Obama wants to work with the new, Republican-controlled Congress to pass immigration reform, he should abandon his plans to implement some reforms through executive actions, House Speaker John Boehner, R-Ohio, warned Thursday.
"If he acts unilaterally, on his own--outside of his authority--he will poison the well, and there will be no chance for immigration reform moving in this Congress," Boehner said. "It's as simple as that."
Republicans made big gains in Tuesday's midterm elections, bolstering their majority in the House and winning seven new seats--and majority control--in the Senate.
Mr. Obama on Wednesday said he's interested in working with Republicans on several issues, yet he said he would keep his promise to act unilaterally on immigration reform.
"Before the end of the year, we're going to take whatever lawful actions that I can take that I believe will improve the functioning of our immigration system that will allow us to surge additional resources to the border, where I think the vast majority of Americans have the deepest concern," Mr. Obama said. "And at the same time, I'll be reaching out to both [Republican Senate leader] Mitch McConnell, John Boehner, and other Republican as well as Democratic leaders to find out how it is that they want to proceed. And if they want to get a bill done--whether it's during the lame duck or next year--I'm eager to see what they have to offer."
Boehner on Thursday reiterated his commitment to pursuing immigration reform, though he said he still must talk with House members about how they want to move forward.
The Democratic-led Senate in 2013 passed a comprehensive immigration reform bill, but Boehner never put that bill up for a vote in the House.
"I could regale you with all of my challenges of trying to get members on both sides of the aisle to go along with this," the speaker lamented on Thursday. However, he added, "Hope springs eternal."
Boehner noted that the politics of the issue changed over the course of 2014, after an influx of undocumented children started crossing the border from Mexico to the United States. Boehner and others have blamed the wave of unaccompanied minors at the border on Mr. Obama's earlier executive actions on immigration.
Boehner on Thursday also reiterated his commitment to repealing the Affordable Care Act, which he and Senate Republican leader Mitch McConnell had written about in a new op-ed. "The House I'm sure at some point next year will move to repeal Obamacare," he said.
"Whether the can pass the Senate, I don't know," Boehner continued. "But that doesn't mean we shouldn't do other things," like repeal certain unpopular provisions of the Affordable Care Act, like the medical device tax.
Boehner also specifically suggested repealing the individual mandate--the provision of the law requiring most Americans to obtain health insurance. The individual mandate, which some Democrats call the lynchpin of Obamacare, was at the heart of the 2012 Supreme Court challenge to the law.
Mr. Obama on Wednesday suggested he would veto any efforts to repeal the mandate.
"The individual mandate is a line I can't cross," he said, noting the concept was created by conservatives years ago. "If you're providing health insurance to people through the private marketplace, then you've got to make sure that people can't game the system and just wait until they get sick before they go try to buy health insurance."
Thanks for reading CBS NEWS.
Create your free account or log in
for more features.