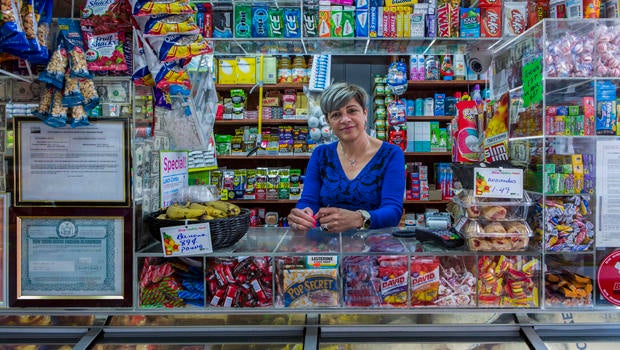 Bodegas: The life blood of New York City neighborhoods
"Bodega" is the Spanish word for a small neighborhood store -- a small store that plays a very LARGE role in many communities. Here's our newest "Sunday Morning" contributor, Maria Hinojosa:
From the outside, this place looks like a nothing-special corner grocery. But a bodega -- a real New York City bodega -- is so much more…
"Buen dia, carina, como esta?"
"When you walk into a bodega, you feel like you're at home," said Diana Rodriguez.
She would know: she started working here at the age of six. "I can go back as far as when I was born, 'cause I lived on top of a bodega."
A bodega is a place where you might find ripe avocados right below the jacks and ball set, and where the pantyhose sit next to the glue traps. Confusing to the outsider maybe, but neighborhood folks come here day after day for all of those things, plus a breakfast sandwich, Diana's favorite.
Variations on egg and cheese (un sandwich de huevo y queso) can be found all over the Bronx. And there are more than 10,000 bodegas throughout New York City's five boroughs.
Hinojosa asked, "For you, what is the heart of a great bodega?"
The person behind the counter, replied Pamela. "Definitivamente, si."
At Pamela's Green Deli, that person behind the counter is Pamela, who's been a fixture at this location for nearly 30 years.
Michael Diaz may not know her real name is Nina Baez, but she knows his name, and more.
"If I say, 'Hi, Miss Pamela, how ya' doing?' she says, 'So, you want your cheese and ham sandwich?' And I say, 'Of course!'"
This bodega is owned by Diana's father, Radhames Rodriguez, who came to the United States from the Dominican Republic in 1985.
"I love a bodega because, first of all, I make money," said Radhames. "And second of all, I like be with people."
He and his two brothers now own 12 bodegas, where shoppers find something you can't buy.
Hinojosa asked, "Have you ever helped somebody get a plumber or an electrician?"
"Yes."
"Have you ever helped somebody with a loan?"
"Yes."
So it's no surprise that there is no shortage of good-luck dollar bills.
But along with the good, there's a little bad.
"It's really hard to prevent people from buying things that aren't as healthy," said Diana.
According to New York City health officials, poor neighborhoods suffer from high rates of diabetes and obesity -- and bodegas are hardly known for stocking nutritious foods.
"I live for pork skins when I come to the bodega," said comedian and blogger Dallas Penn. "No sugar. Fantastic for my pre-diabetic condition!"
That's because there's only enough room for what sells.
"The snack cake food group," Penn laughed.
Which is why he created his special "bodega food pyramid": "Without the snack cakes, without the potato chips, and the quarter waters, no, you're not a bodega, I'm sorry. You're just a grocery store."
To be certain, there are signs of change on the shelves of some bodegas.
"The first step is for bodegas to be courageous," Penn said. "The second step is, let's educate the consumers on the other products that are going to be of value to them."
The thousands of bodegas throughout New York are owned by Dominicans, Puerto Ricans, Yemenis and others.
And for 19-year old Diana Rodriguez, someday running a bodega of her own defines the American Dream. Still, her father is hoping she aims higher.
Diana said, "You kept saying that bodegas the best thing to have, but every time I say I want to have a bodega, you're like …"
"But I don't want you to go through all the things that I went through," Radhames said.
"OK, but now we don't have to start from Day One, you know? It's like I have to take advantage of the fact that you've made it so far."
All the same, Diana knows that, while her college degree is still a few years off, she already has a higher education in bodega.
"I understand. I'm going to school for Bio and pre-med, and hopefully I do go into medical school and stuff like that. But that's not me. Business runs in my family. It runs in my blood. So it's like, if I can do more, I will."

GALLERY: Bodegas of New York City

For more info:
Thanks for reading CBS NEWS.
Create your free account or log in
for more features.