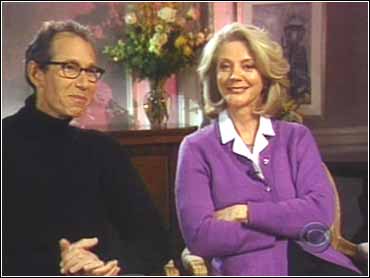 Blythe And Bruce: The Family Union
Celebrity couples attract a lot of attention. Yet, when two Hollywood types get married, it often seems that the marriage license, like a carton of milk, comes with an expiration date. Eventually, things sour.

Then how do you explain actress Blythe Danner and her producer-director husband Bruce Paltrow, who have been married for 31 years? 60 Minutes Correspondent Lesley Stahl, reporting for CBS News Sunday Morning, gives it a try.

"Bruce is my rock," says Danner. "He's the most honest man I've ever met in my life. I mean, he can be rough. But you always know that you're getting the truth."

As for Paltrow, he says, "Blythe makes you be better in every way. I mean, her expectations of everything you do. I always feel a response that I really have to do my best in every way -- as a parent, as a husband, and particularly in the workplace, professionally."

And he trusts her judgment?

"I trust her about everything," he says simply.

It used to be, you said the name Blythe Danner, and people thought, 'Ah, yes! That wonderful actress.' Bruce Paltrow, many knew as a successful TV producer. But now, they're known as Gwyneth's parents.

More About Couples

Read more stories about couples and the institution of marriage.


That's not the only thing that makes them interesting. She's mainline Philadelphia, as patrician as it gets. He's Jewish New York. His grandfather was a rabbi.

"My parents thought there was something wrong with me anyway," Paltrow quips.

For 30 years, Danner has appeared in scores of dramatic films, including Prince of Tides with Nick Nolte, and in three Woody Allen films. Yet the stage was her first love. She won a Tony award in 1970 for her performance in Butterflies Are Free and has starred in numerous Broadway plays since.

Bruce Paltrow is a writer, producer and director of such classic TV series as The White Shadow, about a basketball coach in an inner city high school, and St. Elsewhere, the forerunner of reality-based programs like ER.

Gwyneth was born three years after they were married. Then their son Jake, who, like his father, is now a television director. The new parents made a simple deal: They would both raise the children. They took their childen with them everywhere.

"When Gwynie was born, Blythe was working, and I had no money, no job, no anything," recalls Paltrow. "So...I was the nanny. I would be with Gwyneth all day and night. And when it came time to feed, I would get Gwynie out of her crib and bring her to Blythe, shooting movies or rehearsal. And she would breast feed and when she'd get done, I would burp her, I would walk her, and we would spend our days together."

So how have they managed to stay together for 31 years? Only half-joking, they say, they have spent about a third of their time apart from each other because of their busy careers.

They must have done something right: They're a very close family. Whether at the Academy Awards or on the set of a movie, Gwyneth Paltrow idolizes her parents.

"They were so always there and so involved," says Gwyneth. "And they really just let us grow up into what we were pre-destined to be. In terms of who we were. You know, nothing was wrong in our house. Well, I mean, you could do bad things. You knew no feeling was wrong, and you could express anything. And then they throw in good manners and chew with your mouth closed, then you turn out O.K."
AP
Danner with daughter Gwyneth
---
Starting when she was very young, Gwyneth appeared with her mother on stage. And two years ago, Paltrow directed Gwyneth in the film Duets. What should have been a happy time for the family instead became a time of great stress. Bruce Paltrow was diagnosed with throat cancer just as shooting on Duets in Vancouver was set to begin.

Only 13 days after completing radiation treatments, Paltrow was back at work. During the filming, the entire family gathered in Vancouver. Paltrow was on a feeding tube. His wife was right there. "She came in, and she mixed all the vitamins and supplements," Paltrow recalls.

Did his illness change their marriage?

Says Danner, "I think it's certainly given us a deeper appreciation of one another. I thought I would fall apart, because he is our rock, for all of us, the children and all that. It's very difficult."

Adds Paltrow, "The love that you have grows by things that happen in your marriage."

Two years later, he says he's free of cancer. With the children now on their own, he is spending much of his time writing a new film script at the family's home in California.

Danner is spending much of her time in New York. Her response to the empty nest is to throw herself into a series of stage performances. Recently, she appeared in a dramatc reading of Jules Feiffer's Little Murders. Now, she is in rehearsals for a singing role in a revival of Stephen Sondheim's Follies, which opens in April.

So it may strike you as ironic that these two seasoned professionals are best known to some as the parents of Gwyneth.

"I'm amazed at how many women have said to me, 'Are you jealous of your daughter?' which just floors me! I can't conceive of how a mother could be jealous of her daughter," says Danner, "especially when she's a tremendous...you know, represents our family so eloquently and so beautifully, and is just a light that gives...makes us valid, you know. Validates us."

What would they say if they had to give advice to their children about when makes a good marriage?

Danner: "Sticking it out. Communicating. Talking. Listening. And loving."

Paltrow: "I think, fundamentally, you have to want to be married. I always say jokingly, 'Well, what's the secret of marriage? We both didn't want to get divorced at the same time.'"

© MMI Viacom Internet Services Inc. All Rights Reserved
Thanks for reading CBS NEWS.
Create your free account or log in
for more features.