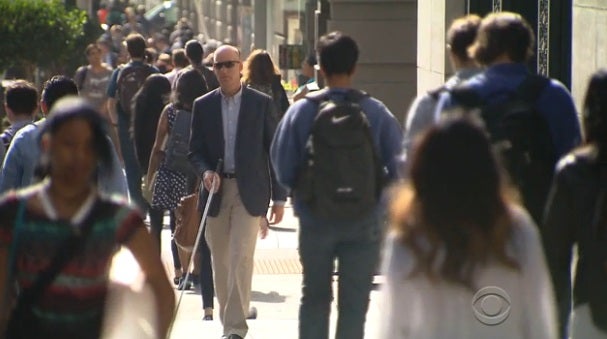 Blind architect drafts different blueprint for success
SAN FRANCISCO -- Chris Downey is a man with a plan. Plenty of plans.
Downey had been a successful and respected California architect. But in 2008, doctors found a tumor on his optic nerve. They successfully removed it, but it caused permanent blindness. And for Downey, it caused him to do some soul searching.
"A lot of people didn't know what to say. What do you say to an architect who has lost his sight?" said Downey.
"I had a dad who died from brain surgery," Downey explained. "He was 36 and I was 7. There I was 45 and my son was 10, and I was alive. I just lost my sight."
So he felt determined to carry on. CBS News first met Downey nearly five years ago, after he finished his first project for the Department of Veterans Affairs.
In his mind, he can still see.
"The creative process is very much intact. What I needed was new tools," Downey said.
Those new tools, which has served him well these past few years, include embossed building plans -- a kind of Braille blueprint -- and wax sticks that he bends and manipulates to "sketch."
"I really have a greater sense of being in the space reading a drawing this way than I did sighted," said Downey.
Downey has gone on to design several structures that capture the eye -- and much more.
"What I've learned through this is that it's how a place feels. How it sounds," he said. "You don't do that just through the visual, yet that's what we as architects tend to focus on."
His latest project is the San Francisco headquarters for the Lighthouse for the Blind.
"He really knows the job. I think he knows it better than I do," said David Fairclough the project superintendent.
Fairclough recently gave Downey a tour of the project, carefully navigating past wires and other hazards.
"It's amazing," said Fairclough. "He was telling me, 'I know where we are, that's the wood ceiling right there.' It's really unique."
"I'm an architect without sight, not an architect without vision," Downey explained. "An architect without vision is out of work."
Downey is not only working, he is thriving. And the reputation he's building is a sight to behold.
Thanks for reading CBS NEWS.
Create your free account or log in
for more features.