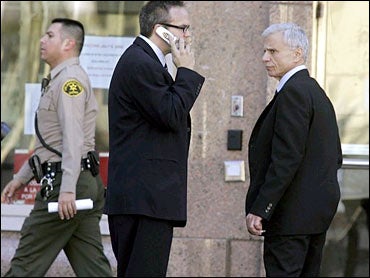 Blake 'Testifies' During Opening
In an unusual move, Robert Blake's attorney had the former "Baretta" star testify on his own behalf Tuesday during opening statements at his murder trial by airing a videotape of an old Barbara Walters interview.
The interview, which occurred while Blake was in jail, showed an emaciated, grim figure in an orange jail jumpsuit, his eyes rimmed in red as Walters quizzed him about his relationship with his slain wife, Bonny Lee Bakley, who was the mother of their baby, Rosie.
In the tape shown by defense attorney M. Gerald Schwartzbach, Walters asked whether Blake was having troubles in his marriage and had been planning to divorce Bakley. Blake said he was not, and was trying to work things out with her.
"What was the down side?" he asked Walters. "I'm an old man. I have no life. I'm hanging around jazz clubs. God gave me the gift of the century. I always thought my life was a home run. But now I had the chance to hit the ball out of the universe."
He went on, "It's about Rosie. From the second I touched Rosie, it's all about her. The greatest gift in the world and I'm going to try to mess it up?"
In her opening statement, Deputy District Attorney Shellie Samuels also used an excerpt of Walters' interview, which she claimed was proof that Blake was lying about his relationship with Bakley and had planned her murder.
Bakley was shot on May 4, 2001, in the actor's car, parked 1½ blocks from Vitello's restaurant in the Studio City section of Los Angeles. The couple had just dined in the restaurant, where Blake had been a customer for so many years that one of the menu items is named after him.
Blake claims his wife was shot while he returned to the restaurant to retrieve a handgun he carried for protection and had accidentally left behind.
Before concluding his opening remarks, Schwartzbach said he would call an expert to say there was no gunshot residue on Blake, and he said he would prove police were negligent in their investigation because they were dazzled by Blake's celebrity.
"The arrest of Robert Blake was driven by the desire for fame," he said.
Schwartzbach said detectives agreed to let a book author come with them the night of the murder because they knew he would write about them and they craved the attention.
Schwartzbach showed pictures of writer Miles Corwin at Blake's home with investigators and then a posed picture of the three main detectives around a chair holding a picture of Blake.
"At the end of this case the evidence will demonstrate the only appropriate verdict will be not guilty, not guilty, not guilty," the defense attorney told the jury.
The prosecution's first witness, nearby resident Sean Stanek, said he answered his door the night of the killing and found Blake screaming for help.
"I opened the door. I said, 'Robert Blake.' He was yelling, 'You've got to help me, my wife is bleeding!' ... He was wide-eyed, pale, pupils looked dilated."
Stanek described blood gushing from Bakley and the sound of her gurgling. He imitated Blake's guttural sobs as he sat on a curb waiting for a paramedic to help his wife.
"Did you see any tears?" the prosecutor asked.
"I looked and there weren't any tears," Stanek replied. "I don't know, people cry in different ways."
He testified that Blake told police, "I knew this was going to happen. She was so afraid. That's why I carried a piece on me."
He said Blake then pulled a gun out of his back pocket. The murder weapon was another handgun found in a nearby trash bin. Police could not obtain fingerprints from it.
Two women who were at the restaurant testified about rushing out to the car after Blake came in seeking a doctor. Teri Lorenzo Castaneda described Blake as hysterical and crying.
Asked if there was anything odd about his behavior, she said he never came over to the car to be with his wife.
Her friend, Carol Caputo, added that "when people approached him he was very agitated and would cry out, 'Oh, my God.' But when they left he had a flat affect and appeared calm."
"Did it seem fake to you?" Samuels said.
"The screaming didn't sound fake," Caputo replied, but "the turning it on and off" did.
On cross-examination, she said that despite numerous police interviews she didn't mention her impression of Blake's demeanor until a few weeks ago because "they didn't ask me.
By Linda Deutsch
Thanks for reading CBS NEWS.
Create your free account or log in
for more features.