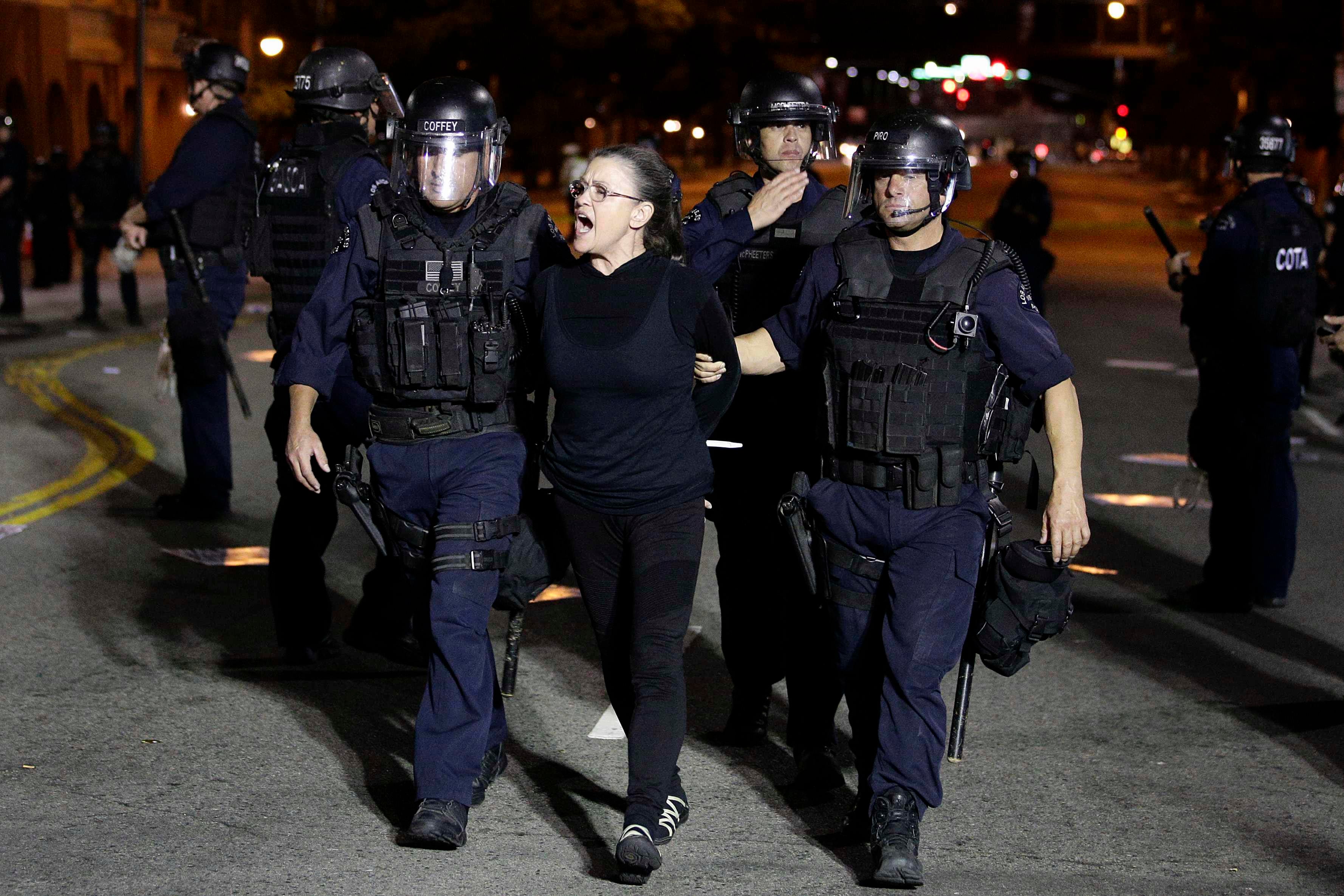 Black Friday: Walmart employees stage protests to demand higher pay
(MoneyWatch) Anthony Goytia, who works nights stocking shelves at a Walmart store in Duarte, Calif., says all he wants from the retailer is a living wage and a little respect. "I'm a hard worker and take pride in my work," said the 31-year-old, who as a part-time employee earns $9.60 an hour, or roughly $12,000 a year. "I'm not a slacker. I'm there on time. I give it my all, and it's only fair I should be compensated for that."

Goytia is one of the Walmart employees and labor activists taking part in demonstrations around the U.S. today against the company, the world's biggest retailer, to protest what they say is inadequate pay. The campaign is being led by Our Walmart, a group affiliated with the United Food and Commercial Workers union, and is timed to coincide with Black Friday, the unofficial start of the holiday shopping season.


Our Walmart said 1,500 protests are being held at Walmart stores in major metropolitan areas including Chicago, the Bay Area, Dallas, Los Angeles, Miami, Minneapolis, Sacramento and Washington. Protestors were arrested near Walmart stores in Alexandria, Va., and Chicago, according to published reports.

Workers and activists are calling on the company to offer a minimum annual salary of $25,000 a year and to provide more full-time work. They also want the company to halt what they describe as "illegal retaliation" against employees who are involved in the campaign.

David Tovar, vice president of corporate communications at Walmart, said the company expects fewer protests than what labor groups have promised. "We know that the large majority of people who participate in these protests aren't even Walmart associates."

"We're not surprised when groups try to use events like today that get a lot of attention as a megaphone for their message," he added. "We don't like it, but we respect people's right to speak out."

Walmart said today that 22 million customers shopped at its stores on Thursday, the traditional Thanksgiving holiday, and that it expects "record-breaking" results for Black Friday.

Tovar also defends Walmart's pay practices, saying that the "vast majority" of Walmart employees earn at least $25,000 a year. The average wage for full- and part-time Walmart workers is nearly $12 an hour, according to the company. Tovar denied that Walmart retaliates against workers.

The National Labor Relations Board earlier this month said that Walmart had violated the rights of employees engaging in protests against the company. The board found that stores in 13 states had "unlawfully threatened, disciplined, and/or terminated employees" for having participated in legally protected strikes and protests, among other violations. NLRB lawyers have also previously found merit in employee complaints related to alleged illegal firings and other sanctions against workers involved in pro-union activities.

For most critics, however, the central charge against Walmart is the company's low-wage employment model. They claim that thousands of the giant retailer's workers can't survive on their pay and must depend on public aid and charitable organizations to make ends meet.
Gail Todd, 36, who makes $16,000 a year working at a Walmart store in Landover, Md., as a part-time customer service worker, says she gets food stamps, Medicaid and housing assistance. The mother of three, whose husband is a manager at a fast-food franchise, planned to take part in today's labor protests to ask for a pay hike. Todd, an Our Walmart member, also said her weekly hours are unpredictable, making it hard to budget her finances.

"As a mother, it's a struggle -- it's a struggle because I don't know what my paycheck will look like in two weeks. I have to pay rent, light bills, class fees," she said. "I have to ask, do I buy food or pay the rent or light bill, or do I pay the class fee that my daughter needs for her to get her high school diploma?"

Goytia, a father of four whose wife also works, says his family gets health care benefits under Medi-Cal, California's Medicaid program. He supplements his income by participating in clinical trials for psoriasis and by periodically selling his blood. The family also relies on food banks when money is especially tight.


Raising workers' pay would not only benefit Walmart employees, but also the company and shareholders, some experts believe.

"There's a strong case to be made that Walmart's investing in its front-line workforce would be good for shareholder value over the longer term," said Amy Traub, a senior policy analyst at Demos, a New York think-tank that backs a wage increase for Walmart workers.

Traub notes that Walmart spent $7.6 billion last year to repurchase its own shares in order to boost the company's stock price. Funneling that money into higher wages would boost employee productivity and benefit the company as a whole, she said. "It's a mistake to see pay raises strictly as a cost, as opposed to seeing it as an investment in human capital."

Thanks for reading CBS NEWS.
Create your free account or log in
for more features.