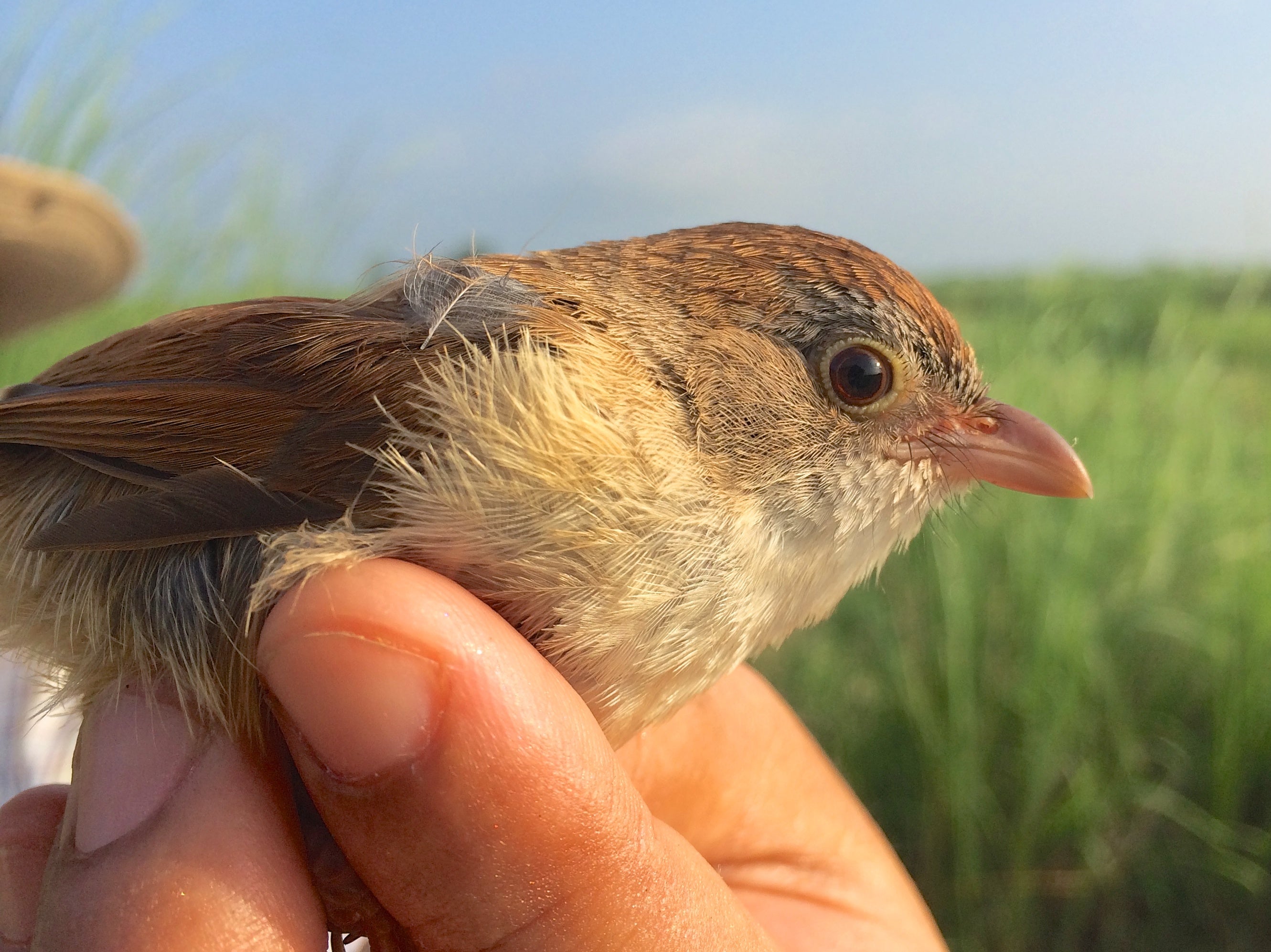 Bird thought long extinct is rediscovered in Myanmar
A bird believed to have gone extinct more than 70 years ago has been rediscovered in the grasslands of Myanmar.
The Jerdon's babbler (Chrysomma altirostre) had not been seen in the Southeast Asian nation since July 1941, where it was last spotted in the town of Myitkyo near the Sittaung River.
But while surveying a site around an abandoned agriculture station in May 2014, the researchers from Wildlife Conservation Society, Myanmar's Nature and Wildlife Conservation Division and National University of Singapore (NUS) rediscovered a bird.
The rediscovery was described in the recently published issue of Birding Asia, the magazine of the Oriental Bird Club.
"The degradation of these vast grasslands had led many to consider this subspecies of Jerdon's babbler extinct," said Colin Poole, director of WCS's Regional Conservation Hub in Singapore. "This discovery not only proves that the species still exists in Myanmar but that the habitat can still be found as well. Future work is needed to identify remaining pockets of natural grassland and develop systems for local communities to conserve and benefit from them."
After initially hearing the bird's distinct call, the scientists played back a recording and were rewarded with the sighting of an adult Jerdon's babbler. Over the next 48 hours, the team spotted several more Jerdon's babblers and managed to obtain blood samples and high-quality photographs.
British naturalist T. C. Jerdon initially described the small, brown bird, about the size of a house sparrow in 1862.
At the beginning of the 20th century, the species was common in the vast natural grassland that once covered the Ayeyarwady and Sittaung flood plains around the country's commercial capital Yangon. Since then, its numbers declined as agriculture and communities gradually replaced most of these grasslands as the area has developed.
Since the 1960s, Myanmar's military dictatorship shut itself off from the world including most environmentalists who studied birds and other species including elephants and tigers. But since moving to civilian rule in 2010, the country has opened up and that has been a boon to nature lovers leading to several finds, including the discovery of a spoon-billed sand piper population in 2008 and a new monkey species in 2010.
The Jerdon's babbler in Myanmar is currently one of three subspecies found in the Indus, Bhramaputra, and Ayeyarwady River basins in South Asia. But after this rediscovery, the researchers are exploring whether this should be treated as a full species and will be doing further DNA analysis on it.
"Our sound recordings indicate that there may be pronounced bioacoustic differences between the Myanmar subspecies and those further west, and genetic data may well confirm the distinctness of the Myanmar population," said Frank Rheindt of NUS who was a key member of the field team and leader of the genetic analysis.
Thanks for reading CBS NEWS.
Create your free account or log in
for more features.