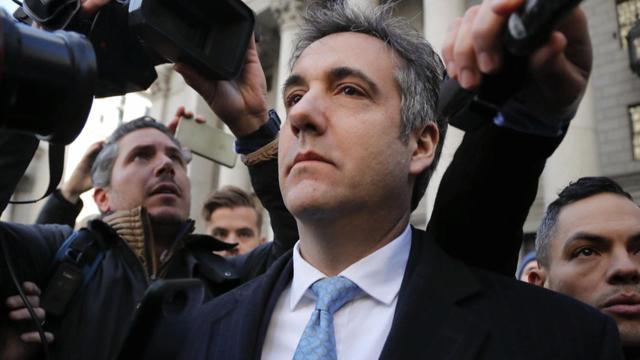 Bipartisan leaders of Senate Intelligence Committee respond to Michael Cohen's plea deal
Michael Cohen, President Trump's former lawyer, pleaded guilty Thursday to lying to Congress as part of special counsel Robert Mueller's investigation of Russian interference in the 2016 presidential election, CBS News has confirmed. Shortly after Cohen's guilty plea in the Southern District of New York, Senate Intelligence Committee Ranking Member Mark Warner said Cohen "needs to come back and share more" with the committee.
Cohen pleaded guilty to making false statements to both the House and Senate Intelligence Committees. However, unlike its counterpart in the House, the Senate Intelligence Committee's investigation into Russian meddling in 2016 is largely bipartisan, with Republican Chairman Richard Burr and Warner working in tandem.
"This is the reason why people shouldn't lie when they're in front of a congressional investigation," Burr told reporters Thursday.
According to the plea deal, Cohen sent a letter to the House and Senate Intelligence Committees related to plans to build a Trump Tower in Moscow on Aug. 28, 2017. He falsely said planning had ended in January 2016, that he had not considered to traveling to Russia in relation to the plans, and he had not heard from any Russian officials about the project.
Cohen was set to testify before the Senate Intelligence Committee on Sept. 19, 2017. He released the prepared remarks he was planning on giving behind closed doors to the committee to the press beforehand. The committee then canceled the meeting with Cohen, upset his remarks, which reiterated what he had said in his letter to Congress in August, had been leaked to the press.
The committee rescheduled closed-door testimony by Cohen on Oct. 25, 2017. A committee official confirmed to CBS News the special counsel's office had access to the transcript of Cohen's testimony before the Senate Intelligence Committee.
In subsequent remarks to reporters, Warner acknowledged the committee had made referrals to the special prosecutor but declined to name any individuals.
It was not immediately clear whether Mueller's office also had access to a transcript of Cohen's testimony before the House Intelligence Committee.
A Democrat official told CBS News all of the committee's transcripts have been shared with the Office of the Director of National Intelligence for a declassification review. That process could involve sharing materials with relevant agencies, including the FBI and Justice Department.
The committee voted to publicly release virtually all of its interview transcripts in September.
"If the outgoing Republican Majority does not release the transcripts before we take power in January, it will be one of the first things we do both to assist the special counsel's work, and enhance the American people's understanding," the official said.
Cohen's plea deal states that "as Cohen well knew, Cohen's representations about the Moscow Project he made to (the Senate and House Intelligence Committees) were false and misleading. Cohen made the false statements to (1) minimize links between the Moscow Project and (President Trump) and (2) give the false impression that the Moscow Project ended before 'the Iowa caucus and ... the very first primary,' in hopes of limiting the ongoing Russia investigations."
Mr. Trump was dismissive of Cohen in brief remarks to reporters Thursday.
"Michael Cohen is lying and he's trying to get a reduced sentence for things that have nothing to do with me," the president said as he left the White House Thursday morning. He added that Cohen "is not a very smart person."
Warner suggested that Cohen's plea deal did relate to Mr. Trump, saying: "This is one more example of one of the president's closest allies lying about their ties to Russia and Russians."
Thanks for reading CBS NEWS.
Create your free account or log in
for more features.