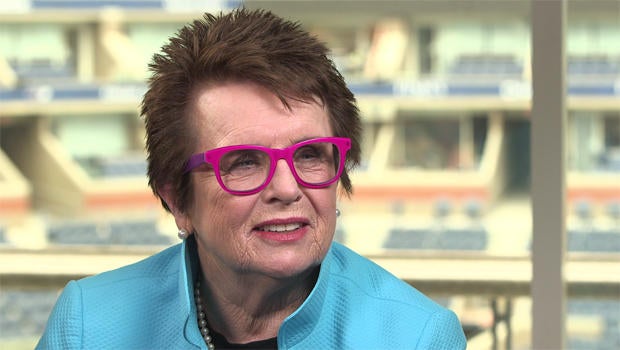 Billie Jean King's victories, on and off the court
A genuine veteran of the Battle of the Sexes is holding court with us this morning: She's BILLIE JEAN KING, and she's talking with our Lee Cowan:
If you're old enough to remember it, in 1973, you probably watched it: Billie Jean King vs. Bobby Riggs -- man vs. woman -- a spectacle that captivated the nation.
More than 30,000 attended the match held in the Houston Astrodome. "I think they thought it was going to be a tennis match, so it was going to be sedate or something," King said. "I knew it wasn't going to be sedate!"
Even Howard Cosell was almost beside himself: "It's like 'Monday Night Football.' It's not the usual tennis atmosphere. It's a happening!"
The match lived up its hype, which was really saying something. Bobby Riggs, once the number one tennis player in the world, served up male chauvinism ("Don't get me wrong; I love women, both in the bedroom and the kitchen") like it was second nature … and it was.
At a press conference he held with King, Riggs said of female athletes, "And now when they can't even do it half as good, they still want the same kind of money. This is ridiculous. That's why I got involved in this thing in the first place."
King countered: "Without the women, he wouldn't have these opportunities."
He was insufferable, and yet in 1973 he had plenty of fans, including, surprisingly enough, King herself.
"When he starts getting like that, I think it's adorable," she told Cowan.
"But all that bravado, it didn't eat away at you?"
"No! I think it's cute. I think it's entertainment. It's great."
"But did you really think he believed that stuff?"
"Yes. He did."
And King was the perfect foe for Riggs. Tennis was her life; she first picked up a racquet in Long Beach, California, at age 11 -- and never looked back: "My mom came to get me, and I jumped in the car. And I said, 'Mom, mom, this is it, this is it.' She said, 'What do you mean this is it?' And I said, 'I found what I'm going to do with my life. I'm going to be the number one tennis player in the world!'"
"You said that that day?" Cowan asked.
"That day. Done. And my mom goes, 'You have homework, and piano.' My mom kept us absolutely grounded, forever," King laughed.
She kept her promise to her mom. King would go on to win almost 40 Grand Slam titles in her career. But beyond her game, she had become one of the most recognizable voices in the fight for equal rights -- especially for women.
Cowan asked if there was a moment or speech where that became clear for her. "Well, I can tell you what brought it home, heavily, is Larry. We were going to California State University at Los Angeles."
Larry was Larry King, her future husband, who on campus one day wondered why he had a college grant to play tennis, and she didn't.
"He says, 'You're a second class citizen,'" she recalled. "And I said, 'What, what?' He said, 'You're the best athlete in the school, everyone knows your name, [yet] you can't get a grant because you're a girl.' 21 And I said, 'You're right.' I've known that but that crystallized at that moment, just absolutely whoa!"
The inequities only seemed more out-of-bounds the more she played. When King won the women's singles at Wimbledon in 1968, she was pretty irked that she took home less than half what the men's winner did.
"Wasn't happy that day," she said. "Here I'm winning Wimbledon and I'm not happy! Like, the big picture is almost more important to me!"
She realized changing that bigger picture meant boycotting the tennis establishment. In 1970 she and eight other women signed contracts -- for a dollar a piece -- to form their own tour ... a risk, to say the least.
"When you lead, you don't make a lot of friends sometimes," King said. "It's a very lonely place at night, when you lead. But it's worth it."
All of that was on the line that night in Houston. She had to win for women everywhere … and she did, in three straight sets, before a TV audience estimated at more than 50 million people.
But there was another battle brewing -- an internal struggle King was having with her sexuality. It was not until her 20s when she realized she could be attracted to women.
"When I married Larry I didn't know -- are you kidding? I would never marry anybody if I knew that," she said. "It wouldn't be fair to them, No. I was totally in love with Larry. Are you kidding? Totally 100%."
She kept her feelings secret, until 1981, when Marilyn Barnett, King's former personal assistant, brought a palimony case against her, forcing their love affair out into the open -- and forcing King to make a decision: "I said to Larry and everyone, 'I'm telling the truth.' Done."
At a press conference, King announced, "I did have an affair with Marilyn Barnett. It's been over for quite some time."
Cowan asked King what the public experience was like for her. "It was horrible. My parents were crying," she replied.
King lost fans, and millions in endorsement deals. "I knew those were going to be gone, so, that's the breaks."
Her life in the spotlight, both personal and professional, reads like a movie -- so perhaps it's no surprise Hollywood has taken notice.
This week "The Battle of the Sexes" comes out, starring Steve Carell as Bobby Riggs and Emma Stone as King.
"I about fainted," King laughed. "I remember going, 'Oh my God! Emma Stone? You've got to be kidding. You can get Emma Stone? She's amazing!'"
Cowan asked, "What was it like for you to watch all that, though?"
"I had a hard time," King said. "I've watched it a couple of times, and .... whoo, I can't watch it."
Seeing again the pain she caused her husband was the toughest of all -- they finally went their separate ways in 1987. She's been with the same woman now for over three decades -- Ilana Kloss, a former tennis pro herself. Together, they own the Philadelphia Freedoms, part of the World Team Tennis league that King co-founded in 1973. It was the first professional sports league where men and woman played side-by-side.
Elton John, a longtime tennis fan, was so impressed he wrote a song about it all.
"He said to me, 'I want to write a song for you,'" King recalled. "I thought I didn't hear him right. Did I hear him right? And he says, 'What are we going to call it?' And I said, 'I don't know! I'm just -- let me get over the fact you're going to write a song for me!'"
"Philadelphia Freedom" hit number one on the charts back in 1975.
At 73, King hasn't lost that rock-star status. At Wimbledon, she's royalty, and she takes time for each and every one of her fans.
It's as if there's always one more person -- one more chance to learn or to teach -- that Billie Jean King never wants to miss.
Cowan asked, "Looking back, are you more proud of what you did on the court, or what you did off it?"
"Oh, off the court. That's easy-peasy. Yeah."
"Do you feel satisfied with what you've been able to accomplish?"
"No, I'm never satisfied," King replied. "No. Never never never. No, I don't want to be, because I think when you get satisfied, it's over. No, I want to keep going as long as I can. Every human being matters."

For more info:
Thanks for reading CBS NEWS.
Create your free account or log in
for more features.