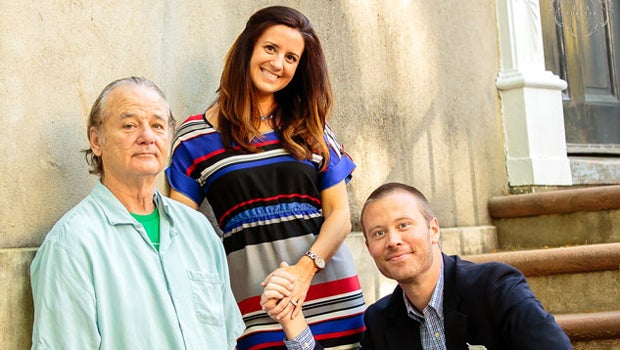 Bill Murray photobombs couple's engagement photo
After dishing out some marriage advice at a bachelor party over Memorial Day weekend, Bill Murray is now photobombing another Charleston, S.C., couple that's also on their way to the altar.
Fia Forever Wedding Photography got a pleasant surprise when the 63-year-old "Groundhog Day" actor showed up downtown at their engagement photo shoot for Ashley Donald and Erik Rogers.
RELATED VIDEO: Bill Murray offers up amazing marriage advice
"I set the couple down on that little staircase to get ready for a shot and I hear people talking in the back and as I'm looking through the lens, the couple seems stunned and distracted... I think to myself, 'Oh great, someone is bothering them," the photographer explains. "I turn around and I see Mr. Murray standing there with his shirt pulled up and belly proudly on display which he is patting pretty loudly in an attempt to make the couple laugh. Needless to say I was stunned and I invited Mr. Murray to join the couple for a quick shot. He obliged and congratulated them and went on his way... leaving behind an extremely happy couple and this photo that will be forever remembered."
The photographer adds, "We are just grateful to have been there when Mr. Murray decided to show up and mostly to our awesome couple. Congratulations Ashley and Erik!"
Thanks for reading CBS NEWS.
Create your free account or log in
for more features.