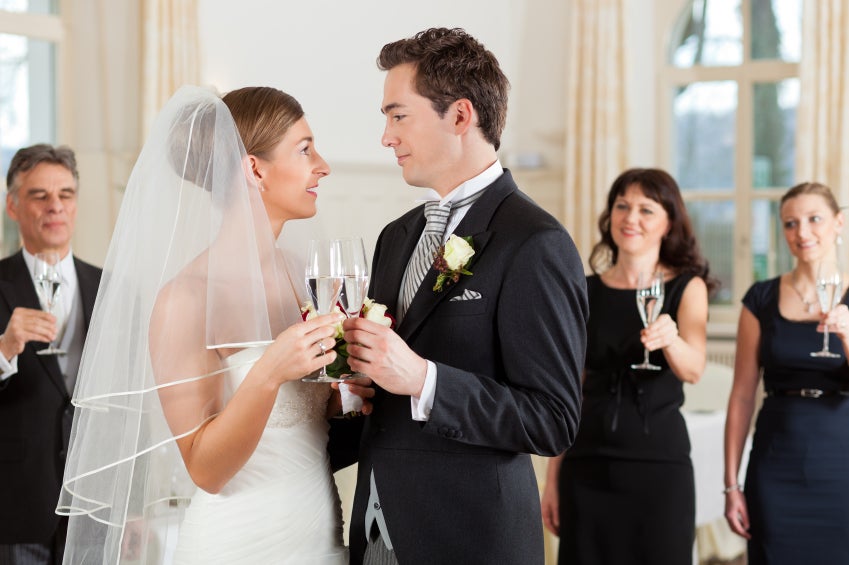 Does a big wedding mean a happier marriage?
Go ahead, invite your distant aunt Ethel and the rest of the extended family to your wedding, because a large guest list may be a good indicator of having a marriage that lasts. A new report finds couples that opt for big formal weddings -- 150 guests or more -- have a better shot at a happy marriage than those who have small, intimate weddings.
The report, "Before 'I Do': What Do Premarital Experiences Have To Do With Marital Quality Among Today's Young Adults?," published by the National Marriage Project at the University of Virginia, looked at data from the ongoing Relationship Development Study from the University of Denver, which involved more than 1,000 unmarried but "taken" Americans all between the ages of 18 and 34 between 2007 and 2008. The researchers followed their romantic trajectory over the next five years. In that time period, 418 people in the study tied the knot. After adjusting their findings for factors such as race and ethnicity, income, education level and religion, the researchers inquired about the number of guests that witnessed "I do."
They found that among couples with 150 or more guests at their wedding, 47 percent reported having a high quality marriage in the years that followed. But only 31 percent of couples with weddings attended by 50 or fewer people said they were happily married later on. Couples that held medium-sized weddings -- 51 to 149 guests -- were not much more fulfilled: only 37 percent reported having a marriage they felt would endure.
But rolling like Kim and Kanye may not be enough to ensure the honeymoon feeling doesn't end too fast. The report also finds people who have had fewer romantic relationships prior to tying the knot are more likely to find their "happily ever after" and make it last. This finding, in particular, is not so surprising, given that significant romantic partnerships help to form our opinions about love and commitment. The researchers also found that people who had children from prior relationships tended to struggle more with their marriage.
Additionally, the authors say couples tend to be happier when they made deliberate choices about how the relationships should progress, such as deciding to live together on the track to marriage rather than keeping separate homes until the big day.
Thanks for reading CBS NEWS.
Create your free account or log in
for more features.