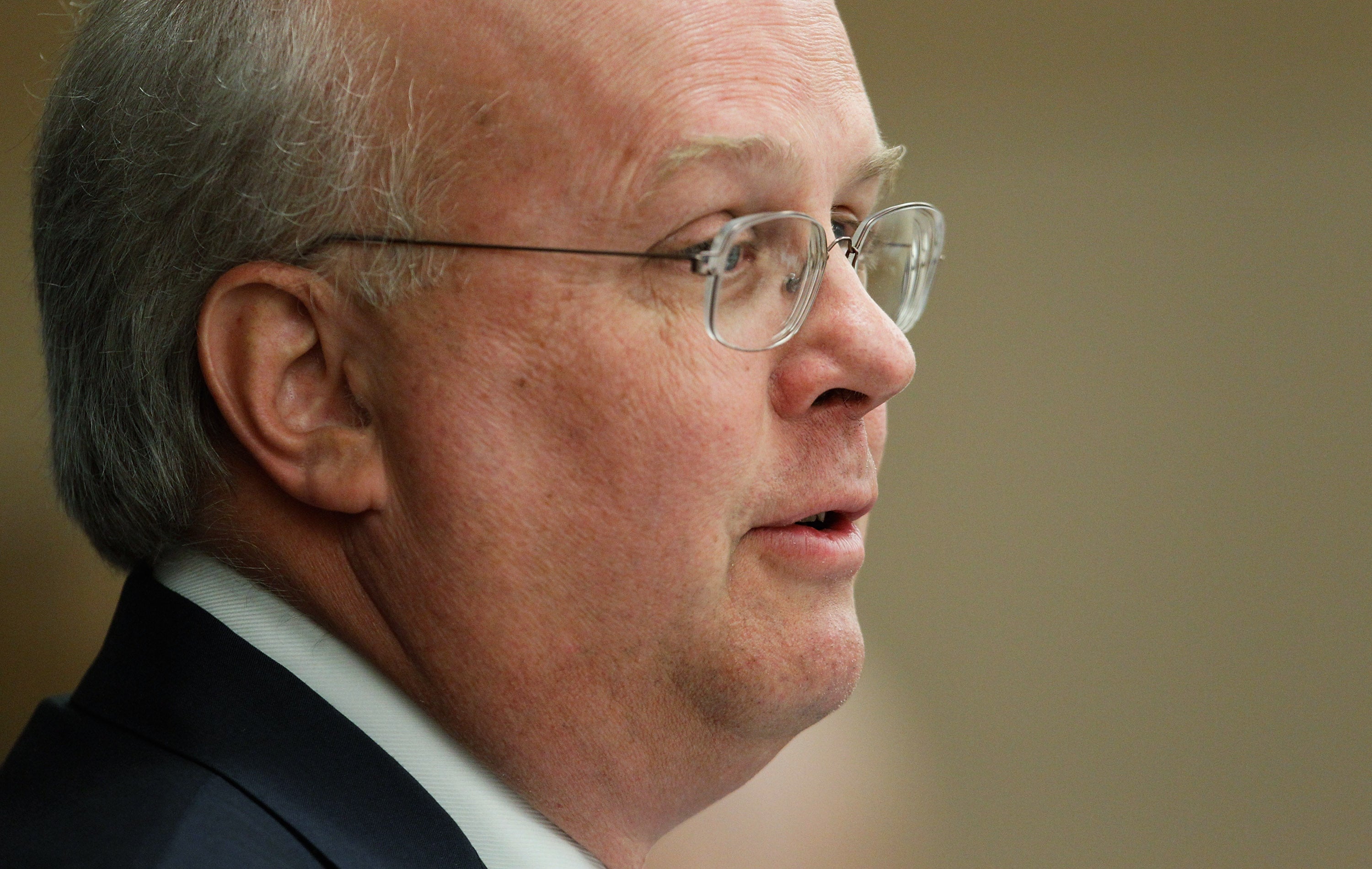 Big GOP donors see small return on investment
Among the biggest losers on Tuesday was conservative strategist Karl Rove, and not just because his side lost. The Fox News analyst, who questioned his network's decision to call the election for President Obama on air after earlier incorrectly predicting a Romney victory, also has to reckon with the reality that his big-spending super PAC, American Crossroads, got almost no return on the more than $100 million it spent to influence the election.

A study by the Sunlight Foundation found that just 1.29 percent of the nearly $104 million it spent in the general election ended with the desired result. In addition to spending $85 million to defeat Mr. Obama and $6.5 million to support Mitt Romney, the group spent millions more opposing Democratic Senate candidates Bill Nelson in Florida, Jon Tester in Montana, Joe Donnelly in Indiana, Tammy Baldwin in Wisconsin, and Tim Kaine in Virginia - all of whom won. The only candidates it supported who won were Republicans Deb Fisher in Nebraska and Dean Heller in Nevada, who the group spent a combined $1.3 million to support.

The return for American Crossroads' sister group, Crossroads GPS, was not much better. Crossroads GPS, which keeps its donors secret, saw a 14 percent return on the $70 million it spent. Another conservative outside group, the U.S. Chamber of Commerce, saw just a 6.9 percent return on its $33 million in spending. The National Rifle Association's return on its nearly $12 million in spending: 0.81 percent.

The poor performance by Rove's groups had Democratic Sen. Chuck Schumer of New York mocking the longtime Republican strategist, who was hailed as "Bush's Brain" for helping engineer George W. Bush's 2000 and 2004 victories. "If Crossroads was the business and Karl Rove was the CEO, he'd be fired for getting a poor return for his investors," Schumer told reporters at a Christian Science Monitor breakfast Thursday morning, according to Politico. He went on to speculate that Crossroads won't be "as much of a player two years from now" as a result.
Obama campaign adviser David Axelrod added on a conference call with reporters Thursday afternoon that the billionaires who donated to outside groups should be asking for a refund. He added that it was "heartening" that the presidency can't be bought.

Rove wasn't the only conservative who has to come to terms with the fact that the massive election spending on the right accounted for little more than a mini-stimulus package. Texas industrialist Harold Simmons, the New York Times reports, spent nearly $27 million backing Romney and GOP Senate candidates; Chicago Cubs owner Joe Ricketts spent $13 million on a super PAC attacking Mr. Obama; Texas homebuilder Bob Perry spent $21 million to defeat the president and Democratic Senate candidates in Florida and Virginia who ultimately triumphed. Mega-donor Sheldon Adelson spent more than $60 million to boost GOP candidates, though that's relative pocket change for the casino magnate worth more than $20 billion.

"[Republican outside groups] were so reliant on a very small number of people who funded this," said Bob Biersack, senior fellow at the Center for Responsive Politics. "So those people have to feel a little bit embarrassed. And it's not a common experience for them. They'll have to evaluate how they spent the money and what might be a better use of that kind of resource." For Rove and others seeking donations, he said, "it'll be a harder sell" in the future.

The record-breaking $6 billion spent in the 2012 election cycle, which included an estimated $1.3 billion in spending by outside groups, resulted (in part) in a deluge of mostly-negative advertising in the battleground states. (Roughly two-thirds of the outside group spending was to boost Republicans.) Many voters say they tuned those ads out - and there is evidence that negative advertising is relatively ineffective. h
But such ads did appear to make a difference for Romney in the Republican primary, when his deep-pocketed supporters spent heavily to fend off challenges from Newt Gingrich and Rick Santorum. (Gingrich and Santorum, in turn, depended on wealthy benefactors to help them fight back.) And negative ads from the Obama camp early in the general election campaign helped create a negative perception of Romney that endured to the general election.
Much of the outside group spending, which spiked in the wake of the Supreme Court's 2010 Citizens United decision, helped candidates offset the money raised on the other side. A candidate who ended up losing a race narrowly might have been crushed without super PAC support. And some candidates who won would likely not have done so without the millions of dollars spent on their behalf.
"It matters in a lot of different ways, and always they're more nuanced than 'can I just buy the election,'" said Biersack. "That's never been true. As a candidate you have to be visible to the electorate. Your message has to be clear, they have to feel like they know who you are. So it's a threshold question."
But that doesn't mitigate the frustration of donors who spent big on a candidate who fell short. In Illinois, for example, outside groups spent nearly $6 million to help re-elect Tea Party favorite Joe Walsh to the House, according to the Campaign Finance Institute - and he still lost.

Big donors and outside groups will spend the days and weeks following the 2012 contest assessing how they can be more effective in future elections. Some donors may shift resources to super PACs that had a better return on investment - the conservative Club For Growth, for example, saw a relatively robust return of 41.37 percent on its $16.5 million in spending. Some outside groups, meanwhile, may shift their focus to improving the GOP get-out-the-vote effort, since many believe Democrats' superior ground game played a big role in the president's reelection. Foster Friess, who spent millions to boost Republicans in this election cycle, told the Los Angeles Times that's where he believes the emphasis should be. He also predicted that a frustrating election won't prompt big conservative donors to close their wallets.

"My guess is that four years from now, the financial support will not drop off but may be even higher for the outside groups," said Friess.
MORE: In record spending year, millions in election cash not disclosed
Thanks for reading CBS NEWS.
Create your free account or log in
for more features.