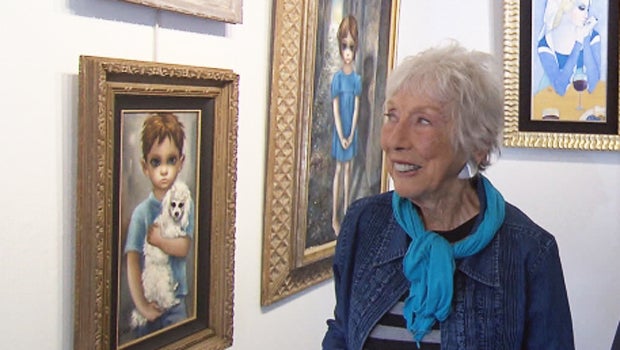 ​"Big Eyes" and the eye-opening story of Margaret Keane
"Big eyes" were a big hit in the popular art world several decades ago. Now, all eyes are on a new movie that tells the tale of the deception behind them. With Lee Cowan we take a look:
For art enthusiasts of a certain age, it is a familiar gaze: a tearful tot with eyes as big as saucers, known as a "Keane."

They were everywhere in the 1960s, reproduced on postcards, lithographs, china plates, you name it. Art to some, kitsch to others.
Diane Keaton even nodded to their popularity in Woody Allen's film, "Sleeper": "Oh, it's Keane! It's pure Keane!"
"Keane" was Walter Keane. Those big-eyed waifs made him a celebrity, and a favorite on the talk show circuit.
From "The Merv Griffin Show" in 1966:
Merv Griffin: "Why are your children so sad-eyed and lost-looking?"
Walter Keane: "I started painting children like this in Berlin after the war."
But Walter Keane didn't paint any of those children. His wife, Margaret Keane, did, while Walter pretended to -- and took almost all of the credit.
"I was a very abused wife," Margaret Keane told Cowan. "Psychologically abused, tremendously. I kept getting deeper and deeper in this hole, and I didn't know how to get out."
It all began shortly after Margaret met Walter in San Francisco in 1954. She had painted most of her life. Walter took it up late, and (she says) was never really very good.
"Did you ever see him paint?" Cowan asked.
"Oh, I saw him try!" she laughed.
He displayed his street scenes alongside Margaret's work, but it was her big-eyed children that got all the reaction. She signed them "Keane" -- but Walter sold them as his own. When Margaret found out, he convinced her they would sell better if people thought the artist was a man.
"The whole thing snow-balled so fast, almost overnight," said Margaret. She told Cowan that the two argued and fought over the issue for about a year, "until finally I just gave in."
Though critics derided the work, the public loved those big eyes, and the money started rolling in. For more than a decade, Walter's fame grew. He even appeared in Life Magazine as "The Man Who Paints the Big Eyes." Margaret remained silent -- and, she admits, complicit.
"I was a lot to blame," she said. "If I hadn't allowed it, it wouldn't have happened."
Walter Keane died 14 years ago, but Margaret, now 87, still paints every day. "I was always drawing eyes, even as a child. Eyes fascinated me."
On the walls of the Keane Eyes Gallery in San Francisco hang many of the big eyes that her husband took credit for.
Now, the tale of the secret that she kept for so many years is about to be told again, only this time on a different canvas. "Big Eyes," directed by Tim Burton, stars Amy Adams as Margaret, and Christoph Waltz as Walter.
"This was a woman who sort of had to completely rebuild herself in order to move forward in her life," Adams told Cowan, "and I had a lot of respect and a lot of admiration for that."
"Did you feel like, in some ways, that you almost needed her permission to tell her story?"
"Of course, of course," she replied. "She sort of gave me her blessing, and I gave her my word that I would honor her."
Adams met Keane at the gallery before filming started. She wanted to watch Margaret's technique, to see how she held the brush and touched the canvas. Adams even added a few strokes herself, as Margaret Keane looked on.
So what did she paint? "A leaf!" Adams laughed. "I thought, you know, I'm not gonna touch the eyes! I'm not gonna touch the face!"
But it wasn't just the painting; Adams also wanted to understand Margaret's state of mind.
"It's almost too wild to be true, that it lasted for as long as it did," said Cowan.
"I know, and when I read about it, I was the same way -- I was like, 'Why would you put up with this? How could you let this happen?'" said Adams. "But it was a different time, and, you know, there wasn't as much of an understanding of options.
"He would tell her, 'You know you'll go to prison. You'll have to give back all the money. And you'll be poor and then, what will you do? No one will buy any of your art again once they find this out.'"
Cowan asked Margaret if she was afraid. "Toward the end, very much so," Keane said. "He was always talking about he's gonna have the mafia knock me off."
"Did you believe him?"
"Oh, yeah."
Adams said, "She was scared. She was definitely scared and that's one of those things I didn't pry into, because in speaking to her about it, I could feel her go back there, and I didn't -- I was like, 'Okay, I get it.'"
It was only after Margaret moved to Hawaii and filed for divorce that she eventually took Walter to court. "I think a lot of the uncertainty about who did them will be cleared up," she said at the time.
The movie shows her explaining to a jury why she did it:
"I was weak. I didn't think I could leave and support myself and my daughter. He said nobody would buy the paintings without his personality."
Standing by her side was Walter, who acted as his own attorney.
The clincher? The judge ordered them both to paint for the jury.
Walter eventually told the judge his shoulder hurt and couldn't paint, while Margaret painted her signature big-eyed waif in just under an hour.
The jury was suitably impressed, and awarded Margaret $4 million. But she never saw a dime of it.
Cowan asked Adams, "Was there ever a point that you wondered if maybe Walter's version was right?"
"No!" she laughed. "But you know, Walter's not here to defend himself, in all fairness. But I think it's just a little fishy that he never painted again after the courtroom, and she has been prolific. So I'm gonna go with the evidence."
Walter died almost penniless, while Margaret became a Jehovah's Witness and vowed to never fib again.
"Don't tell lies, ever," she said. "No matter what, not even little white lies."
For Amy Adams, the film is a chance to remind a new generation of a talent that was almost never recognized. "I hope they just enjoy the story and getting to know these characters."
"And maybe setting the record straight?" said Cowan.
"Yeah, exactly!"
To watch a trailer for Tim Burton's "Big Eyes," click on the video player below.
GALLERY: The "Big Eyes" paintings of Margaret Keane

For more info:
Thanks for reading CBS NEWS.
Create your free account or log in
for more features.