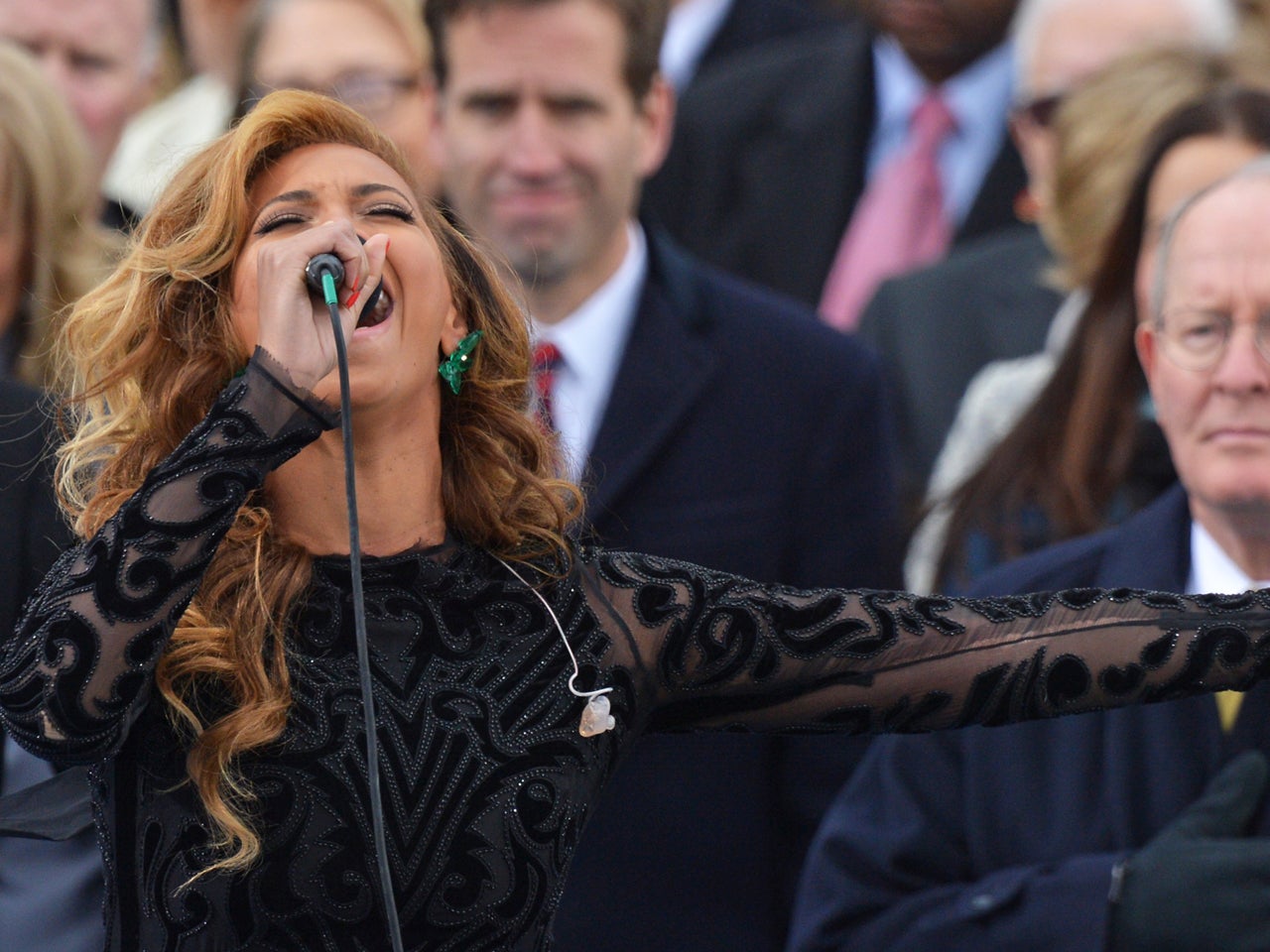 Beyonce lip-sync controversy: Stars weigh in
Beyonce is keeping mum over the controversy surrounding her performance at President Barack Obama's second inauguration. But other stars have started to chime in about it.
The 31-year-old singer blew both the crowd and viewers at home away with her rendition of the national anthem.
But did she really sing it live?
The U.S. Marine Band said in a statement Tuesday that the musical accompaniment was pre-recorded, explaining that "there was no opportunity for Ms. Knowles-Carter to rehearse with the Marine Band before the Inauguration so it was determined that a live performance by the band was ill-advised for such a high-profile event."
Master Sgt. Kristin duBois earlier told news outlets that the band had been informed that Beyonce would be using a pre-recorded vocal track, but the Marine Band seemed to back off the suggestion that it was a straight lip-sync by Tuesday afternoon, saying in the statement that "regarding Ms. Knowles-Carter's vocal performance, no one in the Marine Band is in a position to assess whether it was live or pre-recorded."
Lip-synced or not, what do fellow performers think about the ordeal?
Aretha Franklin, for one, apparently got a kick out of hearing that Beyonce's "Star-Spangled Banner" may have been pre-recorded.
"When I heard the news this evening that she was pre-recorded I really laughed," Franklin told ABC News. "I thought it was funny because the weather down there was about 46 or 44 degrees and for most singers that is just not good singing weather. When I heard that I just really cracked up. I thought it was really funny, but she did a beautiful job with the pre-record ... next time I'll probably do the same."
The 70-year-old Franklin sang at President Barack Obama's first inauguration in 2009.
"I think it's optional really, it's up to the artist," Franklin continued. "In 2009, I wanted everything to be live and on the real side for the moment as it actually happened. Those were my feelings for my performance, but having come face to face with 28, 22 degrees I am not surprised she pre-recorded. She wanted her performance to be what she wanted to be and she realized it wasn't going to be the way she wanted it to be or she was going to be running a risk. That's probably why she pre-recorded exactly how she wanted it to be heard."
Although Franklin sang live at Mr. Obama's first inauguration, according to ABC News, she did confess to lip-syncing at Game 5 of the NBA Finals in June of 2004.
Franklin isn't the only performer addressing the Beyonce controversy.
Michelle Williams, Beyonce's fellow Destiny's Child member, spoke to Entertainment Tonight about it, too.
"I will say this, it's not the first or the last time that someone has had to lip-sync," Williams said. "My greatest singer of all time, Whitney Houston, it came to light that her anthem was in fact lip-synced."
"It's their personal preference," she added. "With big crowds and echoes, you know when it's a big historical moment, you don't want any room for any mistakes so I can understand why it was done."
When approached about the ordeal by TMZ on Tuesday, Steven Tyler, 64, sang "Whatever gets you through the night," a John Lennon lyric. He then said he hasn't lip-synced before, but added, "Beyonce's so hot she can do anything. Let's just get real."
And during Jennifer Lopez's visit to "The Daily Show With Jon Stewart" on Tuesday," she weighed in on the drama surrounding Beyonce's inauguration performance.
"You know, sometimes it happens," Lopez, 43, told Stewart. "When you're in certain stadiums and in certain venues, they do pre-record things because you're going to have that terrible slapback...All performers do have to do it at some point."
Beyonce, meanwhile, will be in the spotlight again when she performs at the Super Bowl on Feb. 3.
Tell us: What's your take on the Beyonce controversy?
Thanks for reading CBS NEWS.
Create your free account or log in
for more features.