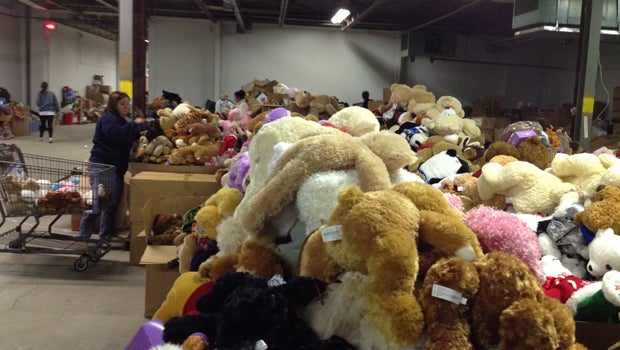 ​Best intentions: When disaster relief brings anything but relief
Many of the well-meaning articles we Americans donate in times of disaster turn out to be of no use to those in need. Sometimes, they even get in the way. That's a message relief organizations very much want us to heed. Our Cover Story is reported now by Scott Simon of NPR. (An earlier version of this story was originally broadcast on "Sunday Morning" on April 24, 2016.)
The aftermath of Hurricane Harvey reminds us all over again that when Nature grows savage and angry, Americans can get generous and kind. That's admirable. It might also be a problem.
"Generally after a disaster, people with loving intentions donate things that cannot be used in a disaster response, and in fact may actually be harmful," said Juanita Rilling, former director of the Center for International Disaster Information in Washington, D.C. "And they have no idea that they're doing it."
Rilling has spent more than a decade trying to tell well-meaning people to think before they give.
In 1998 Hurricane Mitch struck Honduras. More than 11,000 people died. More than a million and a half were left homeless.
And Rilling got a wake-up call: "Got a call from one of our logistics experts who said that a plane full of supplies could not land, because there was clothing on the runway. It's in boxes and bales. It takes up yards of space. It can't be moved.' 'Whose clothing is it?' He said, 'Well, I don't know whose it is, but there's a high-heeled shoe, just one, and a bale of winter coats.' And I thought, winter coats? It's summer in Honduras."
Humanitarian workers call the crush of useless, often incomprehensible contributions "the second disaster."
In 2004, following the Indian Ocean tsunami, a beach in Indonesia was piled with used clothing.
There was no time for disaster workers to sort and clean old clothes. So the contributions just sat and rotted.
"This very quickly went toxic and had to be destroyed," said Rilling. "And local officials poured gasoline on it and set it on fire. And then it was out to sea."
"So, rather than clothing somebody, it went up in flames?" asked Simon.
"Correct. The thinking is that these people have lost everything, so they must NEED everything. So people SEND everything. You know, any donation is crazy if it's not needed. People have donated prom gowns and wigs and tiger costumes and pumpkins, and frostbite cream to Rwanda, and used teabags, 'cause you can always get another cup of tea."
You may not think that sending bottles of water to devastated people seems crazy. But Rilling points out, "This water, it's about 100,000 liters, will provide drinking water for 40,000 people for one day. This amount of water to send from the United States, say, to West Africa -- and people did this -- costs about $300,000. But relief organizations with portable water purification units can produce the same amount, a 100,000 liters of water, for about $300."
And then there were warm-hearted American women who wanted to send their breast milk to nursing mothers in Haiti after the 2010 earthquake.
"It sounds wonderful, but in the midst of a crisis it's actually one of the most challenging things," said Rebecca Gustafson, a humanitarian aid expert who has worked on the ground after many disasters.
"Breast milk doesn't stay fresh for very long. And the challenge is, what happens if you do give it to an infant who then gets sick?"
December 2012, Newtown, Connecticut: A gunman killed 20 children and six adults at Sandy Hook Elementary School. Almost instantaneously, stuff start arriving.
Chris Kelsey, who worked for Newtown at the time, said they had to get a warehouse to hold all the teddy bears.
Simon asked, "Was there a need for teddy bears?"
"I think it was a nice gesture," Kelsey replied. "There was a need to do something for the kids. There was a need to make people feel better. I think the wave of stuff we got was a little overwhelming."
And how many teddy bear came to Newtown? "I think it was about 67,000," Kelsey said. "Wasn't limited to teddy bears. There was also thousands of boxes of school supplies, and thousands of boxes of toys, bicycles, sleds, clothes."
Newtown had been struck by mass murder, not a tsunami. As Kelsey said, "I think a lot of the stuff that came into the warehouse was more for the people that sent it, than it was for the people in Newtown. At least, that's the way it felt at the end."
Every child in Newtown got a few bears. The rest had to be sent away, along with the bikes and blankets.
There are times when giving things works. More than 650,000 homes were destroyed or damaged in Hurricane Sandy in 2012. Thousands of people lost everything.
Tammy Shapiro is one of the organizers of Occupy Sandy, which grew out of the Occupy Wall Street movement.
"We were able to respond in a way that the big, bureaucratic agencies can't," Shapiro said.
When the hurricane struck, they had a network of activists, connected and waiting.
"Very quickly, we just stopped taking clothes," Shapiro said. Instead, they created a "relief supply" wedding registry.
"We put the items that we needed donated on that registry," said Shapiro. "And then people who wanted to donate could buy the items that were needed. I mean, a lot of what we had on the wedding registry was diapers. They needed flashlights."
Simon asked, "How transportable is your experience here, following Hurricane Sandy?"
"For me, the network is key. Who has the knowledge? Where are spaces that goods can live if there's a disaster? Who's really well-connected on their blocks?"
Juanita Rilling's album of disaster images shows shot after shot of good intentions just spoiling in warehouses, or rotting on the landscape.
"It is heartbreaking," Rilling said. "It's heartbreaking for the donor, it's heartbreaking for the relief organizations, and it's heartbreaking for survivors. This is why cash donations are so much more effective. They buy exactly what people need, when they need it.
"And cash donations enable relief organizations to purchase supplies locally, which ensures that they're fresh and familiar to survivors, purchased in just the right quantities, and delivered quickly. And those local purchases support the local merchants, which strengthens the local economy for the long run."
Disaster response worker Rebecca Gustafson says that most people want to donate something that is theirs: "Money sometimes doesn't feel personal enough for people. They don't feel enough of their heart and soul is in that donation, that check that they would send.
"The reality is, it's one of the most compassionate things that people can do."
Below: A PSA on disaster relief giving:
For more info:
Thanks for reading CBS NEWS.
Create your free account or log in
for more features.