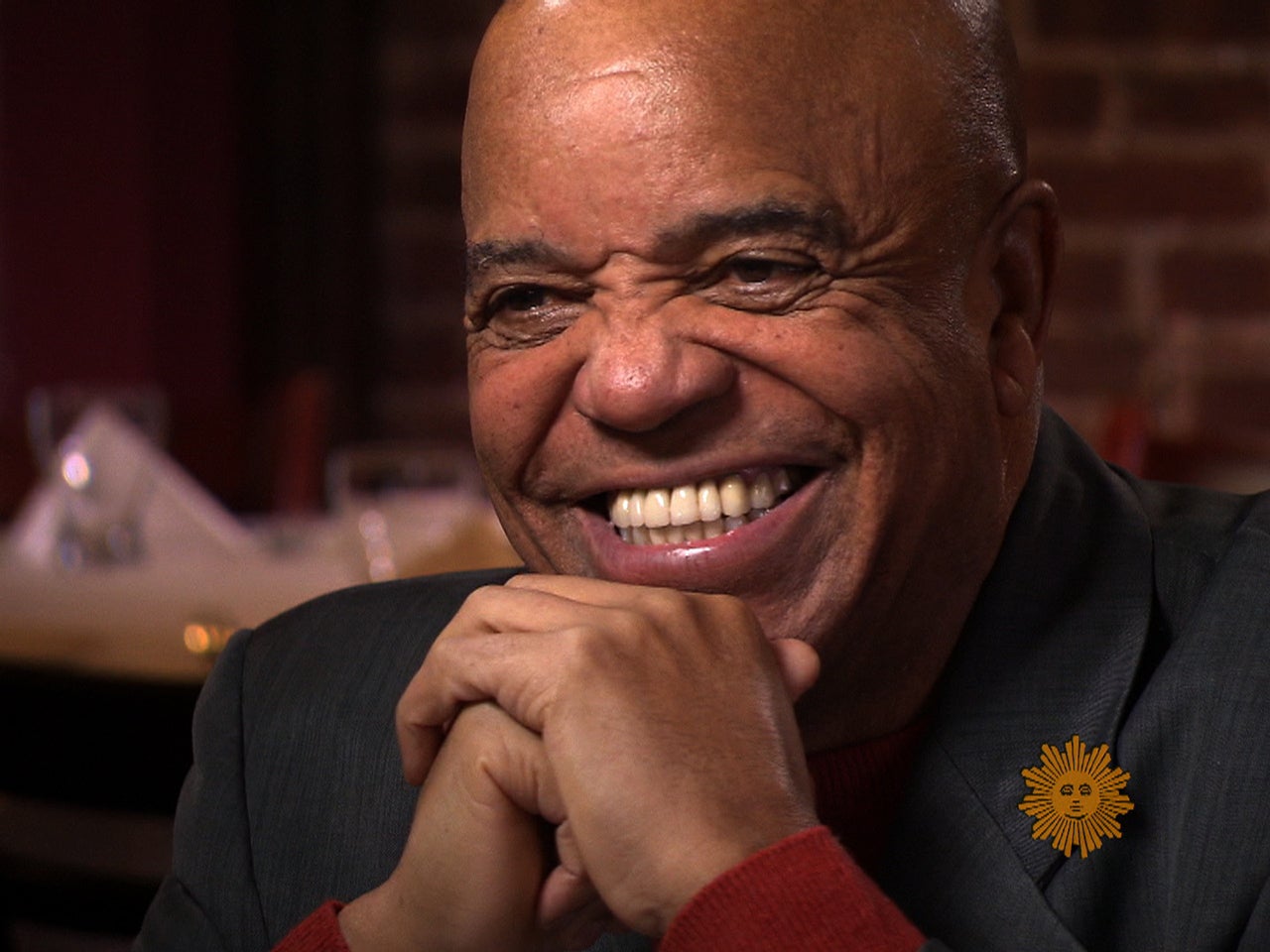 Berry Gordy recreates the legend of Motown
(CBS News) There are many, many hits that bear the MOTOWN label. These days, a Broadway marquee boasts the Motown label, too . . . thanks to the man Anthony Mason has been talking with For The Record:
"I took some risks, and they all paid off, big time," said Berry Gordy. "I mean, really big time."
Berry Gordy just wanted his own record label. But Motown became a sound -- a sound that tore through the racial divide in the Sixties and took black culture into White America deeper than it ever had before.
At the peak of its influence in the Sixties and early Seventies, Motown scored more than a hundred Top 10 hits. "We had a rule that if you got a hit with an artist, [the songwriters] would automatically get their next record," Gordy told Mason.
Now, at 83, Gordy is working on a new Broadway production that will tell the story of Motown on stage. He's spent the past five years on the project.
Does he feel pressure? "It's less pressure than I had with Motown," he said, "because I didn't know where I was going with Motown."
Gordy once said he'd started out writing songs to get girls. "My thought was make the music, make the money, and get some girls. That was it. Not necessarily in that order," he laughed.
In 1959 Gordy, who'd written hits for Jackie Wilson, borrowed $800 from his family to start his own label. He called the Detroit house he set up shop in "Hitsville U.S.A."
One of the first groups he signed was The Miracles.
"I met a guy called Smokey Robinson who had great talent," Gordy recalled. "He was a wonderful poet, but he didn't know how to write songs. They would go on and on and on, for days ! And so I really taught him how to write a simple song -- front, middle and end."
Smokey's song, "Shop Around," would be Motown's first million-seller in 1960. "I could see right away that he was starting to get better than me," Gordy said.
"Well, how'd you feel about that?" asked Mason.
"It was hard to believe it at first!" he laughed.
Hitsville quickly became a hit factory, based on Gordy's experience working in a Ford plant: "I got an idea for this assembly line. I'd see cars come in one door, a bare metal frame, and then [go out] another door a brand new car. So I said, what if I could do that with music?"
Gordy literally groomed his artists. Motown taught them how to dress, how to dance, how to perform.
WEB EXTRA VIDEO: Berry Gordy tells Anthony Mason about the first days of Motown, and the story behind one of its early hits, The Contours' "Do You Love Me?" -- now featured in the new Broadway musical, "Motown." To watch, click on the video player below.
He initially shied away from children at the label. "The first kid was Stevie Wonder. I wanted him. But after I got him, I didn't want him!" he laughed. "You know, tutors, chaperones . . . "
Little Stevie Wonder was 11 when he signed with Motown in 1961. Gordy says he didn't sign him for his singing. "I didn't like his singing. I liked his harmonica playing. His first record that we put out was a harmonica solo."
Motown's management would meet regularly to vote on what records to release. Gordy called it "quality control."
"Well, a lot of fights," he clarified. "We fought for what we believed in. You could say what you felt, and if it was against me, and they checked me on that many times."
Marvin Gaye, who'd started out singing jazz standards at Motown, butted heads with Gordy over "What's Goin' On."
"I had a big fight with Marvin Gaye about him doing a protest album," Gordy said. "I said, 'Why would you do a protest album?'"
"You were worried it'd ruin his reputation," Mason asked.
"Yeah, I said, 'What about your image?' He said, 'I don't care about any of that, man. Image? I got a brother in Vietnam.'"
But Gordy was surprised by the response to the record. "And extremely happy! So when the record became the biggest record in our history at that time, I came to him and said, 'Man, you were right.' I learned a lot."
As Gordy learned from Marvin Gaye, Michael Jackson would learn from Gordy. The Jackson 5 signed with Motown in 1969.
Gordy called the youngest member of the group a "genius."
"You saw the perfectionist in him right at the beginning?" Mason asked.
"It was like an old man in a kid's body. He would always watch me, what I was doin'. The other kids might be playing. He was always, like, staring at me. And it was kind of spooky, 'cause I would look back and he would, like, be trying to figure out what I was saying. Studying me."
Motown's biggest stars are all represented in the new Broadway musical. Gordy said when he saw the woman playing Diana Ross come on stage, "it was really tough for me not to kiss her!"
Gordy fell hard for the lead singer of The Supremes.
"I was madly in love with Diana Ross. She was the big star of my life," he said.
Their five-year romance began after a concert in Paris:
"And that first night, I tried to make love to her and nothing happened. And that was like the most embarrassing thing in my life, because when you think of somebody who's the princess, who was the Queen of your life, your mind plays tricks on you," Gordy said.
"Of course, she made a joke out of it, which we use in the play: 'Well, you could look at it this way: At least you have the power over everything else.'"
Mason asked why Gordy took on writing the musical. "Why? Because I know the story better than anyone. I lived it. So why shouldn't I write it?"
"And you feel at times you've been misunderstood?"
"Very few people thought a black kid from Detroit could do Motown without being a gangster or in the Mafia or anything like that," Gordy said.
Berry Gordy sold the business in 1988. But the musical is still his story:
"All this is a labor of love, everything I've done," he said during rehearsals. "This is probably the last thing I'll do."
More than a production, it's a celebration of music that changed America.
"I'm in heaven, you know? So I'm not sure I want to do this again," he laughed. "But it is a dream come true for me."
For more info:
Thanks for reading CBS NEWS.
Create your free account or log in
for more features.