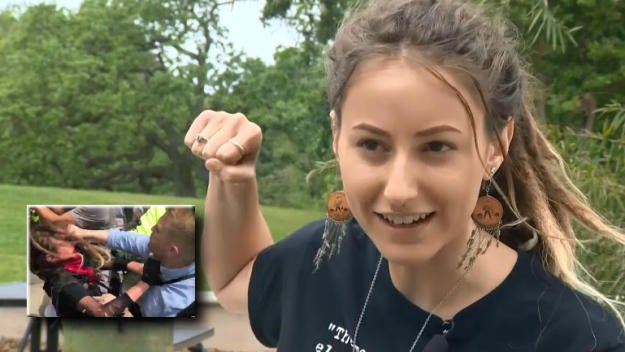 Woman seen getting punched in viral video speaks out
SAN FRANCISCO — Louise Rosealma never intended to become the face of a movement, but by Monday she had.
Rosealma traveled to Berkeley with her boyfriend and two other friends – all members of the Antifa anti-facist collective — from Southern California on Saturday to take part in a counter demonstration at a Patriot's Day event organized by alt right and neo-nazi groups including the Proud Boys
By the end of the afternoon, the video of Rosealma being punched by Nathan Damigo – a known white supremacist who attends California State University, Stanislaus – would go viral.
"We got there around 1 p.m.," she told CBS San Francisco. "We went to show our support and be bodies present in counter protest."
She knew going in that the demonstration might turn violent.
"We were hoping for the best and expecting the worst," she said.
"You could hear the commotion…Things got very intense, very quickly," she said.
Rosealma and her friends were not in the park long before they found themselves rushed by a group of counter demonstrators.
"A smoke bomb went off in the area where the white nationalists and neo-nazis were…Everyone was confused," said Rosealma. "It (the smoke) filled the whole intersection. They started rushing and started attacking people."
Chaos ensued. Rosealma found herself in the midst of an angry mob.
"Me and my friends were fleeing. As we were running away I lost my friends," she said. "I was trying to follow my boyfriend, but he just disappeared…I was just trying to block myself away from different people who were just pushing me and attacking other people."
Rosealma found herself backed up near a wall and garden.
"I was just trying to get out of where I was because I was in a cornered spot," she said. "The next thing I remember is turning around and from the corner of my eye I saw this fist coming at me … I put my arms up to try and push him away as much as I could. He just threw himself into me."
Cameras caught what happened next.
"He punched me on the bridge of my nose. It cut it a little bit," Rosealma said. "I got thrown down and I'm pretty sure he just ran (away). I got right back up. I was punched twice more by two other people. People kept trying to throw me down to hit my head on the rocks that were in the planter. I was just trying to not get my skull cracked open."
The last attacker kneed her in the head several times before he also fled.
Eventually, the attack stopped the 5-foot-1, 95-pound Rosealma said. She looked around and found her boyfriend nearby covered in blood.
"There was no time for emotion," she said. "I was just terrified. I didn't have time to process what was happening to me. All I knew was I was trying to find my boyfriend and not get hit…When it was happening I realized they were trying to crack my skull on the curb and on the rocks in the planter."
During the entire attack, Rosealma said she never saw any Berkeley police officers. She also said the attack was unprovoked.
"I didn't exchange words with anyone," she said. "I was just standing there."
Fortunately, Rosealma was just battered and bruised and not seriously injured. However, the attacks have continued on social media with memes and threats.
"They are trying to make me into this trophy – the victory of the alt right and neo-nazis," she said. "It's petty and pathetic… That they knocked over a 95-pound person… It (the harassment) has been non-stop… Requests on Instagram. Facebook, Youtube…They just are trying to get to me."
Berkeley officials once again — to their chagrin — found their city playing host to a bat-wielding, brick tossing, pepper-spray fueled confrontation.
City of Berkeley spokesman Chakko Matthai said authorities would be looking to prosecute assailants who attacked others during the protest.
"There is a lot of video out there," said Matthai. "We will be working with the community to identify those people who were committing those acts."
When asked if he thought Saturday's event was a political rally or a rumble, Berkeley Mayor Jessie Arreguin replied, "I would probably say it was both."
He continued: "It's challenging. They had helmets. They had shields, they had weapons and this is something we really haven't seen before."
The Berkeley police have yet to say what they are investigating in light of the violence. A similar protest and violent outbreak on March 4th has led to charges against several suspects.
The authorities did make 20 arrests at Saturday's protest.
Rosealma says all she wants now is to return to her normal life. But she does vow that Saturday's attack will not end her activism.
Thanks for reading CBS NEWS.
Create your free account or log in
for more features.