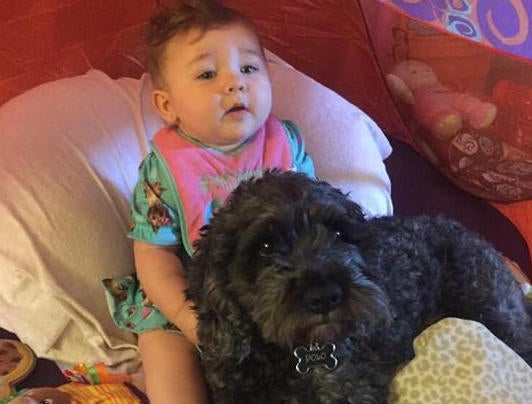 Beloved dog dies after saving baby from fire
The lives of a Baltimore family were changed forever this week when a fire suddenly broke out in the home Erika Poremski shared with her eight-month-old daughter, Viviana, and her nearly six-year-old dog, Polo.
Poremski says she had just stepped out to her car when she turned around and discovered her house in flames with Viviana and Polo still inside.
"I tried to keep getting in," Poremski told CBS News. "She was up the stairs, but the fire smoke was so heavy I couldn't get past it... I kept running back out and back in, trying to get up there. Then, the door curling started falling and I couldn't get back in."
Poremski suffered burns on her hands and face from the various attempts to get into the house and rescue Viviana.
She told CBS News that, in all of her panic and the chaos of the blaze, she couldn't "see all the skin was off my hand from grabbing the rail and it melted off."
With Poremski unable to get back inside and firefighters still on their way, Polo bravely remained upstairs in the bedroom where Viviana was crying. Poremski believes that he could have run downstairs and out the door to safety, but chose instead to shield baby Viviana from the flames with his body.
"He was my first baby before Viv. He was like my child," she says. "He followed us everywhere."
That close bond may explain why the beloved canine made the ultimate sacrifice to protect the baby. And while Polo did not survive the blaze, Viviana is likely alive today because the dog remained with her. When firefighters finally arrived and got to little Viv, Poremski says they discovered the dog still covering her with his body, and Viv only suffered burns on her arm and side because of it. Paramedics were reportedly able to revive her at the scene.
Oddly enough, Poremski believes that her beloved pup had a sense of what was coming.
"That day of the fire, he was acting weird all day," she says. "I even told a friend I was going to take him to vet. He was crying and following me around and had a seizure from anxiety."
With the family now displaced and Viviana's condition still serious, a GoFundMe campaign has been set up to help pay for the little girl's medical bills. To date, the page has raised nearly $17,000... money that will certainly help heal the family's financial wounds. Their emotional wounds, however, will take more time.
"He was everything to me along with my daughter," says Poremski of her now deceased dog, Polo. "I'm losing everything I love in the blink of an eye. I feel like I'm drowning and can't get out."
Thanks for reading CBS NEWS.
Create your free account or log in
for more features.