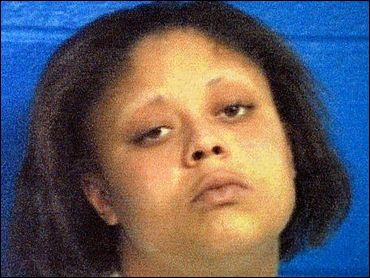 A woman accused of hitting a homeless man with her car, driving home with him lodged in her broken windshield and ignoring his pleas as he bled to death in her garage is not the monster being portrayed by prosecutors, her attorney says.
Police say Chante J. Mallard, 25, waited two days for the man to die, ignoring his pleas for help, and then dumped his body in a park with the help of friends.
Mallard was charged with murder Wednesday night and released after posting bail. She faces five years to life in prison if convicted.
"She is not the monster that police and prosecutors are making her out to be," said Mike Heiskell, Mallard's attorney. "She was simply a frightened, emotionally distraught young woman who had an accident, panicked and made a wrong choice."
Heiskell said his client is guilty only of failing to stop and render aid — not murder.
He said the victim, Gregory Biggs, died a few hours after Mallard drove home and was in her garage no more than 24 hours. He said her friends advised her not to call for help and suggested dumping the body.
Biggs, whose body was found in a park on Oct. 27, suffered cuts and broken legs but had no internal injuries that would have caused his death, according to the medical examiner's office.
"There's a pretty good possibility he'd be alive if he'd gotten help, but she concealed the body in the garage ... so that's why she's charged with murder," said Fort Worth police Lt. David Burgess.
When Biggs' body was found, authorities suspected he had been hit by a car, but they had no leads until a tipster came forward last week.
Biggs, 37, had struggled with mental illness and had been staying at a homeless shelter, where workers said he often brought them flowers. He was estranged from his mother and sister. He also had a 19-year-old son who only recently found out about the tragic death, relatives said.
The son, Brandon Biggs, has questions for Mallard, but he says he isn't angry.
"I pray for her, actually," the high school senior told the Fort Worth Star-Telegram in Friday's editions.
"I'd just like to talk to her — just ask questions and see why, to get a better understanding I suppose," he said.
Police reported finding Biggs' blood and hair on Mallard's car, still in her garage more than four months after the crash. The windshield and front seats had been removed.
The tipster told police that Mallard said she was drinking and taking the drug Ecstasy one night in October when her car hit the man along a Fort Worth highway near her house.
The tipster said Mallard drove home, had sex with her boyfriend, then went back to the garage to find Biggs still alive, according to the arrest warrant affidavit.
Mallard later told investigators she apologized to the victim when she returned to the garage several times, but she never called for help as he moaned and pleaded with her, according to the affidavit.
"We intend to prosecute this fully," said Richard Alpert, a Tarrant County assistant district attorney.
Mallard told investigators she removed the car seats and burned them because she was afraid of being caught and going to jail, according to the affidavit. She planned to burn the car and buy another one after receiving her income tax refund, according to the affidavit.
Charges may be filed against the friends who helped dump Biggs' body, Burgess said.

Thanks for reading CBS NEWS.
Create your free account or log in
for more features.