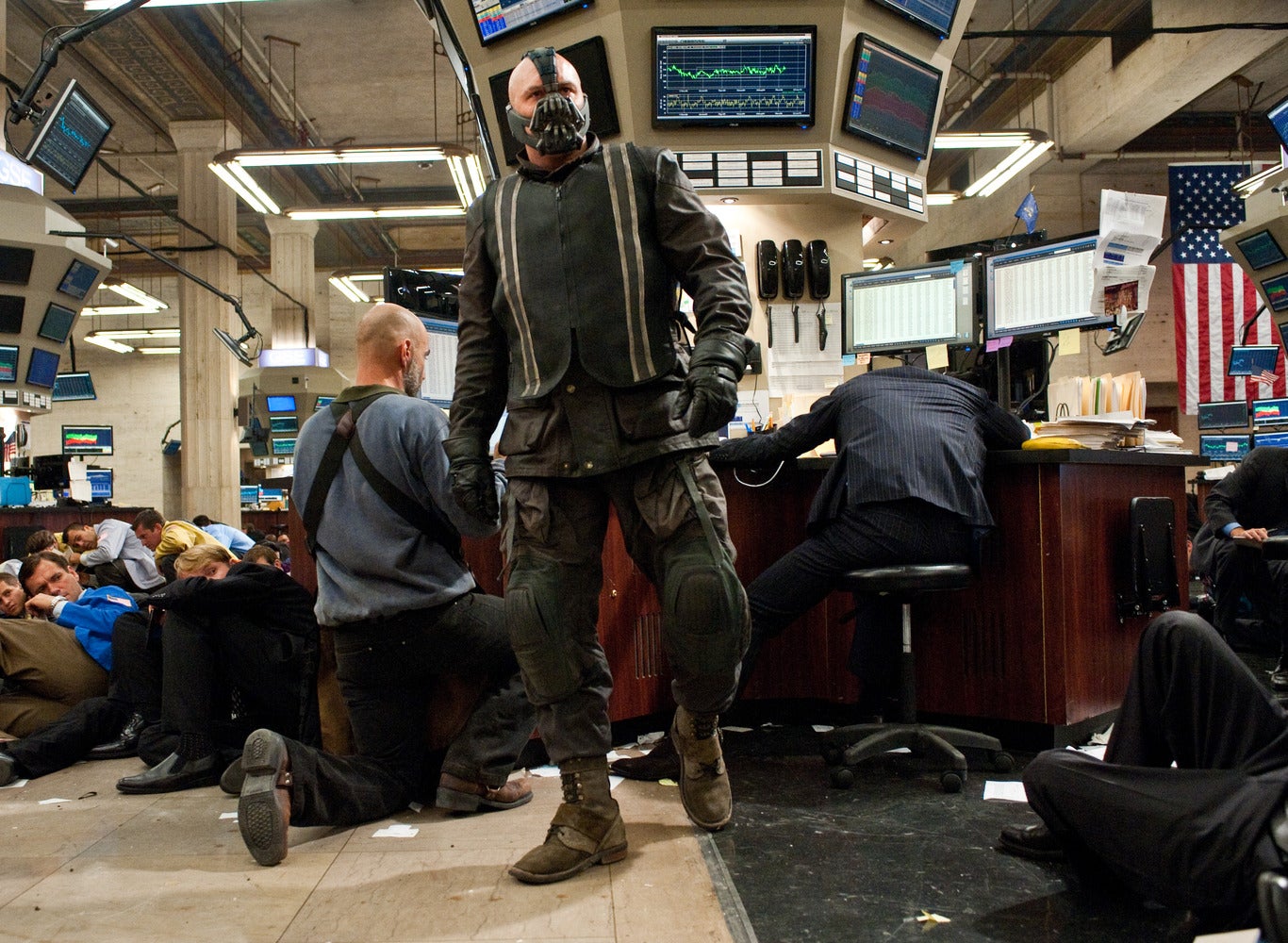 Batman and politics: The Bane/Bain name game
(CBS News) NEW YORK - The new Batman blockbuster out this week is providing fodder for the presidential campaign.
"The Dark Knight Rises" is one of summer's most anticipated sequels, and before it even hits theaters, it's raising the specter of political posturing.
The Caped Crusader's latest nemesis bears a name - Bane -- that perhaps could not have come at a worse time for presumptive Republican nominee Mitt Romney.
Jon Stewart joked about it on "The Daily Show" on Comedy Central, pointing out that, "The hot political story of the moment is Mitt Romney's old venture capital company (Bain Capital), which happens to bear the same name as the most frightening, and current Batman villain."
Romney has been battling the "Bain" of his campaign since the primaries.
"My effort at Bain Capital, as you know, was in every case designed to try to make the enterprises we invested in more successful," Romney has said while on the campaign trail.
President Obama continues to pound Romney over his stewardship of Bain.
In a recent interviewwith CBS News' Charlie Rose, Mr. Obama said, "If you're a head of a large private equity firm or hedge fund, your job is to make money. It's not to create jobs."
Matthew Modine: "The Dark Knight Rises will be an "extraordinary experience"
"The Dark Knight Rises" premieres in New York
The film's pending release has started the Bane/Bain name game.
Conservative radio talk show host Rush Limbaugh is talking conspiracy.
"Do you think that it is accidental, that the name of the really vicious, fire-breathing, four-eyed, whatever-it-is villain in this movie is named Bane?" Limbaugh asks.
"I wouldn't usually say I agree with Rush Limbaugh," says Democratic strategist Michael Meehan, "but if the Bain attack becomes a Bane caricature in a cartoon, in a popular movie, the Obama campaign couldn't be happier."
Comic book salesman Raphael Soohoo, an expert on all things Bane -- the comic book character, not the company - says this Bane isn't a corporate type, and isn't restructuring companies and investing, as Bain Capital does.
"In terms of real-life venture capitalism versus a super-villain breaking the back of Batman, it's a little bit of a stretch," Soohoo observes.
The venom-breathing villain from Batman was originally conceived in the early 1990s, nearly two decades before the new controversy arose.
But the film may not be entirely apolitical.
In one scene, a beautiful woman dancing with Bruce Wayne, the tycoon who is secretly Batman, says there's "a storm coming, Mr. Wayne. You and your friends (had) better batten down the hatches, because .... you're all gonna wonder how you could live so large and leave so little for the rest of us."
Last fall's "Occupy" movement protested corporate greed and economic disparity. Still, Democratic strategists suggest the film's character may force Romney to talk more about the company he once ran.
"Romney struggled with explaining some of the details of this existence, and if it becomes shorthand or a bumper sticker for a popular movie or character, it's going a problem for him," says one such strategist.
"Batman" star Christian Bale told New York's Daily News, "Occupy Wall Street was actually happening a couple of blocks from where we were filming in New York, which (director Christopher Nolan) had no way of knowing when he wrote the script. But by the time it was happening, I was looking at him, going, 'How did you know?"'
"The Dark Knight Rises" opens Friday.
To see Michelle Miller's report, click on the video in the player above.
Thanks for reading CBS NEWS.
Create your free account or log in
for more features.