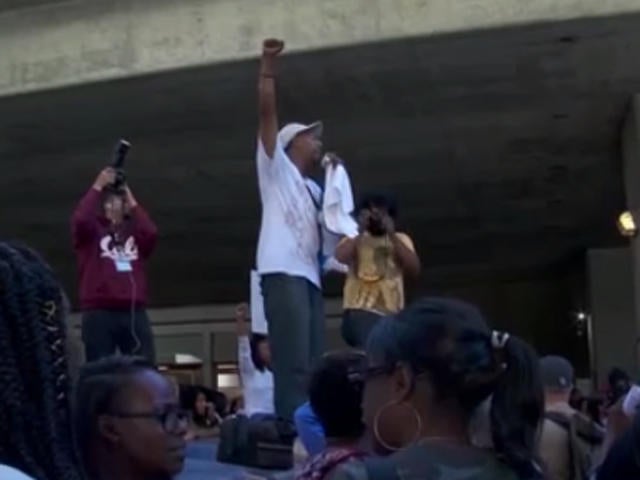 Was race a factor in fatal Bay Area train platform stabbing?
OAKLAND, Calif. -- The hunt for a man police say killed an 18-year-old woman in an unprovoked knife attack in the San Francisco Bay Area ended where it began: in a train station. John Cowell, 27, a recently paroled robber with a reported history of drug use, homelessness and violence, was peacefully arrested on an Antioch-bound train Monday night about a dozen miles from the Oakland station where investigators believe he killed Nia Wilson and wounded her sister Sunday night.
Authorities said they weren't ruling out race as a factor in the stabbings.
The arrest "is the first step to achieving justice for Nia and her family," Bay Area Rapid Transit Police Chief Carlos Rojas said at a news conference.
A phone call from a BART rider led police to stop and search a Richmond-bound train at the MacArthur Station in Oakland but Cowell wasn't aboard, Rojas said.
"About 10 minutes later after we got the call, another patron told us the subject got on an Antioch-bound train," he said.
That train was stopped at the Pleasant Hill station in Walnut Park, northeast of Oakland. Cowell was on board and was arrested without incident. He wasn't carrying a weapon, authorities said. It wasn't immediately known if Cowell had a lawyer.
Asked how a wanted man could have gotten back into the BART system, Rojas said he didn't immediately know but said the public transportation system is "porous" and large.
Rojas said police officers were on duty at the MacArthur station where the attack took place but wasn't sure it could have been prevented because of the suddenness of the unprovoked and possibly random attack.
In a "prison-style attack," Cowell stabbed Nia Wilson twice in the neck and then attacked her sister before fleeing and apparently doffing his pants and sweatshirt to evade capture, Rojas said. The knife believed to have been used in the attack was found at a nearby construction site.
Letifah Wilson, 26, said that she, Nia and a third sister had been returning from a family outing when they were "blindsided by a maniac."
"He didn't know us, we didn't know him," Wilson said.
CBS San Francisco reports the sisters were helping a woman struggling with a stroller exit a train when they were attacked.
The women's father, Ansar Muhammad, said one of his daughters called him, crying hysterically, and told him to get to the MacArthur station.
"It's nothing imaginable, seeing your child on the BART platform with a yellow tarp over her body," Muhammad said Monday evening. "That is an image I'll never forget for the rest of my life. So I want justice. All I want is justice."
Surveillance video on the train and at the station's platform showed Cowell had been riding the same car as the sisters Sunday, but they didn't interact, Rojas said.
A motive for the attack remained unclear. While there has been rampant speculation on social media that the crime may have been racially motivated, Rojas wasn't able to confirm that as of Monday evening, CBS San Francisco says.
He said Cowell hasn't been connected to any radical or white supremacist groups, although he added: "We are going to explore all options and all possibilities."
The victims were black and Cowell is white.
Monday night, Oakland City Councilmember Lynette McElhaney said she had spoken to the district attorney and was told that Cowell will be arraigned Wednesday and the office hasn't ruled out charging him with a hate crime.
Oakland Mayor Libby Schaaf issued a statement acknowledging that there currently was no evidence that the attack was racially motivated but "the fact that his victims were both young African American women stirs deep pain and palpable fear in all of us who acknowledge the reality that our country still suffers from a tragic and deeply racist history."
Protesters packed the MacArthur BART station early Monday evening to demand justice for Nia and her older sister, reports CBS San Francisco. Dozens raised their signs and voices for a vigil at the growing memorial.
Nia's mother was there, and was consoled by family, friends and a community of support.
At one point, the rally and vigil moved from the station to downtown Oakland.
Police said about a thousand people were part of that march, a planned "pro-Oakland" demonstration organized to counter a white supremacist group that had announced plans to gather at a neighborhood bar.
Although police said there was no evidence yet the attack was racially-motivated, some demonstrators said they believed otherwise.
The march continued into the night with demonstrators hanging up a large banner that read "Bay Area Stands Against Hate."
Police said two people were detained when a small scuffle broke out. They have since been released.
Nia Wilson's death was the third involving an attack in the BART system in five days, making it one of the deadliest weeks in the system's history.
On Sunday, a homeless man died after he was punched by an attacker Saturday at a station in San Leandro, fell and struck his head on pavement. Another man who was attacked last week died Friday after a small cut he suffered became infected, the San Francisco Chronicle reported. An arrest was made in that case and authorities said neither case was connected to the stabbings.
Crime on BART trains and in the system's stations has been a hot button issue for nearly a year, CBS San Francisco notes. BART Police says it has ramped up patrols and working video cameras have been placed throughout stations and on the cars.
Thanks for reading CBS NEWS.
Create your free account or log in
for more features.